A Fragrance Guide for Men and Women
BY: Reuben Westmaas |
Feb 24, 2017
The thing about fragrances is that they're very situational—a fancy scent might make a night on the town unforgettable, but might also make you the least popular person in the office. Before you dive into the hundreds of options available, take a look at our fragrance guide for a few helpful hints.
We'll break down the concept of scent notes, identify the different types of fragrances, and suggest popular fragrances for men and women based on personality and purpose. By the end, you'll be able to distinguish between a casual perfume suitable for lazy Saturdays and an arresting eau de toilette for date night.
Composition of a Fragrance
A complete fragrance is made up of individual scent notes. Like a symphony, the final product is not merely the sum of its notes, but the way those notes interact with each other. Scent notes fall into one of three categories:
Top notes:

what you smell immediately. Top notes are often sharp and distinct, lasting anywhere from a few minutes to an hour after application.

Heart notes

: the lingering, most noticeable, and most characteristic notes. Hearts are often smoother and mellower than the top, and generally last four to six hours.

Base notes

: often warm and slightly sensual (think woods, amber, vanilla, and musk), base notes come to the fore slowly, possibly many hours after the fragrance is applied.
The makeup of these categories determines how a fragrance is described. If it's characterized as "green," leafy notes like clary sage or juniper are taking the leading top or heart notes. This chart gives a more detailed look at the most common fragrance note descriptors.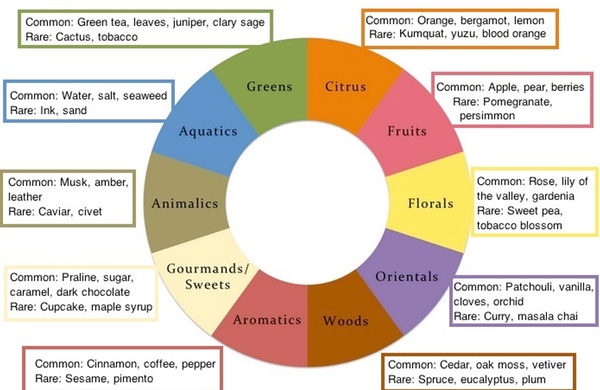 The ten most common fragrance families and their representative notes.
Besides the individual notes of a fragrance, the other thing to take into account is the fragrance's intensity. Different formulations will have a dramatic effect on the concentration and longevity of the scent, which in turn affects how to apply it properly.
Perfume (or Parfum)

: The most intense fragrance, perfumes are 20–30% essential oils and can last up to 8 hours.

Eau de Parfum

: Slightly less concentrated than perfume, eaux de parfum are 15–20% aromatic compounds and might be a good choice for a

casual perfume

.

Eau de Toilette

: Often used in

fragrances for men

, these are composed of about 5–15% fragrant oils and aren't as intense as

eau de parfum

.

Eau de Cologne: Cologne is the mildest of the most common fragrances, made up of only about 2–4% oil.
For the Office
Classic Florals
These classic notes are simple and unobtrusive to most noses, especially roses and white florals, making them an understated option in cramped meeting rooms and close desks.
For Casual Wear
Fruity-Sweet or Fruity Gourmand
The sweetness and soft base give off a laidback and light vibe that is noticeable, but not too noticeable—ideal in an everyday fragrance.
For a Night Out
Woodsy-Musky
Just like evening wear, an evening fragrance for women will likely have that little extra something over a daytime option. Woodsy notes give perfumes depth and smoothness, while musks and other animalics add a rich and romantic sensuality.

For the Office
Greens or Citruses
The bright, fresh scents of greens and citruses are best if you're going to be in a professional environment, surrounded by your peers—remember not to overdo it.
RECOMMENDED SCENT NOTES

POPULAR FRAGRANCES

Citruses

: orange, bergamot, lemon

Versace Man Eau Fraiche
Greens: green tea, grass, tobacco
Nautica Voyage
For Casual Wear
Aquatics or Aromatics
On the weekends, you can be more adventurous with your choices: aquatics have a sporty quality that is sharp and refreshing, and the spicy aromatics add masculinity and character without being too forward.
RECOMMENDED SCENT NOTES

POPULAR FRAGRANCES

Aromatics

: ginger, cinnamon, nutmeg, pepper

Jean Paul Gaultier Le Male
Aquatics: marine notes, water, salt, seaweed

Acqua di Gio by

Giorgio Armani
For a Night Out
Woodsy-Spicy or Animalic
Whether you're going on a first date or a date night with your S.O., now is the time to wear the strongest, most masculine fragrances. Spices and woods are both popular because they add depth, while animalics are nuanced but almost universally appealing.
RECOMMENDED SCENT NOTES

POPULAR FRAGRANCES

Woodsy

: cedar, sage, gin

Issey Miyake L'eau d'Issey Pour Homme
Spicy: pepper
F Black by Salvatore Ferragamo
Animalic: musk, amber, leather
Burberry London for Men
---
Related Guides
How to Apply Perfume for Maximum Effect
Too much and you'll clear the room. Too little and you've wasted a spritz. Hit the sweet spot with our guide on where and how to apply perfume.
---
BY: Reuben Westmaas
Reuben writes about whiskey at work and drinks it at home. He also writes and edits the arts magazine Sixty Inches From Center.