Getting to Know Your Cocktail's Components
BY: Lisa Ladehoff |
Jun 25, 2013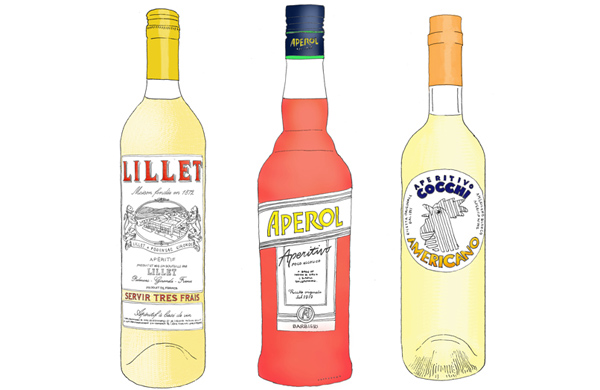 This summer, it's time to head up to your local
bar
and take your drinking to the next level. And I don't mean drinking
 more
, I mean drinking better. Get to know these three trendy—and refreshing—apéritifs, and then get to sipping them in cocktails around Chicago. You might even impress your imbibing buddies in the process.
Cocchi Americano
It was first made back in 1891 at an estate vineyard in Asti, Italy. Similar in flavor profile to dry vermouth, this apéritif is a fortified Moscato d'Asti wine that's been steeped with bitter cinchona bark that's rich in quinine (the base of tonic water), citrus peel, and a handful of other botanicals. It's super flavorful on the rocks with a splash of seltzer, but that's boring. Bartenders favor it for the bitter edge it lends to cocktails, and it's trendy because it's still kinda new (it didn't make it to the US until a few years ago).
Lillet Blanc
The original recipe was altered back in the '80s when its makers changed the formula to cut back on the cinchona bark—the stuff that makes Cocchi Americano distinctly bitter, remember? Today, Lillet is a sweeter, more benign apéritif wine that often appears in the 
Corpse Reviver
, or one of its many variations, and despite the change in recipe, it's cherished amongst bartenders and drinkers alike.

Aperol
For whatever reason, and hopefully not because the riders are drinking it, Aperol is the official sponsor of 
MotoGP
, the Grand Prix of motorcycle racing. This citrusy apéritif is the less boozy little sister of Campari—arguably looking, smelling, and tasting almost exactly the same—but with less than half the alcohol content. It received extremely high marks from 
Wine Enthusiast
 (90–95), for what the magazine claims are "delightful aromas of tangerine and rhubarb."
---
Read about more components:
| | |
| --- | --- |
| | |
| Fernet, Bonal, and Green Chartreuse | Campari and Cynar |
BY: Lisa Ladehoff
Guide Staff Writer
A native of the city of big shoulders, Lisa is a small-shouldered books and booze enthusiast living on Chicago's Northwest side with a large cat, a tiny bar, and a medium-sized library.