GROUPON GUIDE TO WASHINGTON-DC
My Trick-or-Treat Manicure
BY: Favin the Maven |
Oct 29, 2014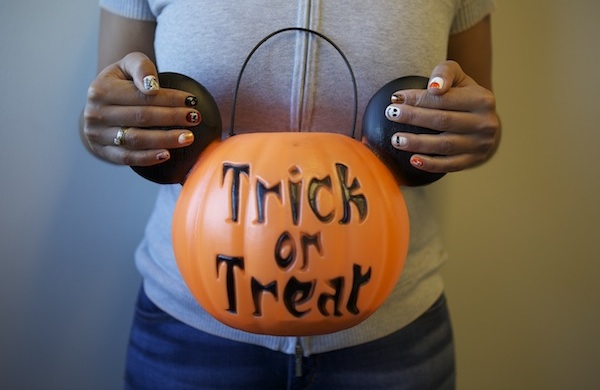 I sort of underplayed this in my last post, but I am a huge baby when it comes to scary stuff. But I do love holidays, so I wanted to find a non-scary way to get into the Halloween spirit. So I revisited my favorite manicurist, Mai Tan, at Elle Nail Spa in Chicago, and she gave me what I'm calling my Trick-or-Treat manicure. One hand has really adorable designs (Treat!) and the other is a bit spookier (Trick!).

Here are some close-ups of the 10 different nail designs, and tips on how you can use one (or all) of them to inspire your own Halloween manicure.
Trick...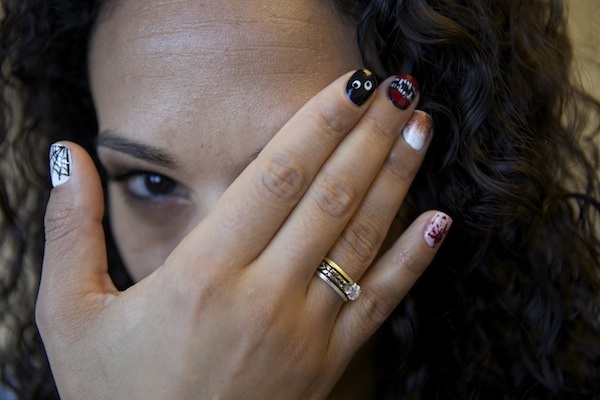 Thumb: This spider-web design would be great for a spider or witch costume. I never thought I'd say this, but the spider's little legs are so cute! (Scroll to the bottom for a better view of him.)
Index finger: Sure, these googly eyes are super fun at first glance, but if I walked into a dark room and saw these I'd be pretty scared. To be fair, though, just walking into a dark room is enough to scare me.
Middle finger: One part vampire, one part Rocky Horror Picture Show, 10 parts awesome—I saw someone getting this on all 10 fingers while I was at the salon, and it looked really cool.
Ring finger: A quick break from the scary stuff. This glittery ombre effect is great for someone who isn't committed to a Halloween theme, but still wants to be festive.
Pinky: Mai thought I was weird for wanting this. I admit, the blood spatter is a little hardcore, but it reminds me of Dexter, which I love.
Or Treat!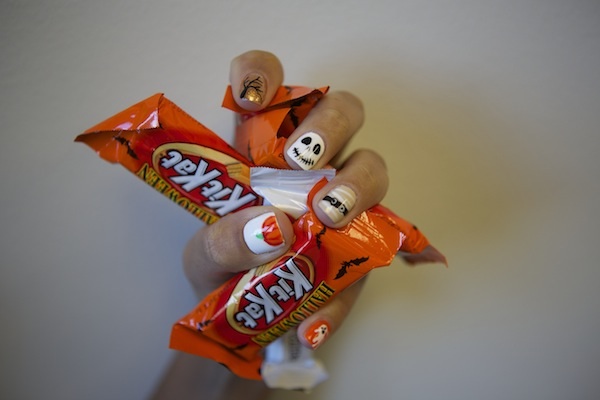 Thumb: It's the tiniest pumpkin, Charlie Brown! Too cute.
Index finger: Thanks to the glittery polish underneath, this tree looks really elegant. I think on its own this would just read as autumnal, and could definitely be worn after Halloween.
Middle finger: Love this smiling skeleton face! It reminds me of Jack from The Nightmare Before Christmas.
Ring finger: I like the subtlety of this one—it's a mummy face! Like with the spider, I would never say this in real life, but how cute is this mummy?!
Pinky: This adorable little ghost would be perfect for trick-or-treaters of any age. Here are a few more close-ups of Mai's awesome creations. Be sure to check out that spider on my right thumb!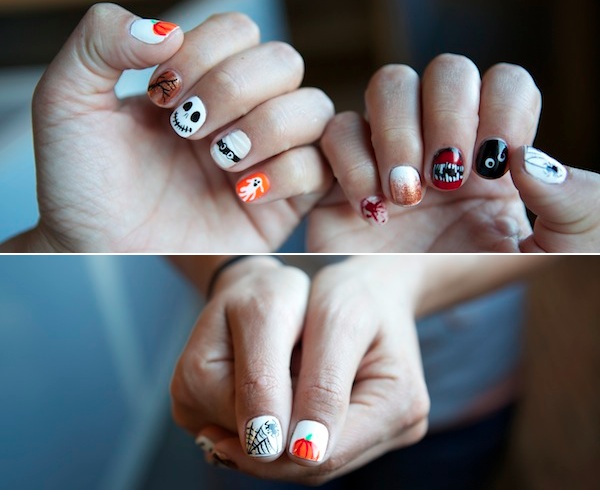 Photos by Kelly MacDowell, Groupon
Shop Goods for nailcare products:
Check out more seasonal nail inpsiration:
| | |
| --- | --- |
| | |
| My Favorite Nail-Polish Colors for Fall | Alfred Hitchcock–Inspired Nail Art |