Flavorful Heirloom-Tomato Dishes Found at Four Chicago Restaurants
BY: Halley Lawrence |
Jul 29, 2014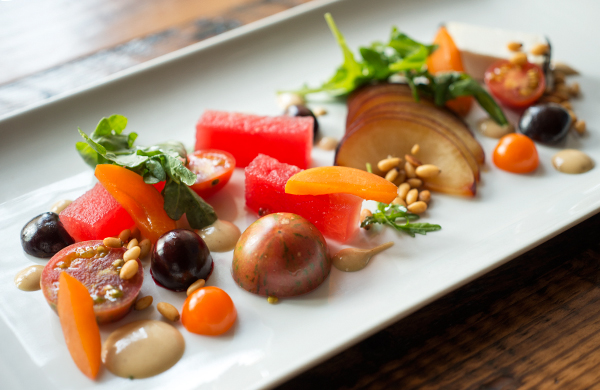 At Dusek's: heirloom tomato and stone-fruit salad with montenebro, crisp watermelon, baby arugula, and a brown butter-pine nut vinaigrette
Heirloom tomatoes are a bit like inherited jewels. For one, their seeds are considered valuable enough to have been handed down within farming families through the centuries (rather than developed in labs by corporate scientists, as some modern hybrids are). And because heirlooms have been carefully cultivated for their distinctive characteristics, they taste better than hybrids; their flavors shine with greater complexity, just as an antique brooch might sparkle more richly than mass-market costume jewelry.
A Deliciously Ugly Fruit
"A lot of heirlooms are ugly," said Julie Slezak, co-owner of
Annie's Heirloom Seeds
. "My favorite is the
caspian pink
—it cracks and has green shoulders. It's one of the best tasting tomatoes out there, but it just doesn't look nice."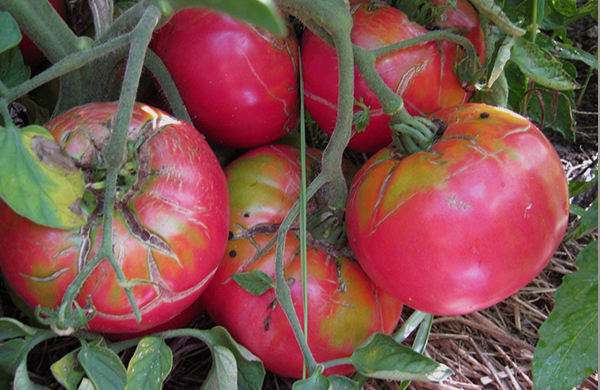 Green-shouldered Caspian Pink tomatoes ripening on the vine
Homely produce, no matter how delicious, has lost its spot on grocery-store shelves in recent years. The typical shopper sees just a few types of shiny, uniformly red tomatoes. Slezak said that the people who buy those perfect, red tomatoes every time are missing out. "If you breed for prettiness, you lose flavor. The fun of heirloom tomatoes is the color—every color has a different flavor.
Black krim
tomatoes have spiciness, almost a saltiness. They're not really black, more of a burgundy with green shoulders. The
little blondie
, a German tomato, has tiny yellow cherry tomatoes that are intensely sweet."
Heirloom Tomatoes in Chicago
Color is coming back into the tomato world, thanks to Dave and Denise Dyrek, the husband-and-wife growers who operate
Leaning Shed Farm
in Berrien Springs, Michigan. They grow approximately 70 varieties of heirloom tomatoes, many of which go into the kitchens of Chicago's most lauded
restaurants
. Learn how chefs around the city (including some customers of the Dyreks) are serving up the summer's juiciest heirlooms.
Cellar Door Provisions
(Avondale | 3025 W. Diversey Ave.) The eatery serves Leaning Shed Farm's tomatoes with olive-oil brioche, greens, and onion confit.
Carriage House
(Wicker Park | 1700 W. Division St.) Chef Mark Steuer plates heirlooms over a dollop of buttermilk purée, then sprinkles on smoked peanuts, herbs, and crumbled asher blue cheese. The dish is finished with a drizzle of dill oil, sea salt, and crisp, cornmeal-fried okra.
Big Jones
(Andersonville | 5347 N. Clark St.) Spicy green heirloom-tomato sauce lends a bite to the Reconstruction Era corn cakes that chefs here griddle for brunch. The corn cakes are stuffed with cheddar cheese and served with black beans, fried farm eggs, avocado, and sour cream.
Dusek's
(Pilsen | 1227 W. 18th St.) The summery flavors of the restaurant's stone fruit and heirloom tomato salad (pictured at top), made with baby arugula and watermelon, are highlighted by creamy montenebro and a vinaigrette made with rich brown butter and pine nuts.
Photo of Dusek's salad by Andrew Nawrocki, Groupon; photo of Caspian Pink tomatoes courtesy of Annie's Heirloom Seeds
Read more about fresh ingredients coming into season at Chicago restaurants.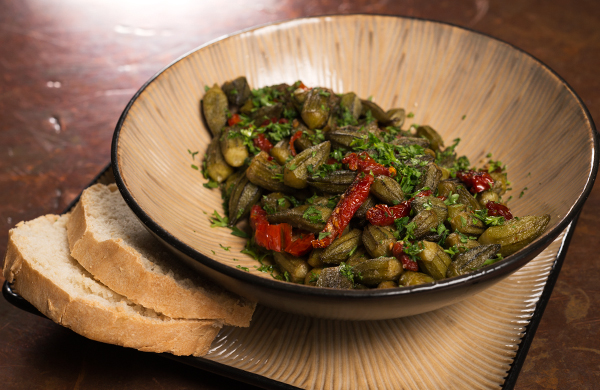 Okra
Southern, Indian, Ethiopian, Greek, and Afghan restaurants take on this versatile veggie.
BY: Halley Lawrence
Guide Staff Writer
Halley is a Chicago writer with southern roots. When she isn't typing, she enjoys cooking without recipes and designing garments for her upcoming clothing line, Ambidestre.