GROUPON GUIDE TO WASHINGTON-DC
A Chicago Hot-Dog Legend on How to Find the Best Hot Dog
BY: Liz Juranek |
May 19, 2015
Doug Sohn is quite possibly Chicago's preeminent authority on hot dogs. As the owner of Hot Doug's, he spent 14 years serving all sorts of sausages to hungry customers, some of whom even camped out overnight before the restaurant's last day in 2014. Who better to determine what makes the best hot dog?
We asked Hot Doug six things you should look for in a great hot dog.
1. Stand vs. Restaurant
A street cart or stand is where you should seek out the best hot dog. "Having said that, the ballpark is certainly a place to have a hot dog, or at a picnic on the grill," Sohn said. Really, the hot dog can be served just about anywhere. "It's a food of the people, so it crosses over all economic, social, gender, racial, whatever lines."
2. Crucial Characteristics
It should be meat. "I understand there are vegetarian hot dogs, but that's a vegetarian hot dog. The best I've tasted over the years are beef, pork, or veal—one of each or a combination."
It should be salty. "'Sausage' comes from the word salt. I like a nice hit of garlic. Some of that's a Chicago thing, but I think it matches up nicely with meat in general. It should be meaty; it should taste like the meat being used to make the hot dog."
It should have a natural casing. "Natural casing is essential. Absolutely essential."
3. Toppings
So is ketchup OK? Like any good Chicagoan, Sohn doesn't put ketchup on his hot dogs. However, the hot-dog connoisseur doesn't subscribe to food rules, so he won't begrudge you for your choice of toppings. "If you like ketchup on a hot dog, then you like it on a hot dog."
4. Bun
The proper bread-to-meat ratio is key. "The bun should be substantial enough to not fall apart but not so overwhelming that all you're tasting in half your bites is bread only," Sohn said. "And there is that aspect of portability: this is not a knife-and-fork food. A hot dog in the one hand, a beverage in the other."
5. Side Orders
If you're at a hot-dog joint with seating, by all means, order fries. But most street carts aren't serving french fries, so don't feel limited to them as a side dish. "Hot dog and bag of chips at a ballgame: fine. Hot dog and another hot dog: equally fine," he said.
6. Specialists or Generalists
A true hot-dog joint should do one thing and do it well. "At minimum, they should do a great Chicago-style hot dog, or a classic hot dog if it's somewhere else," Sohn said. "It's awesome if they can do other sausages on the menu and do them well. But to me, it's not necessary."

Land of the Free, Home of the Hot Dog
You can no longer visit Hot Doug's for one of its famous frankfurters, but these hot-dog spots across America are the next best thing.
Biker Jim's Gourmet Dogs | Denver, CO
Hot Doug said hot dogs should be made of meat, but he didn't specify what kind. So if you're adventurous, check out the elk, wild-boar, or veal dogs from this hot-dog cart.
Dirty Frank's Hot Dog Palace | Columbus, OH
There's something for just about everyone at this home of hot dogs. The classic all-beef frankfurters are steamed and tucked into poppyseed buns before being topped with quirky toppings including corn relish, mango chutney, and sweet-hot cabbage.
Crif Dogs | New York, NY
Topped with unlikely but classic American ingredients such as coleslaw, fried eggs, cream cheese, and chopped baseballs, these handmade deep-fried frankfurters have made it onto Martha Stewart's list of favorite NYC hot dogs for their originality.
Frank | Austin, TX
Like most Texans, this eatery has plenty of local pride. Its artisan dogs, most of which are made in house, are complemented by produce from Johnson's Backyard Garden and cheese from Antonelli's Cheese Shop.
Pink's Hot Dogs | Los Angeles, CA
This frank shack has attracted plenty of Hollywood superstars since its opening in 1939. To keep them coming back, the menu includes several celebrity dogs, including ones named after Emeril Lagasse, Rosie O'Donnell, and Giada De Laurentiis.
Flo's Steamed Hot Dogs | Camp Neddick, ME
When traveling along southern Maine's Route 1, there's no shortage of beautiful scenery. If you're hungry, however, keep an eye out for this roadside hot-dog joint run by the Stacy family since 1959. Grab some of its famous relish for the road while you're at it.
Photo illustration by Mark Mills, Groupon
Learn more about hot dogs and Hot Doug: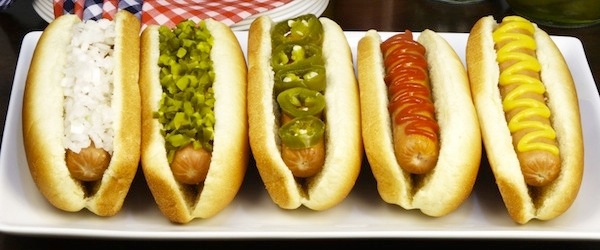 Janet Riley, president of the National Hot Dog & Sausage Council and self-proclaimed Queen of Wien, discusses what makes a good hot dog.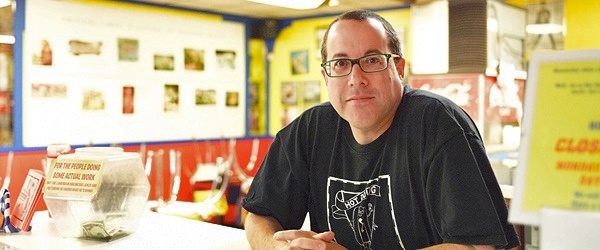 Just because he's the king of encased meats doesn't mean Doug Sohn never craves a burger. He talked to us about his book and where he gets his Chicago food fix.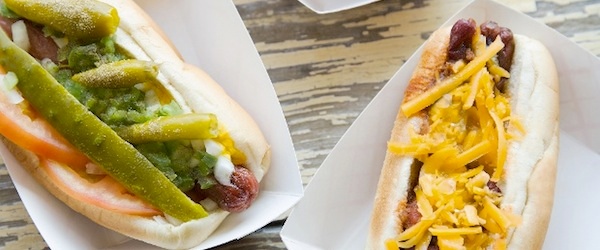 Despite the ongoing debate about what constitutes a true Chicago dog, everyone can agree on one simple rule: no ketchup allowed. Here are 15 spots to try out.