How Longman & Eagle's Chef Cooks With Pumpkin
BY: Jasmine Feldmann |
Sep 23, 2015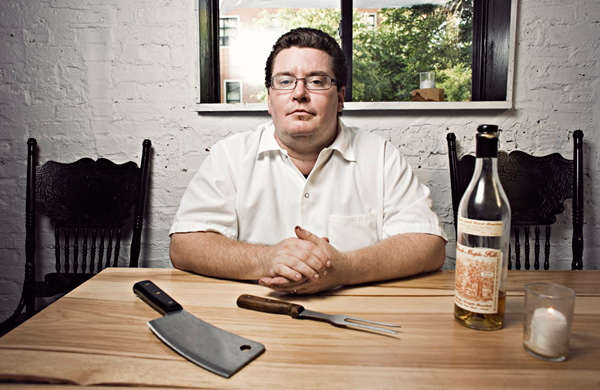 For most foodies, pumpkin is the quintessential taste of autumn. It starts with the first sips of a pumpkin latte and lingers to the last slice of Thanksgiving pumpkin pie. But those nutmeg- and sugar-laden iterations aren't the only forms that this fall flavor can take.
At Chicago's Michelin-starred restaurant Longman & Eagle, Chef Jared Wentworth incorporates pumpkin into every course on the menu, using savory spice blends, exotic oils, and other ingredients to alter the taste. He shared with us tips for pumpkin dishes that are savory, sweet, and snacky, as well as some drinks to pair them up with.
THE WHOLE PUMPKIN
For Longman & Eagle, pumpkin flavors aren't just to incorporate seasonal ingredients; it's also just a way to clear their gardens.
"The day after Halloween, we throw all of the old pumpkins out into the yard," Wentworth said. "And usually those sprout up into a whole batch of new pumpkins the next year. So now we're just trying to think of ways to use all these pumpkins we've got."
It isn't hard for Wentworth and his staff to find new ways to use up their stash of pumpkins. "Our menu changes up to 26 times a year," he said. "So when we take an ingredient, we usually do about 15 iterations of the same flavor." He uses everything except the rind, using the smaller pie pumpkins for their sweeter, more vibrant flavor. While he says that canned pumpkin can be used in a pinch for baked goods, he recommends buying and roasting your own pumpkins for savory dishes.
THE SAVORY
Most of Chef Wentworth's pumpkin dishes fall on the savory side of the spectrum. "Last year we did a really good pumpkin risotto with duck confit," he said. "It's hard to think about when it's 100 degrees outside, but this year we'll probably end up using it in things like savory custard and even making pumpkin pickles for garnishes."
He eschews the classic mix of cinnamon, nutmeg, and cloves, and instead seasons his dishes with a blend of 32 Arabic spices called ras el hanout, which translates to "top of the shelf." Once the pulp is blended, the creaminess of the resulting roasted pumpkin easily lends itself to sauces. Wentworth recommends using it in bisques, risottos, ravioli, or his personal favorite, pumpkin and chanterelles.
And to compound autumn flavors, he sometimes even creates fall-centric dishes such as pumpkin elotes served with pickled cranberries.
THE SWEET
The secret to Wentworth's pumpkin sweets isn't sugar, and sometimes it isn't even roasted pumpkin. It's pumpkin-seed oil. He tops donuts with a pastry cream anglaise sauce made with pumpkin, or even just a simple splash of pumpkin-seed oil to give it an earthy, pumpkin taste.Making your own oil would be extremely time-consuming, and not cost efficient, so instead he buys Austrian brands of pumpkin-seed oil from high-end olive-oil stores.
He does create more traditional pumpkin recipes as well. He bakes different riffs on pumpkin breads for the daily brunch, incorporating different seasonal ingredients to play up fall flavors.
THE SNACKS
When a pumpkin gets cracked open, Wentworth won't toss the seeds. Instead, he incorporates them into a variety of dishes. For the house pepitas, he and his team brine the seeds for a day and then rehydrate and fry them until they are crispy and salty. But they aren't just in sweets. The chefs also fold them into desserts such as the pepitos brittle or as garnishes atop their donuts.
THE DRINK PAIRINGS
"Whenever I think of pumpkin drink pairings," he said, "I think apple." He recommends pairing both sweet and savory pumpkin dishes with spiced apple toddies. Those looking for less fall flavor—I can't imagine why— should instead pair their dishes with Belgian white ales or bolder pinot noirs.
Photo: © Clayton Hauck
BY: Jasmine Feldmann
Guide Staff Writer
Jasmine is a small-town Iowa girl makin' it in the biggish city. She loves thrifted dresses, pretending to be Mata Hari, Halloween, making her own extra-greasy lotions, sensible shoes, picnics in cemeteries, jet-setting around the world in coach class, and finding ways to incorporate more chilis into her life.