The Bridesmaids' Bill of Rights
BY: Liz Juranek |
Sep 9, 2015
Bridesmaid. Just the word can send a shiver of terror down a young woman's spine. It's easy to understand why: bridesmaids are pop-culture jokes, women who are forced into ugly, expensive dresses and made to wait on the bride's every whim. It's a job that can ruin both friendships and credit scores. Even the most seemingly laid-back weddings can turn into stressful situations if the bride and her bridesmaids aren't on the same page.
However, every wedding doesn't have to mean the end of a friendship. We asked Guide staffers and friends for their bad bridesmaid stories, so women planning their nuptials can learn from other brides' mistakes. Behold: the Bridesmaids' Bill of Rights.
1. The Right to Not Go Broke
The average bridesmaid gown costs $150, and that's before alterations and extras such as shoes, jewelry, and hair and makeup costs. Consider talking to your bridesmaids about their budget concerns so you know what they can reasonably afford to pay for a dress.

Some brides try to save money by having their bridesmaids order dresses online, but this too can go awry. Many online dress stores only offer made-to-order styles that are final sale. One bridesmaid we polled was clearly upset about being forced to "buy a $200 dress that I cannot try on first and can't return if it doesn't fit. WHAT??"
Tip for brides: Ordering online can save you money, but make sure the store's return policy will allow you to return the dress, like ideel does.
2. The Right to Bare Arms (or Not)
"Strapless gowns are a curse from the gods. Don't inflict them on your friends," responded one bridesmaid.

Another had the opposite problem. Sure, she didn't have to keep yanking up her dress all night to avoid a wardrobe malfunction, but she couldn't move her arms: "My bridesmaid dress had cap sleeves in a very inflexible material. I couldn't lift my arms up very high and ended up with bruises on my arms the next morning."
Yet another maid was forced to wear a dress she described as "one size fits all, quite revealing, and very expensive." Instead of feeling good about not having to wrestle with a sizing chart or attend fittings, it left her feeling "uncomfortable, poor, and a little shamed."

These days, it's relatively easy to find dress suppliers that feature an array of sizes and styles that will flatter everyone in your bridal party. If you're asking brides to shell out a chunk of cash for a dress, they should at least feel good about their purchase.
Tip for brides: Break out of the bridesmaid-dress rut and have your friends wear cocktail dresses that can easily be worn to another special occasion. No strapless bras or pain medication required.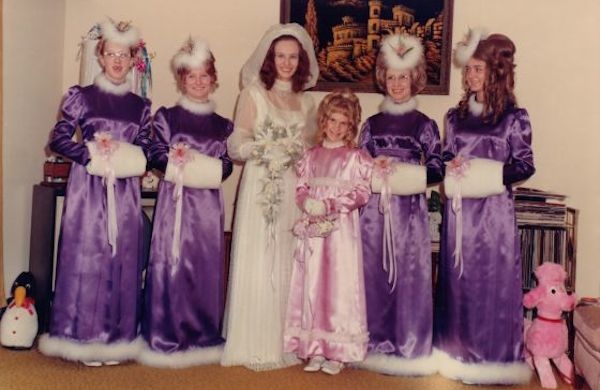 Bonus tip: Stuffed animals make great stand-ins when several of your maids decide to make a run for it.
3. The Right to Snack
"The bride and groom made the entire bridal party parade all over Indiana for four hours between the ceremony and reception to take pictures with absolutely NO food or drinks in the limo to tide them over," recalled one source we asked for a bridal-party horror story.
Another bridesmaid echoed the sentiment. "The bridesmaids showed up at 9 a.m. to have hair and makeup done, but the ceremony wasn't until 5 p.m. They kept promising sandwiches, but they never came. By the time the wedding started, we were all shaking in our heels."
Tip for brides: If you're going to treat bridesmaiding like a job, follow labor laws and give your friends a break and a snack. You don't want your reception to be remembered as the one where the maid of honor fainted because no one sprang for PB&J.
4. The Right to be Treated Like a Friend ... Not a Literal "Maid"
Bridesmaids have two jobs: walking in a straight line while holding a bouquet and cajoling people into joining in during the Chicken Dance. Many are happy to help with other aspects of the wedding, but anything extra should be treated as a courtesy, not an expectation. "The bridesmaids served the lunch at the shower," one person shared.

Bottom line: bridesmaids are guests at the wedding, not hired hands. And waitressing isn't on the résumé.
Tip for brides: There is absolutely nothing wrong with a buffet.
5. The Right to be Reimbursed
Printing your own programs: a smart, money-saving tip. Asking your bridesmaid to print and collate the programs, then not paying her back for supplies: a jerk move. "I was asked to print all the programs for the wedding, including typing up the template and printing them out with my own ink," a bridesmaid responded.
Tip for brides: Go semi-DIY with custom invites and programs. And if you do have a friend print them for you, pony up the cash.
6. The Right to Realistic Expectations
Showers, bachelorette parties, dress shopping—all pre-wedding activities that can be a lot of fun for a bride and her bridesmaids ... or a complete nightmare. The key to making sure everything goes smoothly? Communication.
"I was asked to be the maid of honor for a friend's fiancée," one person shared. "Beyond the occasional arts-and-craft date, I knew very little about her. ... It became clear early on that we had very different tastes and expectations. Rather than providing me with more guidance, she would make me play these guessing games to figure out what she actually wanted for her showers, bachelorette party, and party favors. The whole experience was really taxing on everyone, herself included."
But even if you do have a close relationship with your maid of honor, don't just assume she's up for the task. "The bride decided to make both of her sisters co-maids of honor, knowing full well she didn't get along with one sister and that the other sister simply wouldn't want to do anything involving effort," one bridesmaid said. "The bride then asked another bridesmaid to do all the work the two maids of honor refused to do, including planning the bachelorette party and giving a toast because neither sister felt like doing it."
Tip for brides: Don't put your bridesmaids through the paces. If you don't have an ideal candidate for a maid of honor, find an alternative arrangement, such as two friends splitting the tasks. And if you do end up choosing someone you're not very close to, set clear expectations and discuss your likes and dislikes right away.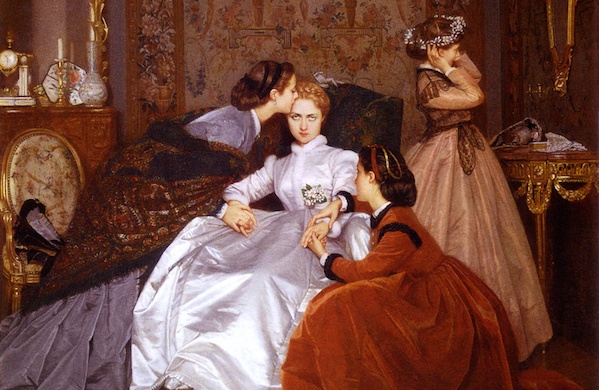 The only thing that could have made The Godfather more terrifying? Michael Corleone in a wedding dress.
7. The Right to an Apology
When we sent out a call for bridesmaids stories, one bride responded that she had led her future sister-in-law to believe she would be a bridesmaid. While nothing was formally set, the sister-in-law was very excited. However, the bride ended up choosing other friends instead. "[My] sister-in-law was really hurt and embarrassed, and I felt TERRIBLE," the bride said. "I honestly don't know if she and I will ever be able to have the same kind of relationship after I let her down like that."
This story, at least, has a happy ending. After thinking about this article, the aforementioned bride sent her sister-in-law an apology email, and there was good news: "Sister-in-law emailed me back and has totally forgiven me for the fiasco. I'm holding back tears; I'm so happy."
Tip for brides: Weddings are stressful times. Mistakes will be made—just own up to them and genuinely apologize to your friends. Hopefully they'll be as gracious and forgiving as this sister-in-law.
Say "I do" to these other wedding-etiquette guides: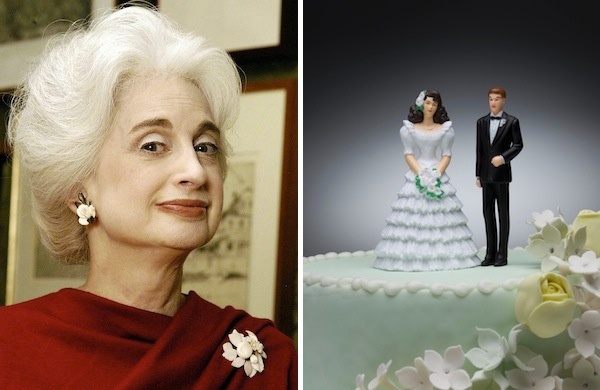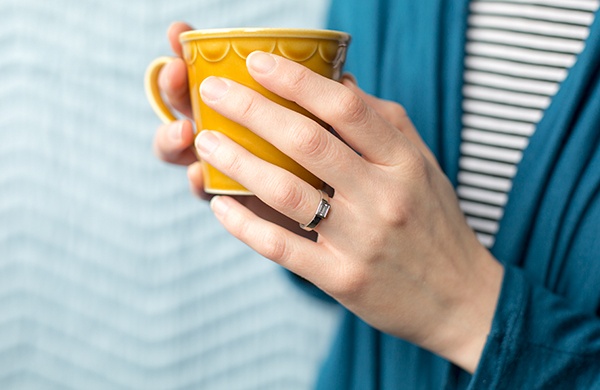 BY: Liz Juranek
Liz is a beauty writer whose two greatest joys are red lipstick and her pet dwarf hamster.