How a Chef Cooks for His Kids, 8-Year-Old Twins with Very Different Tastes
BY: Aimee Algas Alker |
Mar 26, 2014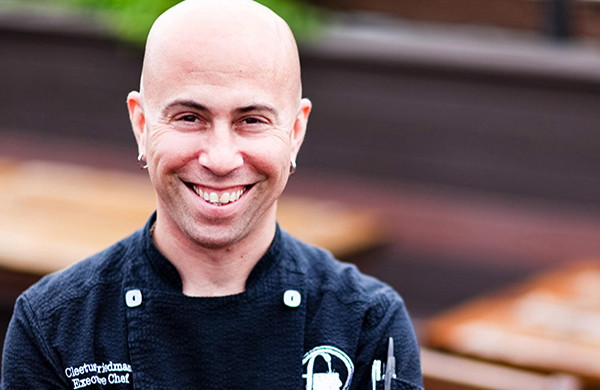 Chef Cleetus Friedman of Fountainhead on how he prepares balanced meals for his daughter (who must have GMO-free popcorn) and his son (who loves boxed mac 'n' cheese).
When Chef Cleetus Friedman took the helm in
Fountainhead
's kitchen (Ravenswood | 1970 W. Montrose Ave.), he put his bold stamp on an already dynamic menu. At home, though, his challenge is satisfying the two very different tastes of his 8-year-old twins. Here, he shares his tips for pleasing the palates of his foodie-to-be daughter and meat-and-potatoes son.
Make food an adventure
"Once a month, my daughter and I have a date where we go to dinner and she gets to pick a different cuisine. We've done Mexican, Ethiopian, French," Cleetus says. It's a way to get some daddy-daughter time, and share a love of exploring cuisines without making compromises for his son. To augment this adventure, his kids have tagged along with him to farmer's markets since they were 2 years old. "My daughter knew what kale was before she knew who Michael Jackson was," Cleetus says. In fact, his daughter's been known to query shopkeepers about whether their wares are GMO free. "I [also] try to get them involved in cooking the food. It's a great sense of family when you're cooking and eating together." And now that they're at the age when they can help plan meals, they're involved from the very beginning—at the grocery store where they help choose ingredients. He suggests that parents should get out of their own comfort zone, and experiment with cuisines that are new to the whole family. "Food can become an adventure for all of you together."
But not too much of an adventure
In Cleetus's own words, his son is "real meat and potatoes, doesn't like greens." Though he tries to encourage his kids to eat whole, organic foods, he acknowledges that
forcing
anything on them is not the best idea. "When it comes down to it," he says, "my kid loves Kraft mac 'n' cheese." So what does he do? "I work with their appetites," Cleetus says. "If I'm going to feed them tacos, I use locally raised non-GMO beef." His son is happy (he loves tacos), his daughter's happy (no GMOs!), and therefore Cleetus is happy. With picky kids, Cleetus urges parents to prepare them when they're planning on trying a new restaurant. "I'll say, we're going somewhere we've never been. Are you cool trying something new?" And, again, not to force anything. "I'm happy as long as he tries something; he doesn't have to finish it," he says, and adds that trust is key. "My son knows I know food, so I'm never going to feed him something I don't think he'll like."
Everyday staples
Chef Cleetus's kids both clamor for hummus and pita, so a trip to
Pita Inn
(several locations, including the original at 3910 Dempster St. in Skokie) is "easy" for the whole family. At home, they all come together for pizza-making night. Daddy makes the dough, and the kids get to roll it out and put their toppings on.
Photo courtesy  of Fountainhead