GROUPON GUIDE TO WASHINGTON-DC
Tofu Reinvents Its Mushy, Lumpy, Tasteless Reputation
BY: Katie Cortese |
Mar 5, 2015
If you've ever ordered tofu in a restaurant and been served a soft, tasteless lump, then you understand why tofu gets a bad rap. Fortunately, more and more chefs and home cooks are learning how to cook tofu, using the versatile ingredient in a variety of dishes while helping the nutrient-rich food outgrow its bad reputation.
For example, Upton's Breakroom, the onsite café of Chicago seitan producer Upton's Naturals, uses tofu to replace eggs in a number of dishes, including the breakfast sandwich (pictured above). "We use extra-firm tofu that we preseason [with nutritional yeast, turmeric, salt, pepper, and onion] and then fry on the griddle for a few minutes on each side," said Dan Staackmann, the company's president.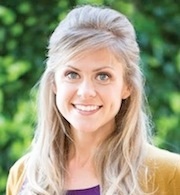 Ultimately, the difference between good and bad tofu dishes lies in what kind of tofu you use and how you cook it, something Kristy Turner knows all too well. When Turner, the writer behind the Keepin' It Kind blog and But I Could Never Go Vegan!, first switched to a vegan diet, she thought tofu was bland and mushy.
But that was before she learned a few tips on how to cook tofu.
Tip #1: Don't waste your time with medium tofu.
It is important that cooks use each tofu's consistency to its advantage. Silken and soft tofu's smooth texture works well in dressings, sauces, and desserts. On the other hand, firm and extra-firm tofu can be marinated, fried, sautéed, baked, and grilled to make feta-cheese crumbles, scalloped potatoes, and even alfredo sauce. But don't even bother cooking with medium tofu. Its in-between firmness just ends up disappointing newbies.
Tip #2: Pressing is essential when working with extra-firm tofu.
The process removes water from the tofu, creating a firm base and transforming it into a sponge that can absorb any flavor. The chefs at Upton's Naturals press tofu while it's on the griddle, but the process is generally done beforehand, as demonstrated in this video.
Once Turner learned the best ways to cook each type of tofu, she was able to satisfy her cravings for animal products at every meal. Below are her top picks.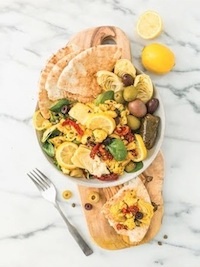 Breakfast
Tofu scramble
Type of tofu: Extra-firm
What it replaces: Eggs
"When I first went vegan, the number-one recipe I used to make was tofu scramble. It is pretty easy, and there is not a lot of prep," Turner said. She flavors the tofu with spices and nutritional yeast, but her secret ingredient is black salt, whose sulfuric taste is similar to that of eggs.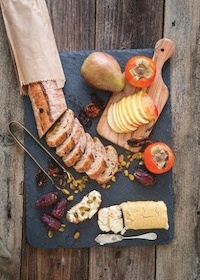 Lunch
Tofu chèvre
Type of tofu: Extra-firm
What it replaces: Cheese
To get as much water out of the tofu as possible, Turner suggests pressing it the day before and then letting it sit in the fridge overnight. After that, blend the tofu with other ingredients until it reaches a smooth yet firm consistency. Then, bake it and eat it alone or use it as an ingredient in another meal. "I use it in sandwiches, on pizzas, and in salads," Turner said.
Dinner
Pan-fried tofu
Type of tofu: Extra-firm
What it replaces: Chicken, pork, and beef
Pan-frying is one of Turner's favorite ways to eat tofu. To ensure the tofu is as firm as possible, she presses it while she is at work. Then, she chops it up and pan-fries it with coconut oil and spices.
Dessert
No-bake chocolate peanut-butter tart
Type of tofu: Silken
What it replaces: Cream cheese and heavy cream
"I always use silken tofu for a creamy texture," Turner said. "It is rich and decadent." Silken tofu doesn't need to be pressed, but its excess water should be drained. Then, place it in a food processor with the filling's other ingredients and blend. Once the mixture is smooth, it's poured over the crust and left to cool.
Top photo at Upton's Breakroom by Andrew Nawrocki, Groupon. Photos of Kristy Turner and meals courtesy of Chris Miller.
Take a wider view of the world of vegan food: