Veg Out in the Breakroom at Upton's Naturals
BY: Katie Cortese |
Jul 25, 2013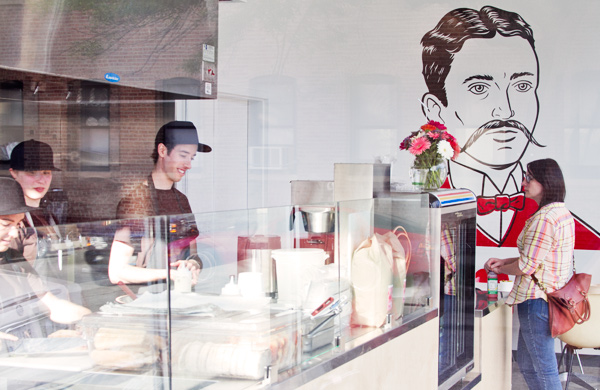 In April, Upton's Naturals' president, Dan Staackmann, and vice president, Nicole Sopko, led me on a walking tour of their new facility—a three-story seitan manufacturing plant with a yoga studio, a rooftop garden, and a café named Upton's Breakroom. I wrote about how their plans were
remaking Chicago's image as the "Hog Butcher for the World
," and I recently caught up with Sopko now that construction is nearly finished and Upton's Breakroom is up and running.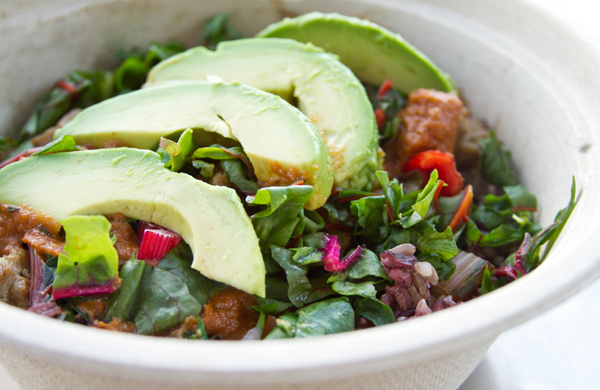 GROUPON: How do you feel now that Upton's Breakroom is open?
NICOLE SOPKO: I am really excited and we [Staackmann and Sopko] are both in total disbelief. It is finally open, but we are both really excited just to have people from the neighborhood who have made their way in and seem interested in what we are doing. So it's really cool.
G: What can you tell us about the new space?
NS: Our baked goods are all made by Kelly Peloza, a published cookbook author [and the blogger behind Seitan Beats Your Meat]. She wrote a book called The Vegan Cookie Connoisseur, and so she is doing all our baked goods. The recipes are custom to our place, and they will rotate. We have a great menu of sandwiches that are made with varieties of seitan that you can't get anywhere else in the city. We have our pastrami sandwich and we have our Chicago-style sliced italian—it's like an italian beef with giardiniera. We are doing a fried vegan bacon mac and cheese. We are serving coffee from Bow Truss (2934 N. Broadway).
G: Any snags along the way?
NS: We had a delay in doing our health inspection because all the health inspectors in the city were at the Taste of Chicago. So that delayed our opening slightly, but it did give us more time to be a little more prepared, so I am not complaining about that. But it was funny when we called for a health inspection and they were like, "Not this week." They came out yesterday (Monday, July 22), I think we passed at about 4 p.m., and we hustled and opened at about 5:30 p.m. because we were just so ready.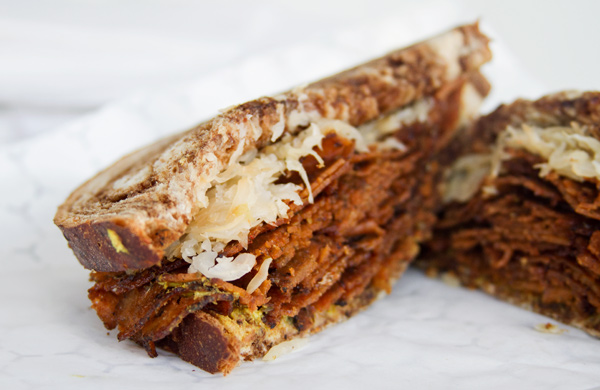 G: Is the seitan plant up and running?
NS: Not yet. We just passed inspection yesterday, and it takes a move to get all our equipment over here, but I think that we might be up and running here this week.
G: How about the yoga studio?
NS: That is going to take just a little bit longer. The third floor is still a little more under construction than the rest of the building. I am hoping in August, but I just don't know when we will start there.
G: What about the design aesthetic inside the Breakroom? I saw a pic of a big wall graphic getting installed.
NS: Our big Upton's? Yeah. Chicago Sign Systems did a big vinyl-cut Upton's for our wall. I just posted an updated picture today with his red jacket. He is just under 7 feet tall. It is right above the tables.
Upton's Breakroom is tucked inside the company's seitan manufacturing plant at 2054 West Grand Avenue in West Town. Stop by daily for a menu of hollandaise sauce ladled atop a breakfast sandwich, fried bacon mac and cheese, and a marble-rye sandwich with special pastrami seitan not available anywhere else in the city. Hours are 7 a.m. to 9 p.m. Monday through Thursday; 7 a.m. to 10 p.m. Friday; 8 a.m. to 10 p.m. Saturday; and 9 a.m. to 7 p.m. Sunday.
Photo: © Michelle Klosinski, Groupon