How to Make Vegan-Friendly Party Treats
BY: Katie Cortese |
Oct 25, 2013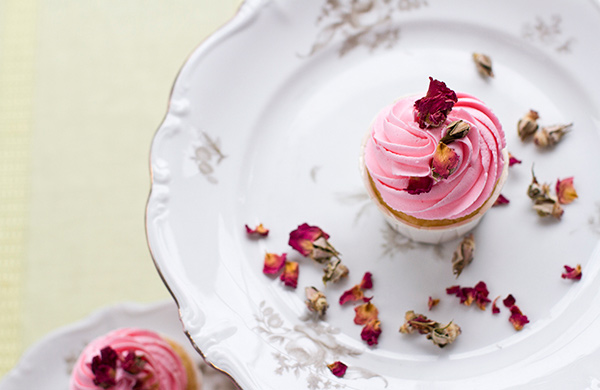 Cake slathered in cream-cheese frosting. A sugary peach mix tucked inside buttery pie crust. Chocolate gelato topped with whipped cream. These delectable treats are all made with staple baking ingredients: eggs, milk, butter, and cheese. But not in Kelly Peloza's kitchen. The local baker and cookbook author creates these very treats without any animal-based ingredients—a feat she has accomplished since she was a teenager. "I was always baking," Peloza said of her high-school days. "It was a lot of trial and error." At 16, she became vegan as a form of compassion toward animals, from which a passion for baking grew. But she wasn't just baking sweet treats for fun—she was building a stock of recipes to create her own cookbook,
The Vegan Cookie Connoisseur
. Some of the treats' ingredients were easy to replace with vegan versions, such as nondairy milk and vegan margarine. But others took some finessing until she found a suitable replacement. Eggs, for example, were particularly tricky. In some recipes, instead of eggs, she's used bananas or applesauce. "I veganize recipes people wanted to eat before they were vegan and create new ones people haven't heard of before," Peloza said. "It is an art form." As she finalized recipes for her book, Peloza shared her adventures on the blog
Vegan Cookies
. Wanting to expand her culinary horizons, she started a new blog titled
Seitan Beats Your Meat
right after graduating college. Now she uploads weekly recipes that expand beyond the sweet treats that she's built a reputation on. The site features recipes for brunch, dinner entrees, and drinks, each with appetizing photos she takes herself. Photography is another passion—she earned a BFA in photography and writing from the Milwaukee Institute of Art & Design. And she took all the pictures in her newest venture,
Cheers to Vegan Sweets
, a cookbook (to be released in November) that compiles dessert recipes inspired by drink flavors. At the moment, some of her favorite recipes are homemade vegan ice cream in flavors such as coffee and margarita.
Below, Peloza lists some of her top vegan substitutes for classic baking ingredients: 
Eggs:
Ener-G egg replacer, soy yogurt, applesauce, cornstarch, and bananas
Butter:
Earth Balance margarine, vegetable oil
Cream cheese:
vegan version such as Vegan Gourmet
Sour cream:
vegan version such as Vegan Gourmet
Yogurt:
vegan version such as So Delicious and Silk
Honey:
agave nectar, brown rice syrup
Chocolate:
vegan semisweet chocolate and dark chocolate, though be sure to read the ingredients label
Ricotta cheese:
crumbled tofu
Mascarpone cheese:
coconut milk With Halloween right around the corner, Peloza's tips come in handy for party treats.
Click here to see a step-by-step pictorial recipe for ghost rice-krispie treats.
Alternatively, below are some local spots that sell ready-made vegan treats:
Azucar Vegan Bakery
(2235 N. Western Ave.): 100% vegan bakery with mouth-watering cupcakes in such flavors as organic banana topped with a peanut-butter frosting or a lemon and mint mojito duo.
Chicago Diner
(3411 N. Halsted St. and 2333 N. Milwaukee Ave.): Vegetarian diner with a bakery full of cupcakes, muffins, and cookies—plus custom cakes in such flavors as red velvet, lemon poppy seed, and chocolate stout.
Fritz Pastry
(1408 W. Diversey Pkwy.): Bakery with a smattering of vegan donuts, cinnamon rolls, scones, muffins, and pop tarts.
Upton's Breakroom
(2054 W. Grand Ave.): Peloza's very own creations are sold here. She bakes fresh treats such as scones and muffins for this vegan café every day.
Read more about Upton's menu and how the company is reshaping Chicago's foodie reputation.
Photo courtesy of Kelly Peloza
BY: Katie Cortese
Guide Staff Writer
Friend to animals and craft brews.