GROUPON GUIDE TO WASHINGTON-DC
The Most and Least Waxed Cities in America
BY: Mae Rice |
Apr 6, 2015
With temperatures warming up, the spring might just be the most popular time of year for body waxing. However, while this season might be when people wax most, it's much harder to guess which people wax most. Or least.
Luckily, Groupon is in a position to find out. We have plenty of data on where body waxing is most popular, and we were able to tally the 2014 sales of six types of waxing Groupons (brow/face, bikini/Brazilian, arm, leg, men's, and general waxing). We then ranked cities by how many of these deals they purchased.
Below, find out which five cities love waxing most, and which five might pay to not get waxed.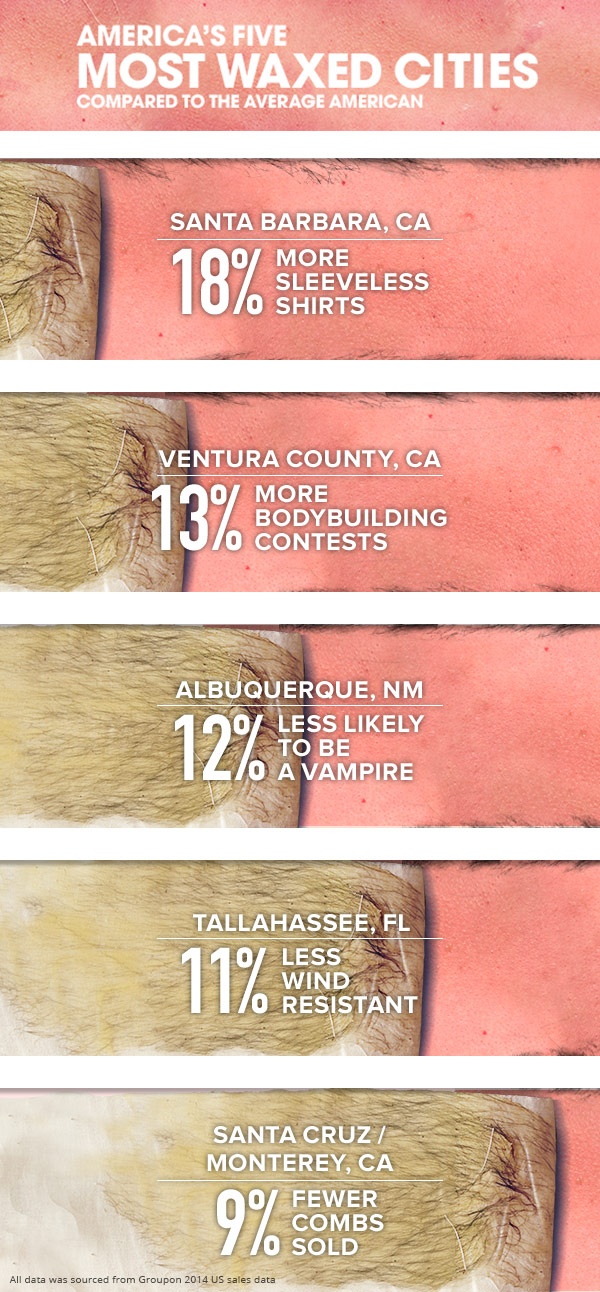 Why is Santa Barbara the city where waxing is most popular?

Santa Barbara left every other city in the dust. Groupon users there purchased 30% more waxes than even those in the runner-up region, Ventura County. To shed light on this stat, we talked to Alyssa Lopez, an esthetician at Alston Face & Body. A lifelong Santa Barbaran, to her the reason was obvious: "Our year-round beautiful weather!" she said. "Being in Santa Barbara … the beach is where you want to be."
Local style blogger Kelly Oshiro heartily agreed. "Beach season pretty much never ends in Santa Barbara," she said. "There are so many students and young people here, they like to keep things in order since its shorts and bikini weather year-round."
For a male perspective—after all, our data does include men's waxing—we also chatted with Jim Mahoney, curator of the Santa Barbara Surfing Museum. "The beach people here are super conscious of their looks and aura," he said, "especially around the tide pools at the beach, which act as natural mirrors."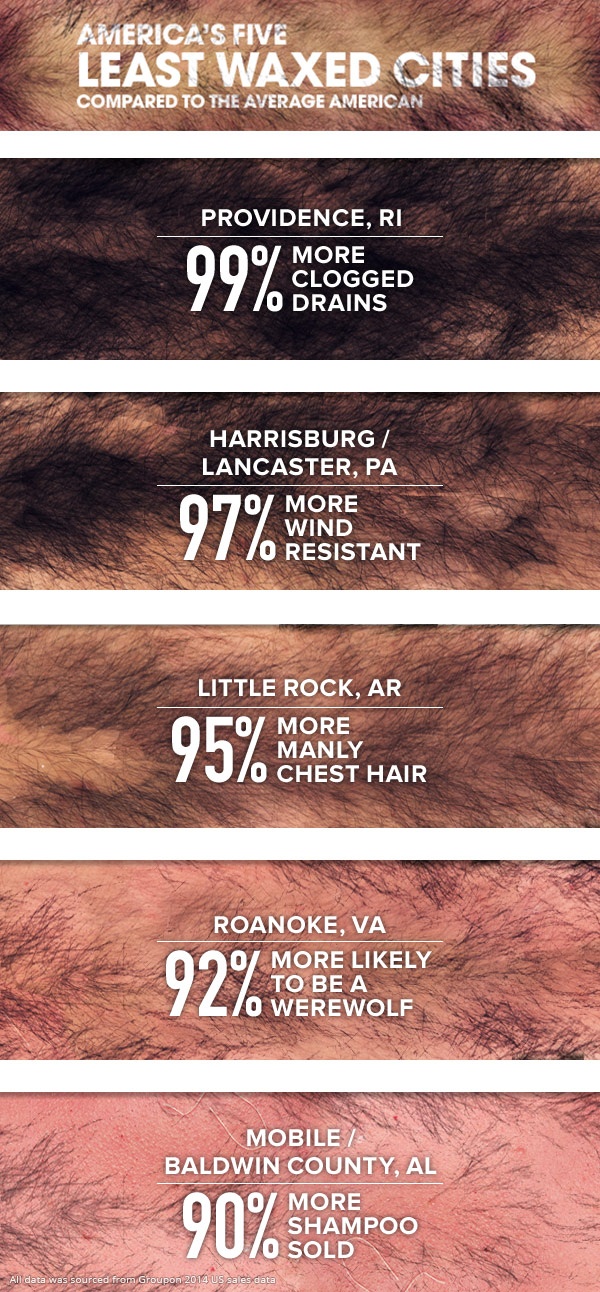 Why is Providence the city where waxing is least popular?
Groupon users here had next to no interest in waxing deals in 2014, so we asked Lauren Saccoccio, esthetician at Total Body Affinity, why that might be. The Rhode Island native speculated that locals might just be seeking out different types of hair removal. She said she's "noticed a [slight] decline in waxing, and our biggest competition in that area is probably threading." When asked, though, she did admit to seeing plenty of eye-catching body hair around town.
Providence personal stylist Jill Marinelli went so far as to suggest body hair might, in fact, be trending. "The bearded lumbersexuals are taking over, and I'm wondering if the ladies are taking a cue from them."
Images by Matt Pennetti, Groupon.
Read about other city superlatives: