Navy Pier's Most Requested Server
BY: Alison Hamm |
Feb 4, 2014
Acie Boyd is a pilot, a flute player, and a scuba-diving enthusiast. He's also likely to be your server if you visit Riva (700 E. Grand Ave.) at Navy Pier.
There, he entertains his guests by filleting fish at the table and making reliable recommendations on everything from seafood to how to spend an afternoon in the city.
Acie is a longtime server at Chicago restaurants. For more than 16 years he's been at Riva, where he's a senior (and rumor has it, the most requested) server. He's also a member of Chicago's union for hotel and restaurant employees, which means health care and a pension, often nothing short of a dream for those in the service industry.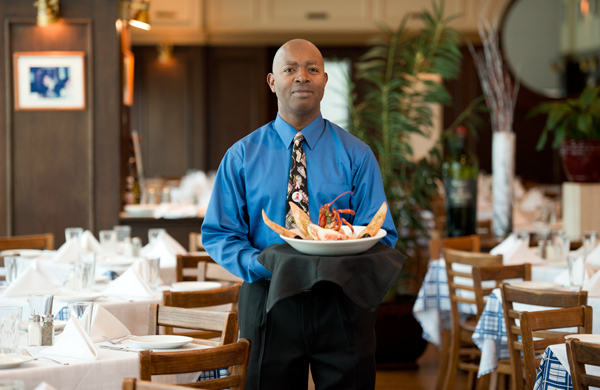 During his tenure, he's seen a lot—witnessing Navy Pier transform from something of a wasteland to what's now the Midwest's No. 1 tourist and leisure destination. I talked with Acie about his serving experiences, what he loves most about Chicago, and how working at Navy Pier serves as a continuing education.
GROUPON: When did you get into the service industry?
ACIE BOYD: I've been a server since I was 21, and I'm 52 now. I was living in the suburbs, and had been working in the kitchen at TGI Fridays for three years. But I wanted more flexibility, so I could occasionally take weekends off to go rock climbing and scuba diving, and money at the front of the house was better.
G: Was it hard to adjust to working in the front of the house, as opposed to being a line cook?
AB: In the kitchen, you can talk to people any way you want, but then when you move to the front you have to watch it [laughs]. But you realize people are just people. I'm a stranger, and I need to make guests comfortable. I had a five-year tenure at TGI Fridays, and it changed me as a person.
G: How did TGI Fridays prepare you to work at more upper-scale seafood restaurants, like Riva?
AB: I fillet fish and make salads at the table, so the entertainment aspect is still there, it's just more mature. In the Midwest, seafood isn't a main cuisine—we're still a meat and potatoes place—so people are looking for me to inform them. I try to put myself in their seats.
G: What dish do you most often recommend at Riva?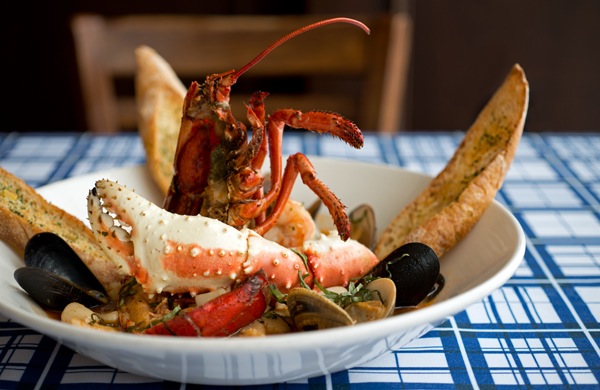 AB: The cioppino (king crab, shrimp, mussels, clams, lobster, fin fish, saffron, shellfish tomato broth). It's a great mix of seafood and my current favorite dish.
G: What's great about your job, and being in Chicago?
AB: There isn't anywhere that would offer me this sort of comfort. Even when the economy tanked, we stayed steady. I love Chicago. Before I got married, I gave myself a little time to find if this was the place I wanted to stay. I did a little traveling, went to major cities, but Chicago is my home. It's what I'm all about.
G: What do you enjoy most about working at Navy Pier, specifically?
AB: All the people I've met from all over the world. It's the reason I wanted to work in Chicago, after being in the suburbs. I'm attracted to different perspectives. It's an international crowd here, and people bring their culture with them.
When someone comes from, say, Japan, they bring their customs with them—how they greet, sit down, how and what they order—all that comes through in dining. And then someone from Germany, their attitude is completely different. I'm able to adjust my serving styles to these cultures, and I've learned so much. I even have regular guests from Arkansas. And I can give them a perspective on Chicagoans.
It's been an education, and I hope it stays that way. I make money and have great benefits, but that's my favorite thing.
G: Aside from tourists and business travelers, what other regular patrons come to Riva?
AB: We do a dinner package with the Chicago Shakespeare Theater, which gives theater guests the option of 20% off a regular meal or a special prix fixe menu. I really enjoy my theater patrons. Some have been my regular guests for 12–14 years, and there's an exchange there that I enjoy. We talk about children, grandchildren, even politics. Some even give me gifts at the holidays.
G: What's one thing you want people to know about your job as a server?
AB: Just remember, I'm there to help you. Talk to me, tell me what you want. It's not about coming in and spending a lot of money; that's not what I'm looking for. We do get guests that live it up, no doubt about it. But that's not what I'm about, or what we're about as a restaurant. I want it to be the experience you're looking for. If you're just looking for a cocktail and the view, that's fine. And if you want to learn about Chicago, I'll talk. Just tell me.
Photo credit: Andrew Nawrocki, Groupon