How to Match Your Pedicure Polish with Your Sandals
BY: Teresa Doyle Kovich |
Jul 10, 2015
With sandal weather comes a problem: people can actually see your pedicure. If your DIY job is better hidden beneath socks, you'll want to let the expert techs at Phoenix nail salons do the hard work for you while you sit back and relax. But first, pull out your footwear and start thinking about color.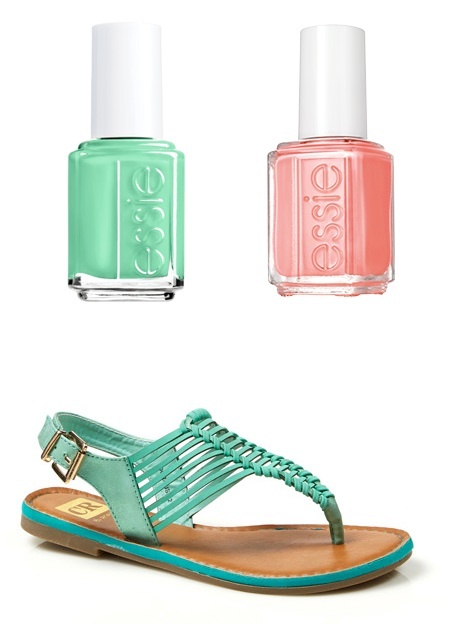 The Style: Any sandal in a bright or unique color, like lilac, orange, or hot pink.
The Polish: Pick a matching hue or one that directly contrasts (think of what you'd pair it with if you were choosing wedding colors).
What Not to Use: Red polish. Boooooring.
What Makes It Work: Edgy colors draw the eyes, so coordinate your two palettes, rather than downplaying one or the other.
Get the Look: This mint sandal from Mark & Maddux pairs perfectly with Essie's First Timer or Peach Side Babe.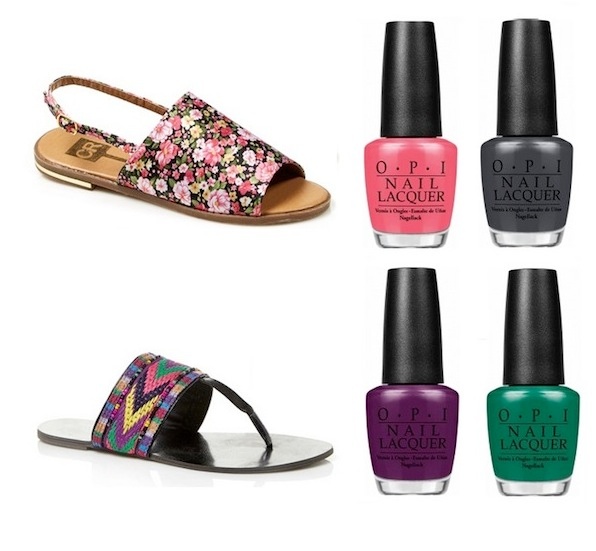 The Style: A sandal with patterned detail, such as floral, animal print, or polka-dot.
The Polish: Pick a minor color from the sandal to match, or find a near-match to the major color. You can also go with a unique neutral tone, like gray—especially with florals.
What Not To Use: Metallics, glitter, or other textured styles.
What Makes It Work: You want to make it look like your toes are a continuation of the pattern. Or, in the case of the neutrals, you can add elegance with an understated color.
Get the Look: OPI's Bright Lights Big Color or the silky Dark Side of the Mood are our picks for the Mark & Maddux Kama-1 floral sandal. Meanwhile, the beaded, chevron-striped Charles Albert thong sandal pairs with Get Cherried Away or Jade is the New Black.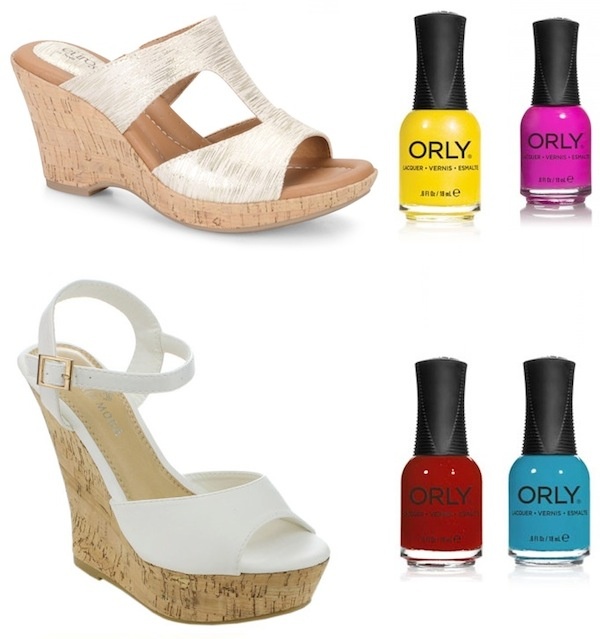 The Style: White sandals, and wedges with jute, cork, or fiber platforms.
The Polish: Either simple red, a pastel hue, or a bright, summery color.
What Not To Use: Black, white, gray, or other neutrals. Pick something bright and fun to avoid looking dull.
Why It Works: These kicks already give off a glamorous '70s vibe, so pick a polish that can hold its own against them.
Get the Look: The EuroSoft Farrah natural wedges are easy to pair with even the boldest hues, like Orly's Hook Up or Risky Behaviors. Match the lush Red Carpet or cool Blue Collar with the white Spirit Moda Ava-3 sandal.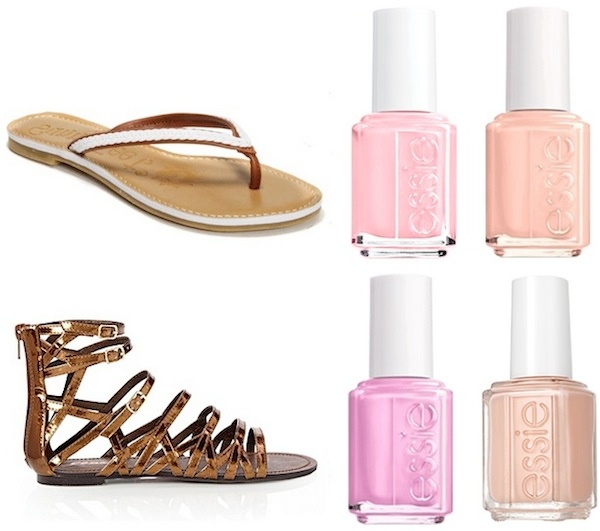 The Style: Thong flip-flops or any style in metallics like bronze, copper, and gold.
The Polish: Choose reverse french tips, nudes, and light pinks.
What Not To Use: Bright colors—although you might be able to get away with red.
Why It Works: If paired with bright colors, flip-flops end up looking juvenile, whereas the metallics get too busy. Pick something simple, sophisticated, and classy to dress them up.
Get the Look: The Sunny Feet flip-flops can go with Pink About It by Essie or the A Crewed Interest, and these Gomax copper gladiators pair with Cascade Cool or the creamy-peach Perennial Chic. Either of them could also go with Butter London's Pink Ribbon—one of Favin the Maven's favorite summer polishes.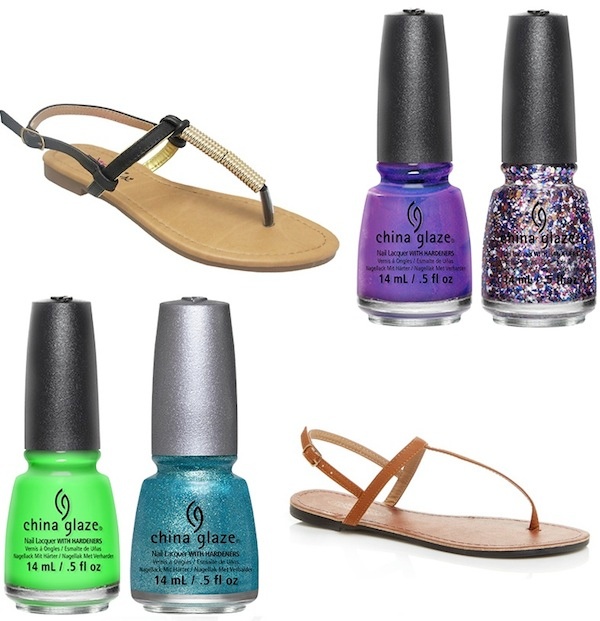 The Style: Minimalist sandals that show lots of skin with few straps or adornments.
The Polish: Go edgy: multicolor designs or unique colors like metallic green, pale yellow, or sparkling gold. This may be the time to take a peek at Favin the Maven's favorite polish colors for summer and fall—they're fabulously bold.
What Not To Do: Color matching—beyond that, anything goes.
Why It Works: With few straps or fabric, your nails become the star of the show and the sandals take a back seat.
Get the Look: China Glaze colors like Seahorsin' Around and Kiwi Cool-Ada are great for Charles Albert Dolce sandals, and even audaciously sparkly Your Present Required and Flying Dragon go well with the Yoki Ella-90 sandals.