Queer Tango: Twirls, Dips, and Tangoing Tips
BY: Krista Burton |
Jul 29, 2013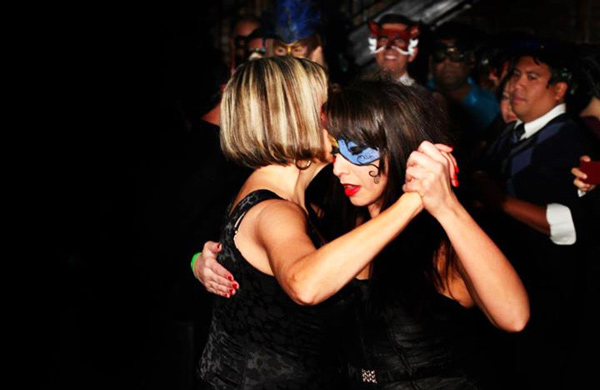 Save for Boystown's dance clubs and the occasional bar in Edgewater, Chicago's options for queer-friendly dating spots are limited. And if you want to spend a night on the town without drinking? The most alternative of city guides would be hard-pressed to help you there. Thankfully, there's someone who can help. Her name is Paola Bordon, and she's the award-winning Argentine tango instructor who founded Queer Tango Chicago.
Queer Tango
is a series of tango classes that allow queer couples to choose their roles before they dance. Paola makes sure that all of her students feel welcome as they learn the steps of tango, whether they're on a date or flying solo for the night. We sat down with her to learn about what's involved in creating a safe, affirming space for Chicago's queer community.
The following interview has been condensed and edited.
GROUPON: What's the story behind Queer Tango? How did you get started?
PAOLA BORDON: Queer Tango started back in Buenos Aires, where I was one of the few female dancers who knew how to lead. In Argentina, tango is a way of life. It's a social community. There, it's about dancing [and] not about being gay or straight. Queer Tango Chicago started in 2011, when I decided to open that door in Chicago. I really missed the tango lifestyle in Argentina, and I saw that there was a need for an environment that allows queer people to be themselves. It's a special class—the students feel like I accept them and they can be who they are. I give them tools they can use whenever they go dancing.
G: You mentioned that there's a need for more queer-friendly spaces in Chicago—especially for dancing. Why do you think this is?
PB: In a traditional tango class, queer people don't always have space to express themselves. Men lead, and women follow. I created a class that doesn't focus on the gender but on the leading and following, which is most important. In Queer Tango classes, queer dancers feel free to express themselves. I tell them, "Ok, you need to decide which role you want to be today."
G: People probably come to Queer Tango classes for a variety of reasons—to exercise, to let off steam, or to learn new moves for a wedding. But do you often see students attending class as a date night?
PB: Yes, absolutely. The classes are a mix of people—some on dates, some in long-established [relationships]. The class is queer-friendly, [but] it's not just for queer people. Some people come alone to meet dates and make friends. You can see when people are looking to date. I've seen students flirting [so] heavily with each other [that] it's almost distracting.
G: Have you seen any couples rekindle their passion at class? Do you find that dancing—and tango, specifically—brings this out in people?
PB: Yes! Tango is a very intimate dance, and I [often] see people becoming better, more passionate partners. I [also] see singles who are shy or isolated becoming more social.
G: Speaking of shyness, do you have any advice for first-time tangoers? Maybe a favorite move to pique their excitement?
PB: I have loved tango Argentino since 1996, which is when I started in Buenos Aires. [I don't have] a favorite move, but my passion is [my] motor.
G: So what can students expect from one of your tango classes, other than simply having fun?
PB: We focus on technique, precise moves, extensions, and [projecting] the lines of the dance. [We also work on] the positioning of the arms and legs. During tango, you never talk because the idea is to talk with your body. Your body is the way you communicate with your partner.
G: Is there a queer-friendly place where students can go to show off the skills they learn in class?
PB: The
University of Chicago Argentine Tango Club
is a milonga [tango party] where you can go to dance.
G: You mentioned earlier your passion for tango. Do you feel the same emotional connection to Queer Tango Chicago? Are these some of your favorite classes to teach?
PB: Yes, definitely. I become friends [with my students] through tango class. After tango classes in Argentina, we're always making friends [or] making dinner together—it's more social than just a class. I show my students in Queer Tango how it is in my country. It's not just movement, it's a part of my life.