Restaurant Week Mapped Out
BY: Lisa Ladehoff |
Jan 24, 2014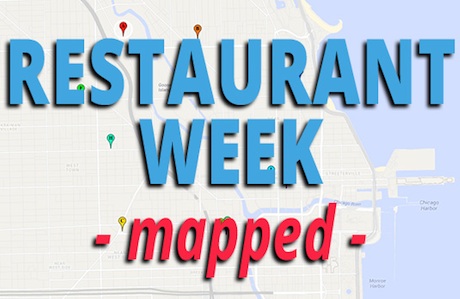 Restaurant Week has expanded to a two-week culinary event this year, and more than 250 of the city's restaurants are participating. You're going to need a map.
(A) Ada Street | 1664 N. Ada St. | New American | Three-Course Dinner: $33
Chef Zoë Schor has dedicated the Restaurant Week menu at her Bib Gourmand–winning eatery to "women in the kitchen." Schor was inspired by the women on her staff who keep things humming along smoothly behind the scenes—including her general manager, one of her sous chefs, and her chief of operations. You will almost definitely get a little lost trying to find this place, which resides in the same postindustrial wasteland as The Hideout (1354 W. Wabansia Ave.), so make sure to study up on our map first.
(B) Balena | 1633 N. Halsted St. | Italian | Four-Course Dinner: $44
Former Eater Chicago Best Chef of the Year Chris Pandel oversees the bustling kitchen at this multiple Bib Gourmand winner. Expect hearty and unfussy Italian fare, from charcuterie to housemade pasta spun with rich ragu. See the menu.
(C) BellyQ | 1400 W. Randolph St. | Asian Barbecue | Three-Course Dinner: $33
Chef Bill Kim made his reputation with small Asian-fusion ventures such as Belly Shack and Urban Belly. But at BellyQ, he thinks big. Literally. The chic (and enormous), high-ceilinged dining room fills with the smell from grills at the booths along the south wall, and DJ's spin loungey music on weekends. BellyQ is new to the Bib Gourmand list this year. Its Restaurant Week menu is here—we suggest the ribs.
(D) Big Jones | 5347 N. Clark St. | Contemporary Southern | Three-Course Dinner: $33
Of all the restaurants on this list, Big Jones's menu has the most options for Restaurant Week. Choosing your dish for each course may be difficult—bring friends to share plates if you want to allay this worry. Two of the four main courses are inspired by more than 100-year-old recipes, and all are undeniably comfort food. Wear stretchy pants.
(E) Blackbird | 619 W. Randolph St. | New American | Three-Course Lunch: $22
Chef Paul Kahan is one of Chicago's culinary powerhouses. The man behind everyone's favorite tacos-and-margaritas-and-people-watching bar (Big Star, duh) got his start at Blackbird. Beautiful everywhere (from the staff to the ambiance to the food and drinks), you'll be lucky if you can squeeze a reservation at this Michelin-starred favorite. Try your damnedest.
(F) Carriage House | 1700 W. Division St. | Contemporary Southern | Lunch and Dinner: $22–$44
Chef Mark Steuer has hauled his taste of the low country all the way to the bitter Midwest, and we should all thank him for it. Praised by Esquire as one of the Best New Restaurants of 2013, Carriage House remixes classic dishes with a deftness that makes one wonder what was so great about that tradition, anyway. See the menu.
(G) Embeya | 564 W. Randolph St. | Progressive Asian | Lunch and Dinner: $22–$44
Also on Esquire's list of 2013's Best New Restaurants, Embeya's menu features Asian fusion that is forward-thinking while still deeply—and safely—rooted in tradition. Expect unexpected ingredients prepared in almost-familiar ways from Chef Thai Dang, a Jean Banchet nominee for Best Rising Chef of 2013. Beverage pairings will also be available.
(H) Green Zebra | 1460 W. Chicago Ave. | Vegetarian | Four-Course Dinner: $44
If you have a friend who claims they hate vegetarians or scoffs at the idea of a meatless entree, take them to Green Zebra. Chef Shawn McClain pushes the boundaries of meat-free with his flavorful and wholly original dishes, many of which are also vegan. The man has a way with vegetables. Maybe just don't tell your meat-loving friend until you've already sat down.
(I) GT Fish & Oyster | 531 N. Wells St. | Seafood | Lunch and Dinner: $22–$44
Praised by Travel + Leisure as one of the Best Seafood Restaurants in the US, GT Fish & Oyster got yet another tip of the Michelin Guide hat this year with a Bib Gourmand under its belt. The dining room's understated nautical look brings to mind a beach house decorated by Martha Stewart. The Restaurant Week menu shows off Chef Giuseppe Tentori's deftness with frutti di mare, whether it's hearty clam chowder or carefully executed tuna poke.
(J) Nightwood | 2119 S. Halsted St. | Seasonal New American | Four-Course Dinner: $44
He's been called the Prince of Pork, but at Nightwood, Food & Wine Best New Chef Jason Vincent also showcases his skills with fresh pastas and whole roasted fish. The Restaurant Week menu of incredibly simple (and fresh) cuisine is definitely worth the trek.
(K) Pump Room | 1301 N. State Parkway | New American | Three-Course Dinner: $44
The Pump Room was once a destination for Rat Pack–era celebrities, and they've got the photos to prove it: snapshots of Frank Sinatra and others line a hallway in the basement by the bathrooms. Even in 2014, this redesigned Chicago landmark is still a chic place to see and be seen. This Restaurant Week, James Beard Award–winning Chef Jean-Georges Vongerichten imagines a menu as glamorous as the place's storied past, drawing on locally sourced ingredients in a way that keeps this vintage destination totally fresh.
(L) Sepia | 123 N. Jefferson St. | New American | Lunch and Dinner: $22–$44
Chef Andrew Zimmerman has accumulated a long list of awards for his immaculately balanced cuisine, including a Michelin star for his restaurant, Sepia. He's currently in the running for a Jean Banchet Chef of the Year award, the results of which will be announced on Friday, January 31. Look at the menus if you must. Now get thee to OpenTable and make a reservation.
(M) Topolobampo | 445 N. Clark St. | Mexican | Three-Course Lunch: $22 (Pairings: +$15)
You might've seen celebrity Chef Rick Bayless tending to his garden or gallivanting around Mexico on one of his many PBS shows. The man knows his food, top to bottom, left to right, and however miles it is from here to Guadalajara. Michelin-starred Topolobampo is his masterpiece, single-handedly redefining what Americans think of Mexican food. The Restaurant Week menu is subject to change, but we've learned to trust in Rick. Whatever you have there will be good.
(N) Wood | 3335 N. Halsted St. | New American Tapas | Four-Course Dinner: $44
An Alinea alumni, Chef Ashlee Aubin struck out on her own to take the helm at Wood, where her small, shareable plates lean toward the thought-provoking. Paired with an inventive cocktail menu, the young restaurant popped up among this year's Bib Gourmand winners as a standout on a lively and crowded strip of the Boystown neighborhood. The Restaurant Week menu includes hearty items from braised scallops to a pineapple rum cake.
BY: Lisa Ladehoff
Guide Staff Writer
A native of the city of big shoulders, Lisa is a small-shouldered books and booze enthusiast living on Chicago's Northwest side with a large cat, a tiny bar, and a medium-sized library.