GROUPON GUIDE TO SAN FRANCISCO
Learning the Secrets of San Francisco House Cleaning from Danny Tanner of 'Full House'
BY: Allison Shoemaker |
Jul 13, 2015
We could all learn a lot from San Francisco house-cleaning guru Danny Tanner—and with Fuller House on the way, it looks like homeowners once again get to study at the feet of the master. In celebration, we've compiled a list of lessons one could learn from Bob Saget's timeless character. Grab your rubber gloves, turn on the Beach Boys, and get ready to embrace the Tanner family motto.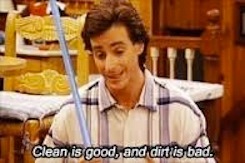 Lorimar Telepictures. GIFs: tumblr.com
Dive Into the Details
From chic minimalist abodes to the stuff of Victorian dreams, houses in San Francisco come in all shapes, sizes, and styles. But there's one thing they all could benefit from: clean baseboards. Tackle a small, easily overlooked task—the blades of a fan, the dirt on a lightswitch—once a week, and by the time spring cleaning comes around, things won't seem so bad. Extra benefit: the satisfaction of knowing your baseboards are just as pristine as Danny's necktie.
Lorimar Telepictures. GIF: tumblr.com via Buzzfeed
Don't Avoid Troublesome Tasks
Nearly everyone has one house-cleaning task they avoid at all costs. Maybe you really hate crusty food and avoid the dishes, or maybe the vacuum terrifies the dog and you'd rather let the dust bunnies have free rein. Here's the thing: dodging what you hate will actually make it worse. Try writing a schedule of hate-tasks—no more than one a day—and sticking to it. The dog will just have to deal.
Lorimar Telepictures. GIF: tumblr.com
Tidy Up Every Day
If Danny Tanner ever got sick of Wake Up, San Francisco, he'd fit right in at Apartment Therapy. The blog's experts suggest that a few small daily tasks not only keep the house clean but may also improve your overall well-being. Just make sure to put paper towels underneath your shoes when you grab that mop.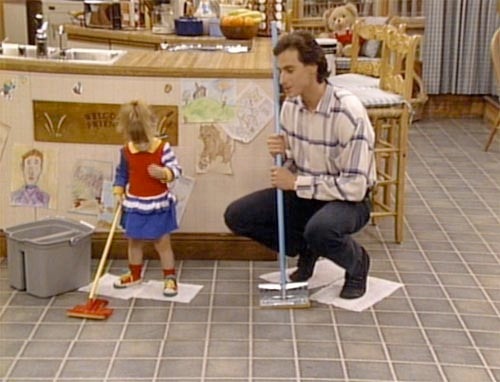 Lorimar Telepictures. Image: wordpress.com
Make Cleaning Fun
Danny Tanner had one advantage no one in the real world has: Joey and Uncle Jesse. They weren't afraid to pitch in on chores, especially when they could choose the music. Whether you're cleaning solo or with others, take a page from their book: pop on some classic tunes, grab your feather duster, and dance your way to cleanliness.
Clean Your Cleaning Tools. Really.
Jesse and Joey may have teased Danny for cleaning soap, but cleaning with something doesn't equal cleaning the thing itself. Follow Danny's lead by running white vinegar through the dishwasher and soaking your toilet brush in a mixture of bleach and boiling water.
Lorimar Telepictures. GIF: imgur.com
Hire a San Francisco Cleaning Service
There's nothing quite like a clean San Francisco home, and if you haven't got the time to achieve that, then by all means, bring in a professional. You never know who might be moonlighting.
Lorimar Telepictures. GIF: Jezebel.com via Buzzfeed
Check out the The Guide's interview with Bob Saget. Warning: not clean, mostly dirty.