The Tender, Juicy Flower Petals Chefs Are Serving Up This Summer
BY: Nathalie Lagerfeld |
Aug 6, 2014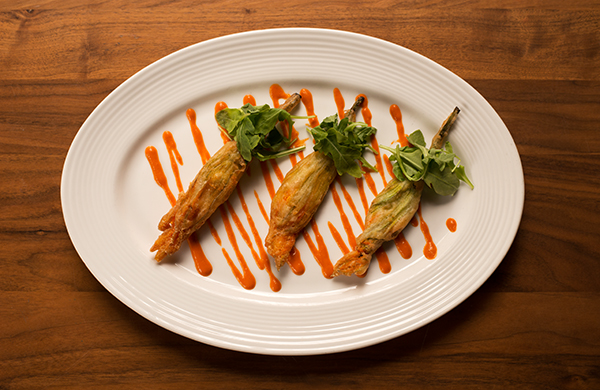 Eating flowers—even vegetable flowers—always feels a little decadent. With their pouffy orange petals, squash blossoms seem like a delicacy more fit for a fairy princess than a mere 9-to-5 mortal.
But it's midsummer, so they are at restaurants everywhere—in quesadillas, on pizzas, sprinkled fresh on salads. It's no surprise chefs love these tender, surprisingly juicy petals, but the real key to their ubiquity might be their sturdiness.
Unlike other edible flowers such as violets and nasturtiums, they hold up to being stuffed with cheese, battered, and deep-fried—a virtual prerequisite for inclusion on American appetizer platters. (That's how they're prepared at Chicago Italian restaurant Piccolo Sogno, whose crispy, fontina-filled fiori di zuccha antipasto is pictured above).
There's also something a little sinfully un-ecological about plucking a small-ish flower rather than waiting for it to grow into a bigger, juicier—and likely more nutritious—veggie. Eating squash blossoms feels like a culinary potlatch. You're celebrating your food-wealth by throwing it away.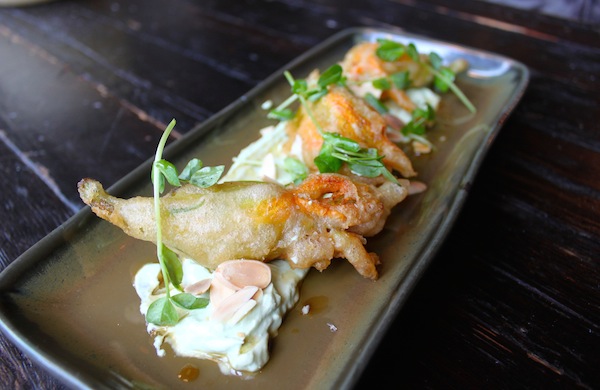 Squash-blossom rangoon at Chicago's Girl & the Goat. Photo by Shannon Monson.
Or so I thought, until I spoke to Nick Nichols of Nichols Farm & Orchard, a 300-acre family farm 60 miles outside of Chicago.
"The squash blossoms that most people see are the male versions [of the flower], so they will never become squash anyway," he said. (Phew.)
When we spoke, Nichols was manning the farm's stand at Chicago's Green City Market, which sprawls across Lincoln Park on summer Saturdays. On the table before him, amidst bins of beets and string beans, stood a big glass vase stuffed with several dozen of the blossoms. I bought a bunch—guilt-free. Their petals were all squeezed shut, as if afraid to confront their future as quesadilla filling.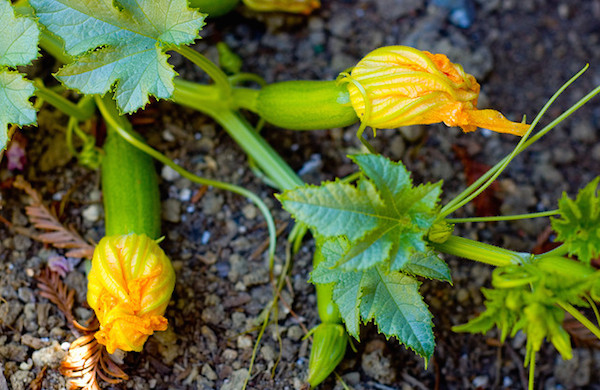 Squash blossoms on the vine. Photo by Flickr user Benjamin Chun.
It wasn't actually fear, but lack of water, that was making them shrink. Squash blossoms' outer sturdiness masks an inner fragility: they start to wilt soon after they're harvested. Since time is of the essence for farmers (and farmer's-market shoppers), Nichols's staff picks the flowers fresh each day. He estimated that they pluck about 3,000 flowers a week. That's a lot of squash blossoms.
But the bounty is short-lived. Squash-blossom season is only three months long—from mid-June to mid-September in Illinois. Unlike with, say, rutabagas, it's hard to get fresh ones in the off-season. (You can, however, can the blossoms, which is how some Mexican restaurants are able to serve flor de calabeza quesadillas year-round.)
My advice: make like a fairy princess and partake of fresh squash blossoms while you can.
Top photo by Andrew Nawrocki, Groupon.
Read more about fresh ingredients coming into season.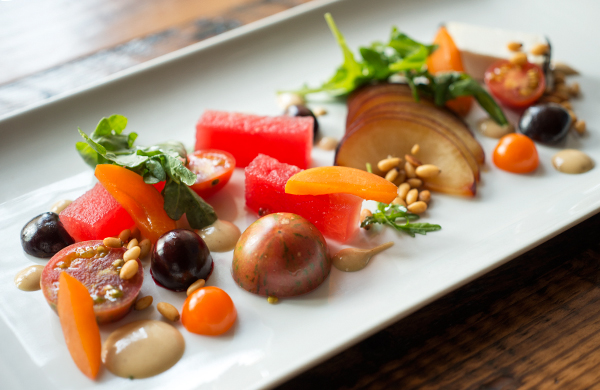 Heirloom Tomatoes
They may be the homeliest-looking of produce. But they're also some of the tastiest.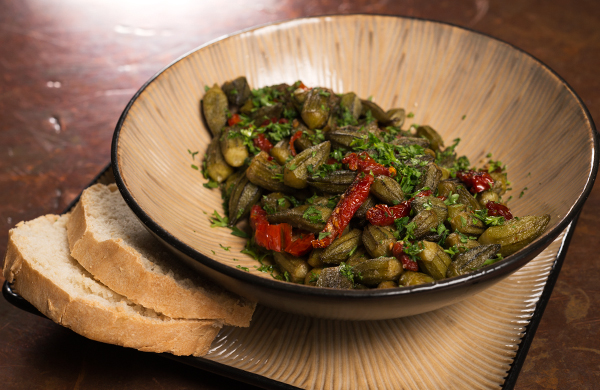 Okra
Southern, Indian, Ethiopian, Greek, and Afghan restaurants take on this versatile veggie.
BY: Nathalie Lagerfeld
Guide Staff Writer
Nathalie is a writer and editor on the Guide's food team. Originally from Virginia, she now lives in Chicago, where she regularly indulges her love of tortas, bibimbap, and Cheez-Its. Follow her on Twitter @maviswillsaveus.