We Kid-Tested Five New Backyard Water-Balloon Games
BY: Emily Wachowiak |
Jul 16, 2014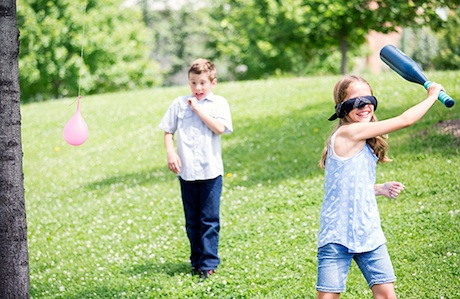 Nothing says summer like backyard water-balloon games. In honor of this warm-weather tradition, we decided to invent a few of our own games and try them out on a discerning audience of kids aged 18 months to 15 years. We then rated the games based on ease of setup and play, using a scale of 1–5 (with 5 being the most difficult). Before getting into the games, we'd like to offer one crucial piece of advice based on our experience:
make sure the balloons are filled as close to their bursting point as possible
. Otherwise, a potentially epic splash could turn out as a sputtering drizzle.
Water-Balloon Baseball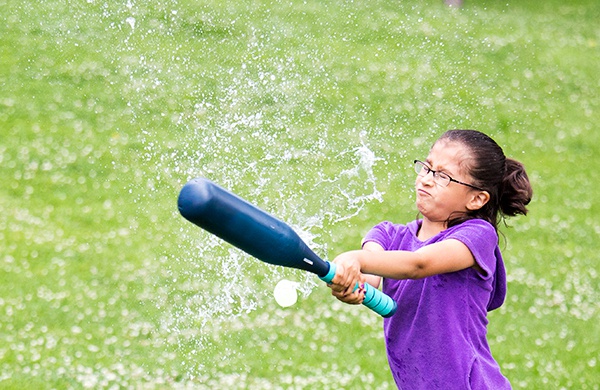 Supplies:
small water balloons, baseball bat
Good for ages:
5+ Think of this game as a wetter alternative to Little League batting practice. You'll need a pitcher and a batter, with the batter aiming to smash as many water-balloon pitches as possible. The batter gets a point for each balloon hit, along with a small shower if the balloon explodes on impact. Batters and pitchers can switch every three "strikes" and keep score along the way.
Tips:
The balloons don't always burst on impact. For an extra challenge, you can assign additional points to "home run" balloons that explode right away.
Setup: 1 | Difficulty: 2 | Spash factor: medium
Splash Piñata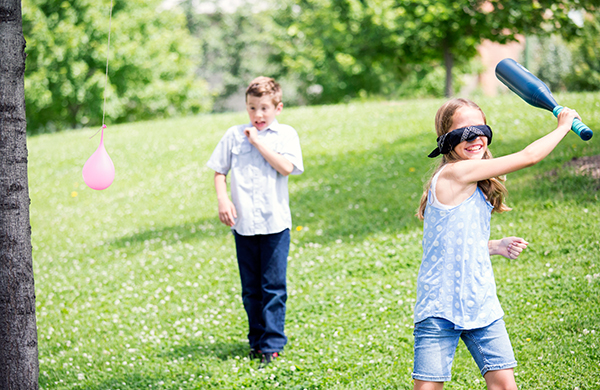 Supplies:
large water balloons, baseball bat, string, blindfold
Good for ages:
3+ This game is set up like
traditional backyard piñata
, except the prize for bursting one of these babies is a thorough soaking. Tie the balloon to a string, fasten the string to a low-hanging branch, and let the blindfolded kids have at it.
Tips:
This is one game where mega-filled balloons are crucial. If the balloon isn't full enough, the kids might have a hard time getting it to burst.
Setup: 3 | Difficulty: 2 | Splash factor: medium
Ice Marbles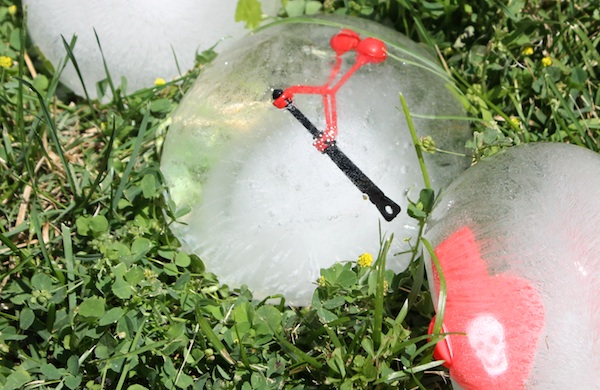 Supplies:
large balloons, small toys, freezer, scissors
Good for ages:
1+ Giant frozen marbles with toys inside—what's not to like? Surprisingly, the 9- and 11-year-olds seemed to enjoy this activity as much as the toddlers did. The older kids in our test group loved smashing their "marbles" on the sidewalk to get to their prize as quickly as possible, while the toddler occupied herself with feeling (and licking) the frozen sphere. Make sure the kids are throwing their ice at the ground, and not at one another. Also, keep an eye on the younger kids once their small toys come loose.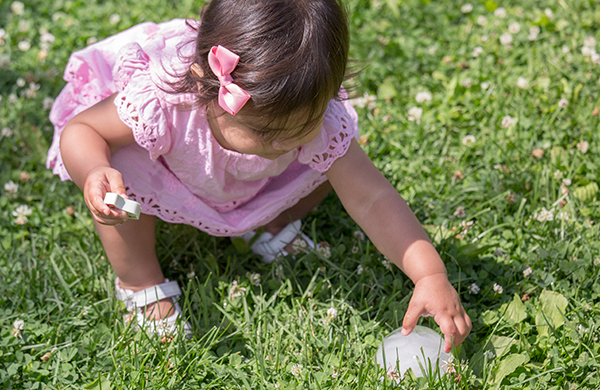 Tips:
Setup is the hardest part here. The trick to getting the toys into the unfilled balloons without puncturing them is to first stretch the opening as wide as possible with your fingers. Then, you'll need to slowly and carefully work the toy in before filling the balloon with water, tying it off, and freezing it overnight. We had the best luck using toys with rounded edges. Once frozen, cut the balloon off with scissors.
Setup: 4 | Difficulty: 1 | Splash factor: none
Target Practice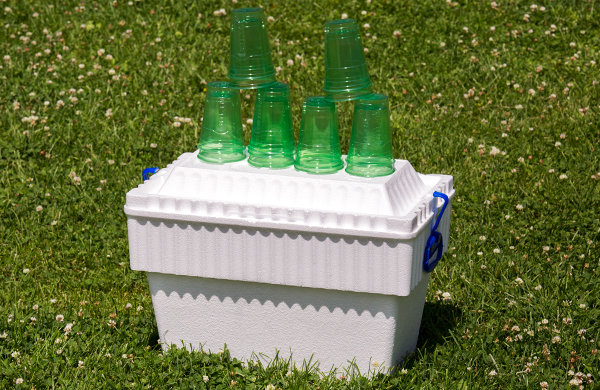 Supplies:
small water balloons, plastic cups, water-balloon slingshot
Good for ages:
5+ You'll need a flat surface on which to set up your target range of plastic cups. If you're feeling crafty, you can make your own slingshot, but if not, you'll find them in the toy aisle of most major stores. After testing the range of their chosen water-balloon launcher, kids can let loose on their target and see who can knock over the most cups.
Tips:
The constant resetting required for this game can be a bit of a pain, and the splashes are virtually nonexistent. Some kids found the slingshot frustrating to use as well, and preferred throwing with their bare hands. Either way, this game is best used as a training activity for our next challenge.
Setup: 4 | Difficulty: 4 | Splash factor: low
No-Holds-Barred Water-Balloon Blitz
Supplies:
small water balloons
Good for ages:
3+ Let's be honest: kids just want to break some water balloons. Our test group had the most fun running around and smashing water balloons on anything they saw—the sidewalk, the grass, the trees, and even themselves.
Tips:
Sometimes it's best to just sit back and let the kids go wild.
Setup: 1 | Difficulty: 1 | Splash factor: high
Need a few more adventures to round-out summer vacation? Check Groupon for kids activities in Chicago. 
Photos: Andrew Nawrocki, Groupon.