Svea in Andersonville: One of Chicago's Most Chicago Restaurants
BY: Kevin Moore |
Mar 11, 2014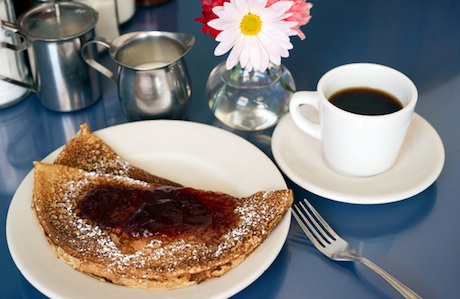 How do you find Chicago's most Chicago restaurant? You begin by taking the world's best decision-making device: the bracket. Then you combine it with Chicago's best device to represent its messy, opinionated landscape: the ward map. Some have called this pursuit "patently absurd." We humbly disagree. By taking our logic above (bracket + ward map) and extrapolating it into a larger, totally airtight algorithm, our computers have found a winner for the title of Chicago's most Chicago restaurant. See the finalists and read more about the search here. Below is one of the finalists.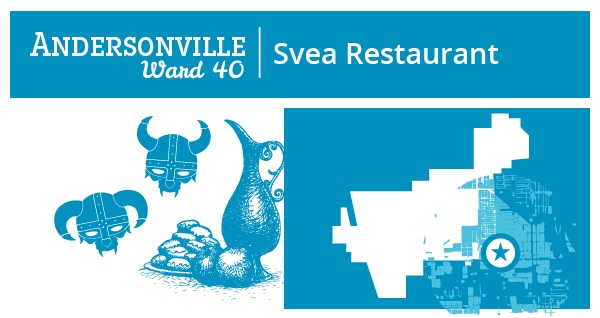 Making room for the
Viking Breakfast
at
Svea Restaurant
(5236 N. Clark St.) is a challenge. The feast arrives on a total of three plates, and space is tight at the table. It takes a minute to figure out how to best arrange it all: two eggs, three cylinders of falukorv sausage, a pile of paprika-spiked breakfast potatoes, slices of buttered limpa toast, and two chewy Swedish pancakes—which arrive dusted with powdered sugar and accompanied by just enough lingonberry jam to stain the top pancake a deep purple.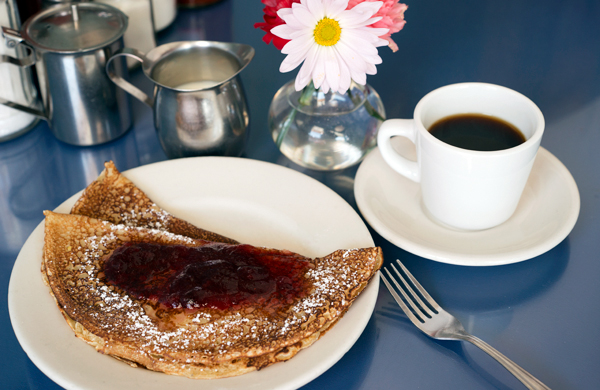 It's slightly intimidating to stare down all this food. But when I asked owner Tom Martin whether this is the kind of breakfast that people split, he set me straight: regulars who order the Viking Breakfast know exactly what to expect. "They know that they've gotta be ready to eat," he said.
From Retiree to Restaurateur
Andersonville wasn't always Chicago's preeminent Swedish neighborhood. Scandinavian immigrants first settled further south, along Chicago Avenue. But after the Great Fire of 1871, the city outlawed the building of wooden houses, forcing those who couldn't afford brick and mortar to move beyond the city limits. In the case of Swedish immigrants, many relocated north to land that would transform from cherry orchards into Andersonville's iconic stretch of Clark Street. Tom, Svea's owner, doesn't have any strong Swedish ties himself.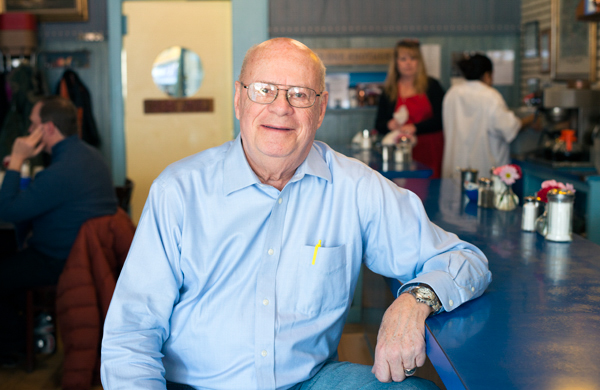 Those all came from his late wife, Delores, who grew up in Andersonville. The couple married in 1956, eventually moving into the home where Delores was raised. Although they raised their children in the northwest suburbs, they never really left the neighborhood behind. After he retired, Tom soon discovered that free, structureless days were less interesting than he had imagined. He laughed while telling the story of when his wife found him sorting all of the kitchen's Tupperware. She responded by throwing him out of the nest and forcing him to work for their son Scott, who had recently bought
Simon's Tavern
(5210 N. Clark St.), a bastion of Andersonville's Swedish culture. Scott was content to preserve the spirit of the tavern, which had existed since 1934. That dedication impressed a regular: Kurt Mathiasson. Mathiasson founded Andersonville's iconic
Swedish American Museum
(5211 N. Clark St.), and at the time he also happened to own Svea, anchored in that same Clark Street storefront for decades. The traditional neighborhood vibe that the Martins embraced at Simon's Tavern convinced Mathiasson that they shared his passion. So he offered to sell them Svea. Tom expressed his doubts—namely that he had no idea how to run a restaurant—but Mathiasson brushed off those concerns. "You know, you're a smart guy, Tom," he said. "You can figure it out in nothing flat."
Continuing a Legacy
Tom officially purchased Svea in March of 2000. Although he renovated the building's electrical system and appliances, he intended to keep things the way they always had been.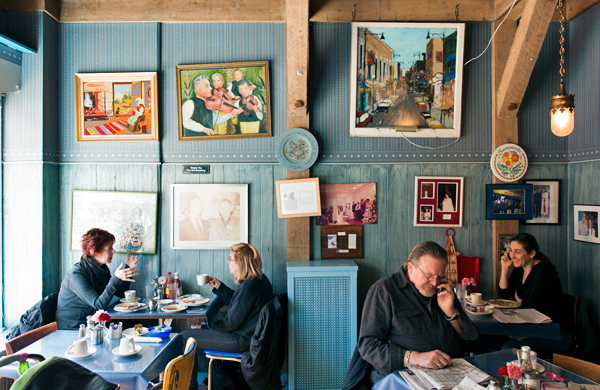 For a restaurant with no website or Facebook page, it's astonishingly difficult to snag one of the dining room's 34 seats during the weekend breakfast hours. That kind of popularity defines a tried-and-true neighborhood institution. Tom estimated that about 80% of his customers are die-hard regulars—the kind of people who don't need a menu, who are on a first-name basis with everyone in the restaurant (except for me, of course), and who get asked "You like the orange marmalade, right?" as the server passes by with an armful of plates. At first glance, the menu looks like any other diner: eggs, bacon, and toast. But this is Andersonville, so no meal is complete without some Scandinavian flair. The
Swedish pancakes
and
rice pudding
are Delores Martin's own recipes, the process for
pickling herring
comes from some grandmother's cookbook, and
lutefisk
makes a prominent appearance every holiday season. In fact, winter is when Svea's Swedish roots are most apparent. St. Lucia's Day produces a packed restaurant, and traditional carols are common around Christmas. Svea doesn't hide its heritage for the rest of the year, either. The stools at the front counter bear the Swedish flag's blue and gold. Framed cross-stitches of Scandinavian sayings dot the walls.A massive mural by Swedish artist Lars Gillis fills another.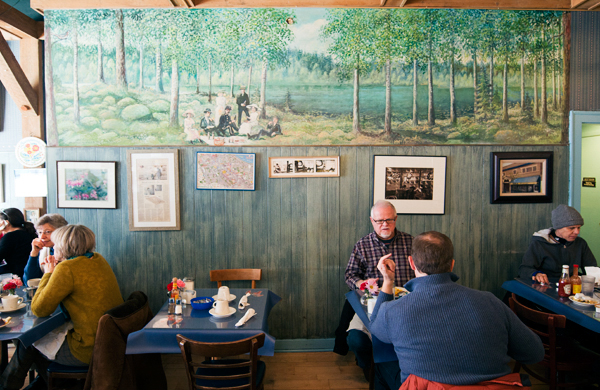 Tom also occasionally switches out the tablecloths with linens brought back from trips to Sweden. He attends carefully to these homespun touches, which preserve Svea's old-school Swedish atmosphere—an atmosphere that's getting harder to find along Clark Street.
Changing Times
The Andersonville of today is very different from the Andersonville of the 1970s or even the Andersonville that existed in 2000 when Tom took over Svea. In recent years, the neighborhood has gone upscale. Today its storefronts are filled with antique shops and clothing boutiques. Joe Schmidt, a retired teacher who's lived here for almost 30 years, has watched Clark Street's Scandinavian delis and restaurants disappear. Svea, he said, is "one of the holdouts." But Tom Martin and his staff aren't worried yet. Even as it's gentrified, Andersonville has maintained a wealth of international and cultural diversity, including its strong LGBTQ community and restaurants serving up everything from Japanese sushi to Algerian crepes. Swedish might not be the most widely spoken language—as it supposedly was in the 1930s—but surely there's room within its current diversity for relics of its Scandinavian past. Elke Gayne has been a waitress at Svea for decades—"25 years, I think. … I stopped counting." She firmly believes that, even with all the changes, Svea still has a place in the neighborhood. "I think it just belongs here," she said. "It's been here forever." The tables packed with diners waiting for their Viking Breakfasts every weekend morning are evidence enough of that.
Photo credit: Andrew Nawrocki, Groupon
BY: Kevin Moore
Iowa-born, Arizona-raised, and Illinois-tax-paying writer who can answer any Trivial Pursuit question about wine or snakes.