Sweat, Don't Fret: Five Gyms with Onsite Childcare
BY: Emily Wachowiak |
Aug 19, 2013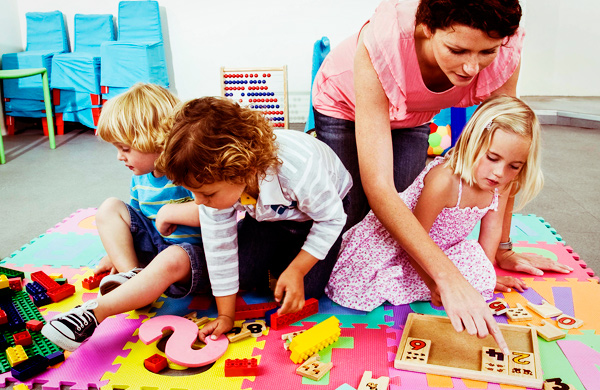 Keeping up a workout routine is hard enough without factoring babysitting schedules into the mix. These five Chicagoland gyms each boast top-notch childcare, simplifying the fitness equation for busy moms and dads.
A Gym with a Side of Spa: Equinox
Three Chicagoland locations of this media-adored uber gym boast onsite childcare, but that's only one of many upscale amenities. Besides expansive floors full of high-end equipment, the gym hosts carefully workshopped classes that feature fitness standbys (Pilates, yoga, martial arts, and cycling) alongside cutting-edge TRX, water aerobics, and mind-body classes. With the kids safely at play for up to two hours, you're also free to extend your me time to include a steam-room session or a luxurious massage, facial, or laser treatment at the oasis-like spa.
Childcare is available at the Gold Coast, Lincoln Park, and Highland Park locations for kids aged 3 months and older. Rates start at $10 per session for members; there are special rates for two or more children.
Wheaton Sport Center is a windfall for busy parents. In addition to providing members with up to two hours of childcare for workouts, the staff also allows up up to two additional hours that same day (provided there's at least a four-hour break between the two sessions). This gives parents time to sweat it out in a hot-yoga session or tennis lesson, run a few errands, and return later for a few laps around the indoor pool or even a haircut at the onsite salon and spa. All the while, kids have a ball engaging in seasonal activities, hanging out in the game lounge, or romping around the outdoor playground. A sizable, safety-trained staff allows for multiple play spaces separated by age group, and a healthy roster of youth athletic programs ensures kids feel fully included at this family-friendly gym.
Childcare is available for kids aged 3 months to 13 years. Unlimited childcare is included in most family membership plans.

A Gym that Keeps Kids Active: Cheetah Gym
Cheetah Gym's Edgewater location hosts its own unique Kids Gym, open seven days a week. Inside, foam floors cushion colorful mini treadmills and exercise bikes, and bright mats and a climbing wall encourage even more active play. A toy-packed TV and reading room offers still more amusement options for kids during their two-hour stays. Although little ones have their own separate area, they don't escape parents' watchful eyes: video monitors allow moms and dads to monitor their children's playtime via any of the gym's cardio machines, or on select TVs scattered throughout the facility.
Childcare is available for newborns up to age 11. Unlimited childcare starts at $20 for members; discounts are available for multiple children.
An Out-of-the-Box Gym: i.d. Gym
The goal of the i.d. kids program, which includes after-school programs as well as weekday childcare, is to make kids fall in love with fitness. But the same can be said of the Lincoln Park gym's adult programs, which include creative group classes such as the Caveman Workout—in which students swing sledgehammers and heavy ropes—and Fly Yoga, a circus-like approach to the ancient art form. While parents get in touch with their inner acrobat (or just stick to a more familiar Vinyasa class), kids can spend up to two hours trying out toys or playing games with the engaging staff. Be sure to ask about i.d.'s kid-focused basketball and sports-training programs.
Childcare is available for kids aged 3 to 13. Rates start at $5 per session for members.
The CAC Kids Clubs are as varied as the four gyms that house them. All grant members up to two hours of childcare during designated hours, but many host special activities—such as Lincoln Square's toddler-friendly PlaySchool, Lincoln Park's youth ballet program, and West Loop's Lil' Kickers soccer program. All four locations regularly host movie nights, and most curate complimentary kids' classes in art, drama, gymnastics, and even Spanish. It's not only kids who seem to have endless options—depending on their club of choice, parents can pursue such athletic activities as bouldering, indoor swimming, full-court basketball, and up to 100 group fitness classes.
Childcare is available at the Lincoln Square, Lincoln Park, West Loop, and Evanston locations for kids aged 8 weeks to 12 years (1–8 years at the Lincoln Square location). Rates start at $12–$16 per session; monthly passes are available.
If you can't bare to part with your offspring, try one of these five "mommy and me" fitness classes in Chicago.