Five Mommy and Me Fitness Classes in Chicago
BY: Ashley Hamer |
Oct 16, 2013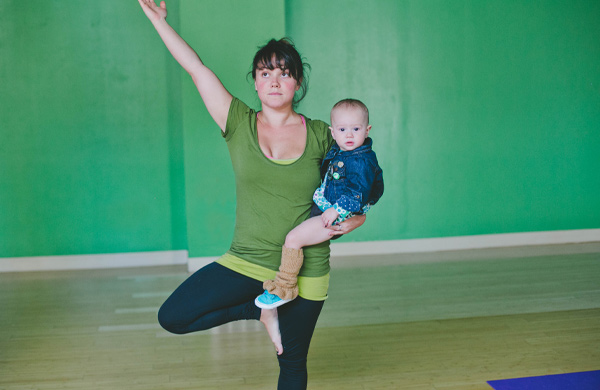 Forget calling the babysitter or finding a gym with adequate childcare—there are plenty of local fitness classes that welcome children to exercise alongside Mom and Dad. Here are five activities that not only help kids bond with their parents, but also teach them valuable lessons about staying healthy and active.
Parent & Tot Yoga at Bloom Yoga Studio | Lincoln Square
Kids up to age 2 can share the mat as their parents build strength and flexibility, ease stress, and meet other moms and dads in this playful drop-in class. But that's not the limit to Bloom's parent-child
sessions
—Mom & Baby classes involve newborns in exercises designed to get new mothers active after childbirth, and Storytime Yoga weaves creative stories with thematic yoga poses to entertain and invigorate parents and children aged 2–4.
Stroller Fitness at Lululemon | Bucktown
It's hard to tell the best thing about AFAA-certified fitness instructor Kim Schiefelbein's weekly workouts: the body-toning combo of cardio, strength training, kickboxing, Pilates, and ballet; the fact that those moves are designed to be performed with a stroller-bound tot; or that the class is absolutely free. You'll have plenty of time to decide while sweating it out each Tuesday from 9 a.m. to 10 a.m. at Lululemon's Damen Avenue store.
Karate Tots at Fonseca Martial Arts | Multiple Locations
Martial arts don't only teach self-defense; they also build discipline, mutual respect, and goal-setting skills—principles that benefit everyone, whatever their age. Both parents and kids aged 3–4 can reap these benefits in the Karate Tots program, which instills martial-arts basics in all participants while helping little ones strengthen their listening and motor skills, ability to follow directions, and social savvy.
Dance with Me, Toddler! at Hip Circle Studio | Evanston
Toddlers aged 1–3 may simply be practicing freeform movement in this upbeat class, but as a parent, don't expect to get off easy: adult participants should be ready to sweat as they build muscle tone and body awareness through isolated dance-focused movements. Hip Circle Studio also features a range of other parent-child sessions, including Mom & Baby Yoga, Mother/Daughter Bellydance, and Kanga Cardio, designed for parents wearing their child in a carrier.
Kidical Mass | Logan Square
Think of it as Chicago's legendary Critical Mass bicycle ride, but with fewer tats and more training wheels. On the second Saturday of every month, Logan Square's Palmer Square comes alive with tiny cycles, towed wagons, and baby bike trailers as parents and children assemble for a leisurely 4-mile ride on low-traffic, residential streets. Participants are encouraged to dress festively, and of course, helmets are required. Rides have also recently sprung up in
other neighborhoods
. Want to work out without the kids? Try these
five gyms with onsite childcare
.
Photo: © Stephanie Bassos, Groupon