Taste Washington through Local Cheeses
BY: Kristin Price |
Apr 22, 2014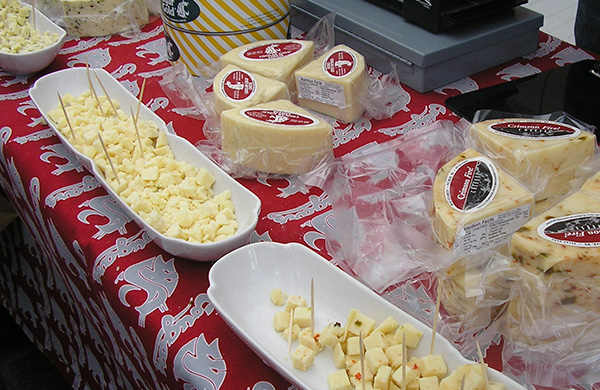 The Pacific Northwest boasts a thriving cheese industry featuring a wide variety of artisan and farmstead cheeses just ripe for you to fall in love with. Cheese makers in Washington State are hard at work bringing home the taste of local with an assortment of uses, from cheese plates and grilled cheese sandwiches to your favorite macaroni and cheese recipe. Many are already familiar with
Beecher's Handmade Cheese
as a Seattle mainstay. Beecher's opened their doors in the heart of Pike Place Market in November of 2003 (and has since opened a store in New York City.) Owner Kurt Beecher Dammeier produces his nationally-known cow's milk cheeses by sourcing milk from healthy local cows not given any additional growth hormones. Jamaican Jerk spices give their No Woman an earthy, zesty flavor that will complete any cheese platter. And the tangy Just Jack is great simply on a grilled cheese sandwich, or paired with their original cheese, the semi-hard Flagship, to recreate their Famous Macaroni and Cheese, sold at the store's cafe, in the comfort of your own kitchen.
Also located in the Pike Place Market is a storefront and tasting room for North Olympic Peninsula's first artisan creamery. Owners of
Mt. Townsend Creamery
in Port Townsend, Matt Day and Ryan Trail, strive to call attention to and reinvigorate the Olympic Peninsula's long dairy history by presenting specialty cheeses with a northwest taste made using traditional methods. Their European style handmade cow cheeses include the award winning Trufflestack. This gem is made by infusing Italian black truffles and sea salt into their original, soft-ripened Seastack. Smooth, creamy and full of earthy flavor, this cheese stands alone – with or without the baguette. All of the Farmstead Cheeses (so called because they use milk that comes entirely from cows that live on the farm) from Kurt Timmermeister's
Kurtwood Farms
on Vashon Island are made and wrapped by hand. The farm's original Dinah's Cheese is a soft ripened, bloomy rind French Camembert-style selection that is beyond suitable in creating an impressive cheese platter.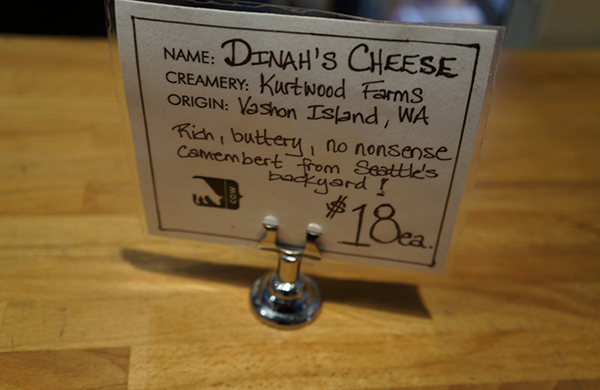 Winner of several national and international awards, Cougar Gold, a sharp, aged, natural cheddar from
Washington State University
in eastern Washington, has been sold in its unique, signature 30-ounce can since the 1940's when the US Government funded the college's research to find a way to better store cheese. The creamery uses only cow milk from the WSU dairy herd of Holsteins to produce this smooth, firm white cheddar that would take any homemade macaroni and cheese recipe up a notch. Family-run
Cascadia Creamery
in Trout Lake Washington produces USDA certified organic, raw cow cheeses, handcrafted in small batches. The dreamy, semi-soft, aged Cloud Cap delivers several layers of flavor and texture with its firm tangy interior transitioning into a soft white natural rind. Of note also is their Glacier Blue. With a rich, soft and buttery texture this selection has such mild flavor that it has been coined "Gateway Blue" by locals because of its rumored power to convert even those who have never been a fan of (or those who have been afraid to try) the blue-speckled variety. It is lovely on its own, or crumbled into a favorite blue cheese dressing recipe.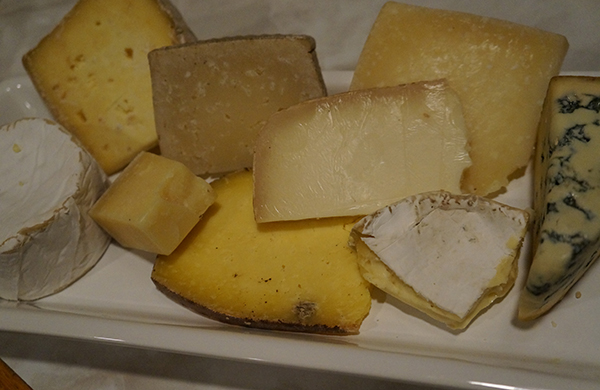 The small farmstead
Cherry Valley Dairy
in Duvall provides cheeses that feature milk from their Jersey cows grass-fed on a natural diet; free of unnecessary antibiotics, artificial additives and harmful chemicals. Dairy Reserve, a semi-hard cows' milk Monterey Jack has a full cream texture and natural rind coated with powdered cinnamon, cocoa powder, and black pepper. Grated and melted over fresh tortilla chips, this cheese would give a plate of nachos a most flavorful twist. Located in the shadow of Mount Rainier,
Mountain Lodge Farm
in Eatonville takes prides in "taste of place" and has given names like Summit, Glacier and Paradise to its farmstead raw goat cheeses – all named for locations on the mountain. Nigerian Dwarf and La Mancha goats munching salal, Douglas fir and blackberry bushes on wild land nearby give their cheese the taste of this locale. Their version of a classic mountain Tomme, Wonderland (named for the scenic trail that circles Mt. Rainier) is a simple, semi-hard, natural rind, raw cheese with nutty and fruity undertones that pairs well with a red wine.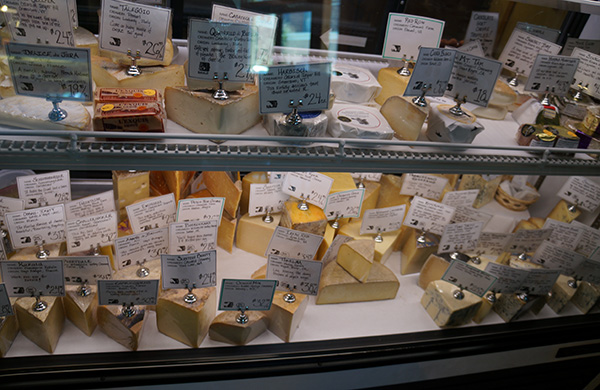 Another local Tomme to try - this one made with sheep's milk - is produced by the Swanson Family at their
Glendale Shepard farmstead
on Whidbey Island. Island Brebis, uses the farm's own whole raw sheep's milk to produce a semi hard, creamy (yet dense) Tomme with a natural golden brown rind. This choice, with its distinctive flavor also pairs well with wine but is just as comfortably at home sitting alongside one of the region's many locally brewed IPAs. Many of these cheeses can be ordered directly from the cheesemakers' websites or can be purchased at local cheese and specialty stores such as The Calf & Kid on Capitol Hill, The Cheese Cellar, or Beecher's and DeLaurenti in the Market. They can also be found at local Metropolitan Markets and area farmers markets.
BY: Kristin Price
As a food lover and writer, Kristin, a Seattle native with many years of experience producing special events, understands just how much of a role food plays in our enjoyment of life's special moments. Since 2010 she has been helping readers of her blog, KristinPotPie - Savoring Delicious Celebrations, discover just how delicious life can be by sharing her recipe for making all of the moments in life celebratory through culinary delights, entertaining ideas and all the must-see and do experiences around her beloved city.