The Parrot Cage: One of Chicago's Most Chicago Restaurants
BY: John Flaherty |
Mar 18, 2014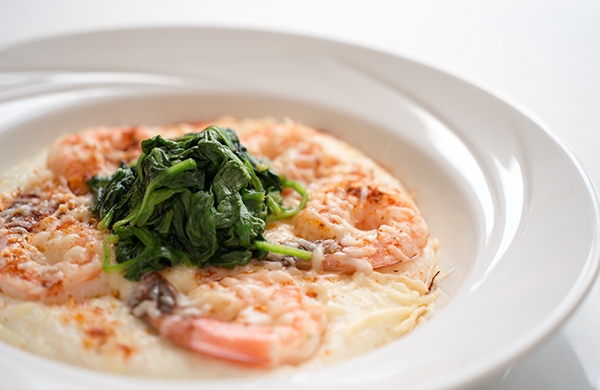 How do you find Chicago's most Chicago restaurant? You begin by taking the world's best decision-making device: the bracket. Then you combine it with Chicago's best device to represent its messy, opinionated landscape: the ward map. Some have called this pursuit "patently absurd." We humbly disagree. By taking our logic above (bracket + ward map) and extrapolating it into a larger, totally airtight algorithm, our computers have found a winner for the title of Chicago's most Chicago restaurant. See the finalists and read more about the search here. Below is one of the finalists.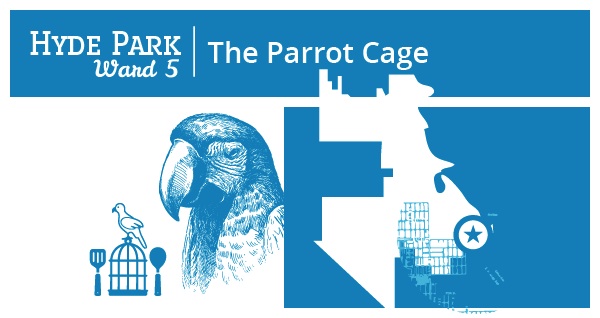 The student cook was learning about dressing a dessert of peach cobbler; my questions about the Obamas' wedding just were not connecting. "Did you know they were married here?" I asked Cheyenne. Cheyenne Toney is a second-year culinary student at the
Washburne Culinary Institute
, one of the nation's oldest culinary institutes, which now runs out of the city's Kennedy-King College in Englewood. Washburne has several "experiential assets" (real restaurants with real patrons paying with real cash), chiefly among them
The Parrot Cage
(7059 South Shore Dr.), the dining establishment tucked inside the South Shore Cultural Center. The South Shore Cultural Center (SSCC) is a fairly famous venue in Chicago. Many have heard of it; few have been in it, including this Chicagoan. Despite growing up sort of down the street, about 10 miles due west down 63rd Street near Midway Airport, I had never been there before this assignment. Numerous
publications
,
reviewers
, and
TV shows
have called the SSCC a "hidden gem." It's an interesting designation for a 60-acre, sprawling, palatial lakeshore campus. But it is pretty accurate, if not intentional. Washburne's
Executive Chef Kris Murray
said the SSCC "was a pretty exclusive country club…Through the decades things have changed, but with the way that it's built—with a 9-hole golf course, the gates and fences—it still has that exclusivity. It's not right off the main street."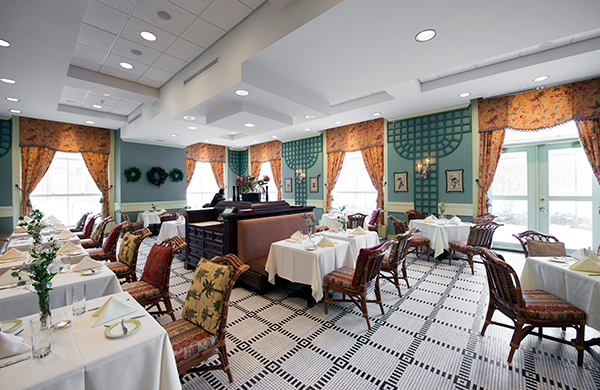 No, it's not. If you're coming from the north, you have to make a near-U-turn into oncoming traffic to enter its lavish, stuccoed gates. And once you do, you pass horse stables. Then you're motoring down a dual carriageway, framed with promenades thickly roped with wisteria vines. So the SSCC pretty much defines the term "hidden gem." To further illustrate, below is a brief timeline of its milestones:
1906:
The South Shore Country Club is designed by the same architects (Marshall & Fox) behind The Drake and The Blackstone Hotels. The pair supposedly intended for the building and grounds to resemble a summer palace. With a solarium, a ballroom, a horse stable, a golf course, and a painfully beautiful position along Lake Michigan, they unequivocally succeeded. The SSCC is one of Chicago's most exclusive clubs—a "
playground for Chicago's rich
."
1906–1960s:
The club remains rather exclusive.
1960s:
In the words of the
Park District's official history
, "[it] was abandoned and fell into disrepair."
1974:
The Chicago Park District buys all 64.5 acres for $10 million, a year before it was placed on the National Historic Register. The Park District changes the name to the South Shore Cultural Center (a convenience in acronyms, which may seem trite until you see the beautiful "SSCC" monograms forged into the front door handles).
1992:
Michelle and Barack Obama celebrate their wedding here. But that is all history. At present is Cheyenne, the second-year student who was not aware that the Obamas took their first dance as a married couple mere yards from where she was learning the line at a fine-dining establishment. "So you don't know much about the history of this place?" I asked. She shook her head. We pivot to talk about her history.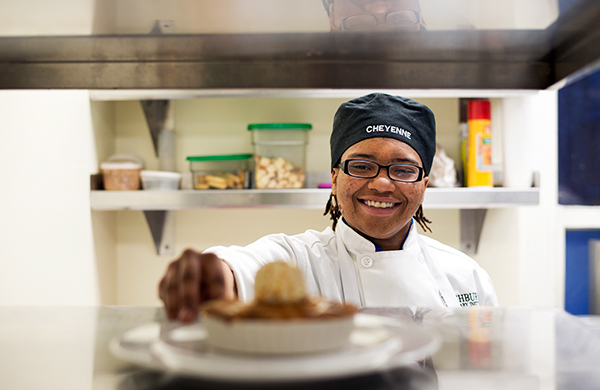 Cheyenne got into food because of her dad. They'd cook together—nothing fancy: spaghetti and meatballs, fried chicken. She always had enjoyed the ceremony of food; now at Washburne she was learning the techniques to move past the family dinner table and into the world of culinary arts—or to the layperson, the world of food. In Chicago the world of food has gotten a lot of attention lately. The city has a roster of celebrity chefs, 25 restaurants with Michelin stars, and an eating public that has high expectations and short attention spans. The Parrot Cage is Cheyenne's first exposure to this world, one which she admittedly knows very little about. Her passion and her enthusiasm at the opportunity to cook for others is overwhelming. Many times throughout our interview, it indeed overwhelms her—she has to pause mid-sentence to excuse herself for being nervous. Nicholo Serio is not quite so new to this food world. Nico's a Washburne graduate and the lead cook at The Parrot Cage. He's been working there for three years. He grew up near Midway and went to one of the city's Catholic high schools. He never thought about food as a career until he was 17. Like most artists, he got hooked on the most positive drug of them all: praise. One night at his girlfriend's house, he made dinner for her family ("a lemon-herb chicken breast with smooth mashed potatoes and asparagus," Nico remembers). They loved it, and they told him they loved it. That fall he enrolled at Washburne, just a few miles from his house down 63rd Street. Nico has ambitions.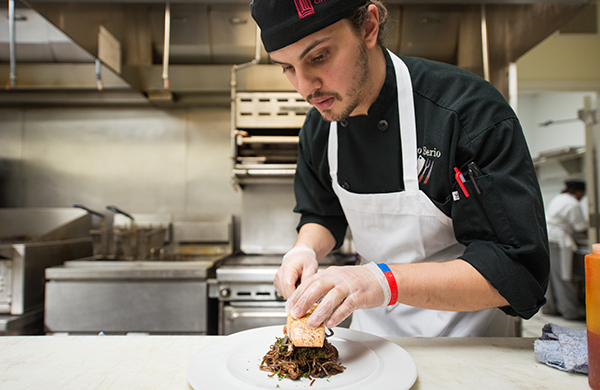 He really likes the food at The Publican in Fulton Market, and his favorite show is Food Network's
Chopped
. Some day, he wants to own his own restaurant. His mentor, Chef de Cuisine Angel Cruz, has worked in some of Chicago's finer restaurants. He spent time under Dirk Flanigan at The Gage, the Michigan-Avenue eatery with front windows that reflect Millennium Park's ice skaters and fountain splashers. Chef Cruz oversees students who work for The Parrot Cage. None of the students (like Cheyenne) receive class credit for their work at the front or back of the house. They all receive wages. "At all the experiential assets," Chef Murray said, "the students are getting paid because we're receiving revenue off of [the restaurants]." Washburne has several of these
experiential assets
, as Chef Murray calls them. Some (like Sikia at Kennedy-King on 63rd) are for course credit. Others (like The Parrot Cage) hire students to prep them for the "real world." But how does The Parrot Cage serve up this real world? How does it prompt students' transition from the academic to the commercial world? Really, all it takes is one rather simple move. It charges higher menu prices. "The menu cost is definitely more in tune with market price at The Parrot Cage," Chef Murray said. "Because the type of service that you're offering, in theory, is supposed to be in line or above what you would get at [other] restaurants." Yes, in many areas of Chicago $16 is a bargain for an entree of
salmon with sweet chili sauce
on a bed of soba noodles with unagi sauce and baby bok choy (the dish I watched Nico brashly lift out of a pan with tongs, only to have the salmon fillet snap into two pieces. Chef Cruz's critique: "I think spatula, guy."). But it's an upscale price when compared to its Washburne sibling,
Sikia
, which serves a three-course lunch for $7; or its closest culinary neighbor across South Shore Drive,
House of Bing
, which charges $12.20 for salmon Cantonese-style with oyster sauce. And that higher price has ripple effects. It impacts not just its guests' wallets, but their overall perceptions. As Chef Murray said, "At Sikia we can't take into consideration that students have not been out there—[their work] is for a grade. At Parrot Cage though, it's going live. The whole setup—as far as the restaurant, as far as the food, quality, service, etc.—the grades that [the students] are getting for that is basically what the customers have to say…on Yelp." So student hires are not only at the mercy of the hand of the free market, but also of the fingers of the Yelp reviewers. There are Yelp reviews for both Sikia (5 total) and The Parrot Cage (32 total). In all of the reviews—both the good and the bad at both restaurants—reviewers expressed admiration for the concept of a student-run restaurant. But at The Parrot Cage, where their check totalled higher (and included a 10% automatic gratuity, half of which goes to a student scholarship fund), more reviewers felt entitled—if not obligated—to leave brutally honest feedback. Consider a pair of reviews for each:
Sikia reviews
: 4/5 star review: "It was our pleasure to sponsor in some small way these future chefs and restaurateurs." 2/5 star review: "I really, really want to rate this rest. higher because of the mission."
The Parrot Cage reviews
: 5/5 star review: "Culinary students run this place? Really? Bon Appetite!" 2/5 star review: "Hate to do it, but it must be done: Had dinner here tonight and the service and the food was awful." For 2014, these kind of reviews are rather typical. And it is this type of feedback—in the form of sharp, impetuous internet comments—that plunges these students into the "real world." The thumb-typed reviews and impulsive awarding of stars is the bridge between the biodome of higher education and the jungle of 21st-century restauranteering. There is also something else to these reviews. In the real world of the Chicago food scene, there is no clearer sign at having arrived, at having been taken seriously, at having been put on the map than to have accumulated a sporadic, sincere, and schizophrenic collection of Yelp reviews. Because for every one of
Hot Doug's
"Nothing short of amazing every time!!!" reviews,
Alinea
gets comments like "The chocolate and menthol dish at the end tasted like tooth paste [sic] and there was WAY too much of it." The Parrot Cage is preparing its students for the real world. It is a world to which Nico has already set his course. He is still learning, but his goal is clear. As he says about his apprenticeship under Chef Cruz: "Anything that was dull or needed some work, it's been really forged and sharpened here." Cheyenne's talent and skill are still being sharpened at The Parrot Cage. She picks up as many open shifts as Chef Cruz has available, and down the road she has her eye on opening a barbecue restaurant in Kentucky. The Parrot Cage is now a part of the rich, exclusive history at the South Shore Cultural Center. The students who work within its walls—in a kitchen and dining room between a grand ballroom and a solarium—seem to admire its beauty. But they are certainly not indebted to its history. At The Parrot Cage, the students focus on their futures. They're preparing for careers, taking the first steps into the world as culinary artists. Yes, the SSCC is destination dining in Chicago. But it's a destination within a destination for every student who cooks and serves at The Parrot Cage.
Photos by Andrew Nawrocki, Groupon