The Siren Call of Summer on Pilsen's Six Best Patios
BY: Cody Braun |
Jun 7, 2013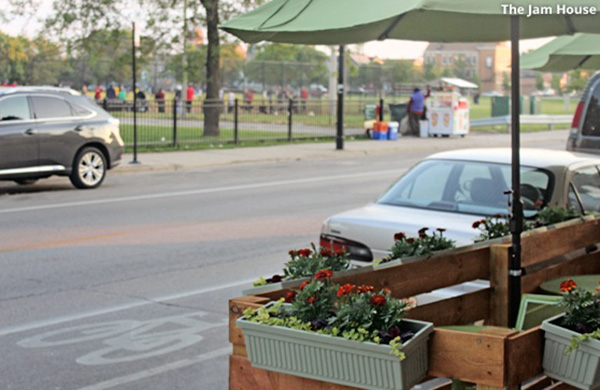 In Pilsen, it is hard to find a dark enough corner in which to escape the shouts of little leaguers and the ragtime jingling of ice-cream trucks, often set against the drumroll of fireworks. Wherever you are, there's that soundtrack reminding you to get outside. You'll still have to eat and drink, though, and we've rounded up six of the best places for that.
1. The Jam House (1854 W. 18th St.)
(pictured above)
TIP: Try eating frozen water for the first time in the presence of seasoned professionals | 
Shaved ice from a plastic cooler, a counter crowned with spoonfuls of syrupy jam, rows of large glass jars: this may sound like a sensory overload, and it definitely can be. But you'll be fine if you trust the ladies behind the counter. They're always happy to steer you away from peculiar combinations. Once, I didn't heed their warnings, but I was still happy eating my creation (covered with a confusing blend of chamoy and mango) on the Jam House's patio, which opens out onto a perpetually busy baseball field.
2. Nightwood (2119 South Halsted Street)
TIP: Try reading some cursive without your fishing buddies finding out about it | 
The menu at Nightwood is written by hand each day based on what the chefs are excited about at the moment and what ingredients are showing up at local markets. The eclectic smells drifting across the patio at any moment might well hint at pigeon, dungeness crab, ramps, and pig ear. During brunch, adventurous donuts are a good way to soak up bloody marys, but to leave without trying the tumbleweed-like hashbrowns is a serious error.
3. Pl-zen (1519 West 18th Street)
TIP: Go to prove to a terrible handyman that paint looks good when it goes on walls, too | 
The two-story mural towering above the patio at Pl-zen meshes elegantly with the food. It used to be an octopus with tentacles wrapping up around the façade of the building in much the same way that octopus on the menu still tangles around spicy papas bravas. That mural's been painted over with a new one of a wolf eyeing Red Riding Hood with the same hungry gaze passersby direct at Pl-zen's plates of short ribs braised in Revolution IPA.
4. Vio Cafe & Grill (2000 West 18th Street)
TIP: Flee here when you're being chased by a cartoon villain | 
There is the feeling that, like the Roadrunner racing into a tunnel he'd just painted, you could leap into any one of the clutter of houses in the mural on Vio's patio. That's probably not safe, of course, but if you leave the patio you'll find a very real block that's equally colorful and relaxed.
5. Simone's Bar (960 West 18th Street)
TIP: Go, then bet a scientist that you can hear music and see colors at the same time | 
Music drifts out to Simone's patio from a DJ station that's built from old pinball machines (and usually manned by a local). You can safely turn your head away from plates of black-bean and banana empanadas to look at the colorful swoops of paint that adorn the outside of the building. That's the work of local muralists, who you might find posted up at the bar.
6. Perez (1163 West 18th Street)
TIP: Go when you want to do some people watching or just see what you're supposed to do with your arms while walking | 
There's a steady parade past Perez. Over a plate of chili-relleno tacos, you can watch people rolling bikes into the nearby bicycle shop or cradling cases of beer as they walk out of the well-loved liquor store across the street. There'll be Pilsenites carrying a surprising amount of lumber off the 18 bus or whistling cheerily. Sometimes both. And this is the perfect place from which to watch them all.
Photo by Cody Braun, Groupon