There's No Such Thing as "Girly" Beer: Women on the Beer Scene in Chicago and Beyond
BY: Shannon Jewitt |
Sep 16, 2013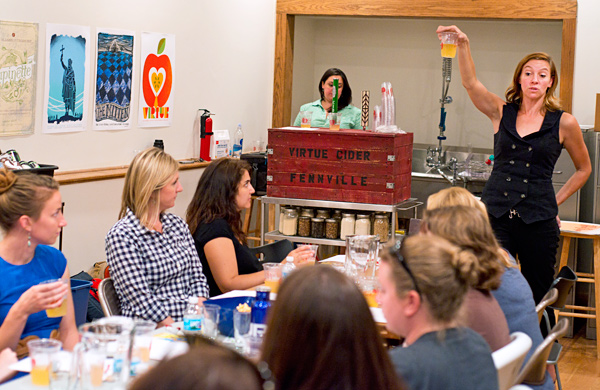 A few months ago, there was a video swirling around from Womensforum TV about what kind of beers women should drink. Because, you know, all women have the same taste in beer, and that's flowery, fruity, and froufrou, preferably with a citrus garnish. It has since
mysteriously disappeared from the site
, but it contained a lot of oohing and aahing over pink beer. Upset about the video—I am a hormonal, emotional woman, after all—I decided to chat with several women in the beer industry to see how their experiences compared and hear their thoughts on why women love beer and how they feel about stereotypically "girly" beers.
Nicole Erny | First female Master Cicerone
"Beer doesn't have reproductive organs."
Nicole Erny is the first female Master Cicerone (a beer-certification process we've chronicled
here
) who's tired of talking about being a woman in the beer industry. When I spoke with her, she said she was tired of answering one question: "'Isn't it weird that you're a chick in beer?'" "Can we just get over it and talk about flavor?" Erny said. "That's what I'm really interested in." That's what she's an expert in, too, and her tastes run the gamut of flavors. "I don't think I could live without Belgian trippels or saisons," she said. Hardly stereotypically "girly" beers. "Beer doesn't have reproductive organs," Erny said. "So there's no gender association with particular beers. I know some guys that drink nothing but heavily sweetened framboise lambics, and I know plenty of women that drink nothing but double IPAs. There's really no correlation between gender and beer styles." I was also curious about how Erny's been greeted by other beer experts. "I don't know that it's vastly different than the sexism that you would encounter on a daily basis in any career track," Erny said. "Honestly, making a big deal out of being the first Master Cicerone was just because that's what media responds to. It has nothing to do with being excited to be the first woman or anything like that. It was more remarkable to be the fourth person ever to pass the exam."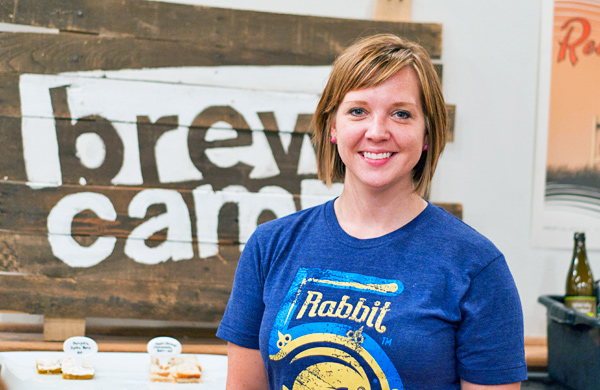 Kim Leshinski | Founder of the blog Hail to the Ale
"Everyone's willing to help each other out and really want each other to succeed."
"In college," Kim Leshinski recalled, "I made horrible beer choices." It wasn't until shortly after graduating from college that she really got into beer. While working for a graphic-design firm in upstate New York, she had the opportunity to try lots of beer and discovered there were styles other than light beers and lagers. Then, about two years ago, Leshinski continued her journey by starting to brew—her most recent effort was a
Shark Week–themed beer
. She started her blog
Hail to the Ale
to document her homebrewing experiences, including the process of creating product packaging. She's found the industry welcoming. "I feel like it's kind of like when you first went to college, and everybody's starting out and trying to figure things out," she said. "I feel like it's a similar mentality where everyone's willing to help each other out and really want each other to succeed." To help foster that spirit, Leshinski started the
Chicago Beer Gals Collective
over the summer. I joined them on Thursday, September 12, for a cider tasting led by Michelle Foik of Virtue Cider and a discussion comparing cider and craft beer with Kate Bernot, the nightlife reporter for
RedEye
. One of the goals of these events is to introduce attendees to new brews. Often, the beers labeled "girly" are really just beers for people who are new to craft-beer drinking, Leshinski said. "I don't think this applies just to women, I think it's people in general that don't know if they like craft beer or haven't developed a taste for it yet. ... Those kind of gateway beers can help you develop a palate or get a better sense for the different varieties," she said. "There are so many choices out there now. So I can see where things like fruit beer or ciders have characteristics of cocktails or are on the lighter side for someone who's normally a light-beer drinker in order to bridge them into a more adventurous palate."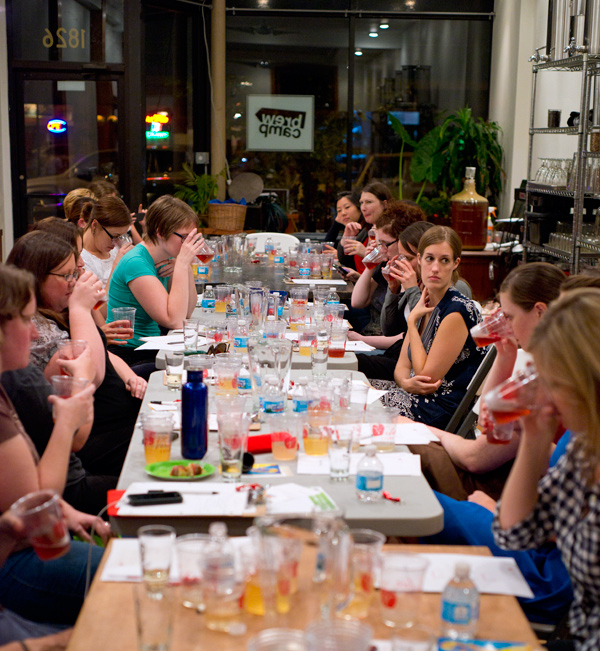 Ashleigh Arnold | Midwest field quality ranger at New Belgium Brewing Company
"It's more than just a job, it's a lifestyle choice." 
"Wow, you know, beer can really have flavor," thought Ashleigh Arnold upon sampling a stout. She was celebrating her 21st birthday at
Trailhead Brewing Company
in Saint Charles, Missouri, just outside Saint Louis. That was the beginning of her love of beer, which led her to help open my personal favorite bar in Saint Louis,
International Tap House
. She also brewed for
Two Brothers Brewing Company
before starting her most recent position in quality control at
New Belgium Brewing Company
. She still loves stouts but said "right now, I'd say I love classic styles, classic session beers. Give me a great pilsner, and I'm completely ecstatic." Her favorite kind of beer changes with her mood, though, and different beers are good for different occasions. For example, when I asked her what she thought about stereotypically feminine beers, she gave an unapologetically honest response. "You want the honest answer?" she asked. "I secretly love them. ... I feel like those beers have a time and a place, and you know, give me a radler any day." She told me the appeal of something like a radler (a mix of beer and soda or juice) is pretty universal, though. "Calling them 'girly' I kind of have an issue with because I know just as many men who love to drink a radler with breakfast. I think there's a place for those beers, but I don't think those beers are gender specific anymore." Neither is brewing. "I know a lot of people spin that it's hard to be a female brewer," Arnold said. "For me, honestly, I feel like it's opened more doors than it's closed." But those opportunities have come with a fair bit of tough manual labor. "It's hard work. And depending on the brewery, the challenges vary," she said. "I started off at a barrel-and-a-half brewpub, and it was just a lot of manual labor. Nothing was automated. Everything took me moving it to where it needed to be." Brewing also taught her she still faced some disadvantages in the industry. While with Two Brothers, she worked with a 50-barrel system. On such a system, "being 5'6" is hard. Everything is built for a 6'0" tall guy. So I had to carry around a milk crate everywhere just to be able to open valves and open chutes." However, she said she never felt discriminated against. "I would say it's been beyond welcoming." "A lot of women crave the physical labor that goes with that job. A lot of us have been expected to be behind a desk for so long that we love to get dirty and make beer," she said. "So I think it's a lifestyle choice. Beer's more than just a job, it's a lifestyle choice. You become part of a community."
Photo: © Timothy Burkhart, Groupon
BY: Shannon Jewitt
Resident Beer Stalker Shannon has an insatiable thirst for craft beer. Despite being a vegetarian, she always makes an exception for fries cooked in duck fat.