How to Play Hooky in Chicago (As a Grownup)
BY: Scott Hirsch |
Apr 24, 2015
Forget Ferris Bueller—you're an adult, and you can do what you want. The kids are a handful and work's been a grind. You've emailed the boss and you're ready for some "me time." The day is yours.

It's easy to spend a much-needed day off inside, where bed and TV beckons, but there are plenty of things to do in Chicago—a thriving city with lots of activities beyond the weekend mainstays. Here are some alternative Chicago spots that promise indulgence, introspection, and enjoyment on any weekday when you feel like playing hooky.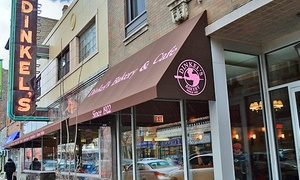 Breakfast: German Cakes and Donuts at Dinkel's Bakery
Start the day off with a cup of coffee and a window seat, and watch the workday masses trudge toward the train. For a breakfast treat, it may be hard to choose from the plump, glazed, glistening spread of tarts, croissants, and frosted cakes, so go for Dinkel's celebrated chocolate donuts.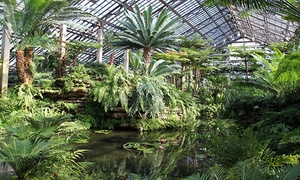 A constitutional through this massive glass-domed conservatory should help you slow down and appreciate the little things. And the big things, too, such as a 25-foot high agave or one of the largest known Scheelea palms. There's plenty of small marvels in-between—roughly 120,000 plants in all—with hidden ponds and weaving paths tucked deep into the lush gardens.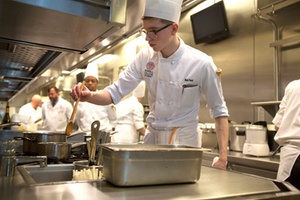 Kendall's student-run restaurant offers fine dining that comes with a Michelin recommendation, a skyline view, and an affordable price. The weekday prix fixe lunch is a nice midday reward: for less than $20, diners get a three-course meal from tomorrow's culinary stars, with selections such as barbecue duck rangoons, wild boar with pomegranate shallot reduction, and roasted-pear cheesecake.
Afternoon Shopping: High-End Boutiques Along the Oak Street Corridor
Along with ornate brownstones and tree-lined sidewalks, Oak Street houses some of the city's most magnificent shops. In just a few blocks, posh boutiques nestle among such heavyweights as Barney's New York, Yves Saint Laurent, and a Bentley dealership—making for window shopping that feels like cruising for stained glass.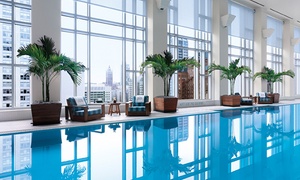 "Me" Time: An Uplifting Experience at the Peninsula Spa
Situated on the 19th and 20th floors of its namesake hotel, the Peninsula Spa is an indulgent retreat from the hectic streets outside. The 2.5-hour mint spa treatment includes a tea ceremony to go with its full body and head massage using essential oils. Afterward, take a break in the yoga room or a dip in a pool surrounded by panoramic views of the city.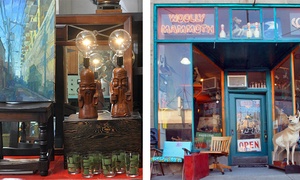 Antiquing: Scout Chicago and Woolly Mammoth Antiques & Oddities
Up in the quieter, trendier neighborhood of Andersonville, Scout's curated selection of vintage, repurposed, and eclectic furniture and design fits right in with its surroundings. Check out tables made from airplane wings, apothecary cubbies, and lighting fashioned from traffic signals for some home furnishings and inspiration.

Likewise, Woolly Mammoth—half store, half museum, and wholly weird—is another Andersonville wormhole of antiques and curiosities. Plenty of taxidermy projects find new lives amid the scattering of niche toys, medical artifacts, old maps, and obscure science materials.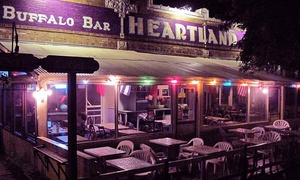 Dinner: Grass-Fed Burgers and Grass-Roots Vibes at Heartland Cafe
For more than 35 years, the Heartland has been a haven for progressive and healthy living. That commitment manifests in the little general store's array of of handmade soaps and left-of-center literature. A stage regularly hosts folk artists and poets for live performances, but the food is always the main event—grass-fed buffalo burgers and maple-glazed tofu are among the menu's highlights.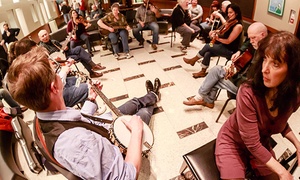 What better way to wind down a day of improvisation than joining a jam session? Every Thursday evening starting at 7 p.m., the Old Town School of Folk Music—renowned for its music classes and concerts—hosts a Folk, Rock, and Roots Jam. All are welcome to join in with their own instruments or just sit back, listen, and wile away the day's final hours.

Illustration by Mark William Mills. Photos: Fern Room courtesy of Garfield Park Conservatory's Facebook page. College of DuPage Hosts American Culinary Federation State Competition 2015 36 by COD Newsroom under CC BY 2.0. Oak Street sign courtesy of Oak Street Chicago. Scout's furniture/lighting courtesy of Scout's Facebook page. Woolly Mammoth exterior courtesy of Woolly Mammoth. Heartland Cafe Exterior courtesy of The Heartland Cafe's Facebook page.
BY: Scott Hirsch
Scott Hirsch is a published poet, an amateur boxer, and a devout reader and writer of fiction. He dedicates his accomplishments to the memory of his mother and attributes his many failures to colorblindness.