GROUPON GUIDE TO LOS ANGELES
Things to Do in Downtown Los Angeles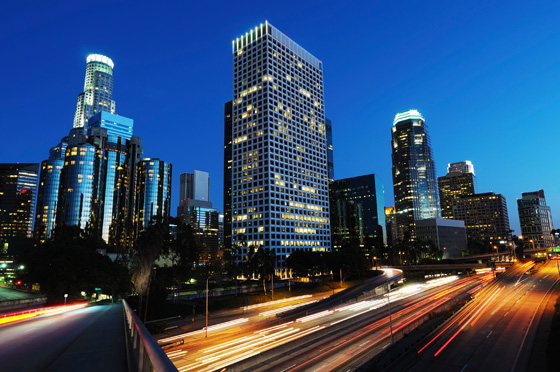 Following its 1920s heyday, downtown Los Angeles entered a protracted period of decline. Blame freeway-induced sprawl, the allure of the beach, or the burgeoning film industry's thirst for larger swathes of land. Whatever the reason, the city's downtown districts became less its beating heart and more its ailing appendix—obsolete and expendable.
This narrative of decline persisted until 2003, when architect Frank Gehry unveiled his $130-million-dollar Walt Disney Concert Hall. With striking curves of stainless steel and an acoustical quality that Frommer's claims "equals or surpasses those of the best concert halls in the world," the building would come to symbolize downtown's 21st-century renaissance.
Another prominent symbol of that renaissance emerged with the completion of the L.A. Live project. Developers and taxpayers spent billions to grow the area surrounding the Staples Center, which today comprises movie theaters, clubs, music venues, and restaurants. Head to the complex's Grammy Museum to check out four floors of interactive exhibits and artifacts that range from Stevie Ray Vaughan's battered Fender Broadcaster to Michael Jackson's sequined gloves. As the sun sets, bounce over to the Conga Room, a Latin music nightclub owned by a celebrity cohort that includes Jennifer Lopez and Jimmy Smits. Along with top salsa and Latin jazz artists, the club is home to Boca, whose Latin-style tapas dishes include seared tuna breaded with Cuban spices and shrimp marinated in coconut, cilantro, and jalapeno.
With all the attention that L.A. Live and other new additions garner, it's easy to overlook the institutions that have flourished in downtown for decades. Two of the area's eateries feature rich—if conflicting—histories. Phillipe the Original and Cole's have both been open since 1908, and both claim to have invented the French dip. It hardly matters who's right, as both restaurants serve prime specimens of the sandwich piled high with beef, pork, lamb, or turkey. Break the tie by choosing the closer location; Cole's sits a few blocks east of Pershing Square, whereas Phillippe straddles the boundary with Chinatown just north of the 101.
Thankfully, downtown Los Angeles doesn't shut down after dark. For a nightcap, head to The Edison, where guests munch on deviled eggs and sip bourbon cocktails. There's an anachronistic element to the décor that recalls the early days of silent film—don't miss a lounge filled with turn-of-the-century generators that create the impression of an Industrial Gothic cathedral. Nearby, Seven Grand caters to the worldly set with hundreds of whiskeys that range from cask-strength Irish spirits to single malts from Japan and India.
Of course, pockets of downtown take pride in their shaggier sensibilities. A case-in-point: The Smell, an all-ages punk club, experimental music venue, and art gallery. The prevailing ethic is decidedly DIY; volunteers operate every aspect of the not-for-profit club, from manning the soundboard to running the vegan snack bar. Occasionally, well-known artists such as Peter, Bjorn and John stop by to perform, but the lineup tends to feature homegrown acts—this is partly why tickets typically cost only $5.