How to Be a Sugar Skull for Halloween
BY: Favin the Maven |
Oct 27, 2014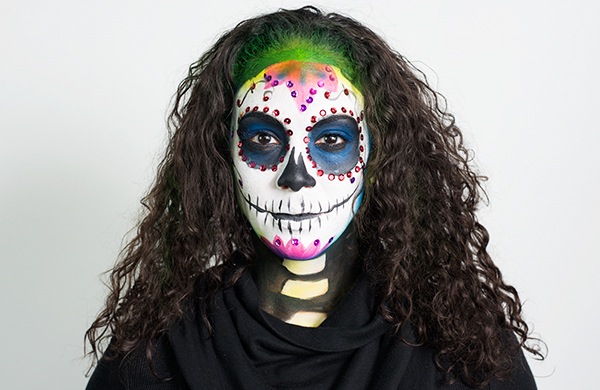 I'm usually kind of a baby about scary stuff, but this Halloween I decided to try a spooky look. And since I'm just a regular, un-spooky human, this required a bit of makeup. I asked
Kate Johnson
—who recently taught me
how to clean makeup brushes
—to help me create sugar-skull makeup. Sugar skulls (or
calaveras
in Spanish) are traditionally part of Day of the Dead celebrations, but the brightly colored skeleton faces have also become popular for Halloween. Follow these steps to recreate the look for yourself.
What You Need:
Gel eyeliner
Costume face paint in black, white, and whatever color(s) your flowers will be
Fluffy brush or makeup sponge
Detailing brush
Loose sequins
Spirit gum
About 45 minutes

What You Do:
1. Line your eyes.
Kate used
Makeup For Ever Aqua Liner in Mat Black
. She stressed that the lines don't have to be flawless because eventually your whole eye socket will be painted black. This step just makes the filling-in process easier. "It's more challenging to get the other products this close to your lash line," she said.
2. Black out your eyes with face paint.
Kate recommends
Paradise Makeup AQ by Mehron
. "You could use eye shadow or eyeliner, but it would take a thousand years," she said. Activate the paint by dropping in a bit of water, then use a sponge or fluffy brush to create big black circles. If you do use a brush, "go get cheap brushes from an art store," Kate advised. "There's no reason to buy fancy makeup brushes."
3. Cover the rest of your face in white face paint.
You can do as many coats as you want. If it gets choppy, go over it with more watered-down paint to even out the texture. Just don't overthink it! "The thing with skulls is that there's cracking. It doesn't have to to be perfect," Kate said. You do have to paint over the lips, though. "Skeletons don't have lips."
4. Add vertebrae.
With the white paint, simply brush three rounded rectangles on the front of your neck. "If you really want to get into this, you can paint the whole neck [around the bones] black. … Or just wear a black turtleneck, so you look like a floating head."
5. Black out your nose.
Skeletons also don't have noses. To create this effect, Kate used the detailing brush to paint a black triangle on each side of my nose, one of which was a bit taller than the other. She connected them at the bottom, but left the two peaks separate. "It can be jagged, that's the whole point."
6. Bare your teeth.
Starting far back near your jaw joint, use the detailing brush to draw a black line that stretches across the middle of your lips and ends at your opposite jaw joint. Cross this line with vertical lines, which should be shorter on the sides of your face and get longer toward the center of your mouth.
7. Draw some "squigglies."
These begin taking the look from regular skeleton to sugar skull. Using the detailing brush again, draw lines that end in small spirals. The look of these is really up to you, so get creative! Kate painted them in black on my forehead and cheekbones. "If I'm doing my own face, I'll [rest] my pinkie on my scalp to steady my hand," she said.
8. Create colorful flowers on your chin and forehead.
With colored face paints, Kate drew a few basic petals on the top and bottom of my face. She again emphasized that you shouldn't aim for perfection. "It's kind of like those petal flowers you did in elementary school." Don't thin your paint with too much water, though, or the white will show through.
9. Embellish the details with shiny sequins.
Kate used the end of a makeup brush's handle to apply dots of spirit gum to my face and to pick up and press on the sequins. (Don't use your hands, they'll get all sticky!) Where you put your sequins is up to you—Kate glued them around my eye sockets, on my squigglies, and along the edges of my flower petals.
Optional:
Have an airbrush makeup gun? Kate sprayed blue, green, and yellow makeup around the edges of my face for a really festive look. Again, this is totally optional—my sugar skull looked great even before she did this.
While she was in the office, Kate transformed two of my coworkers, too! Here they are as a cracked porcelain doll and a clown inspired by
American Horror Story: Freak Show.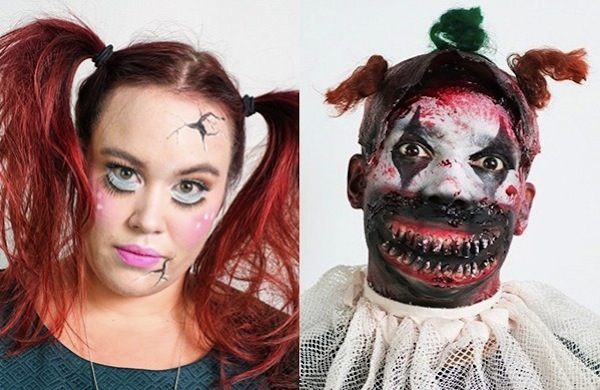 Photos by Andrew Nawrocki, Groupon
Here's more makeup inspiration for Halloween:
| | |
| --- | --- |
| | |
| Blood-Free Halloween Makeup: Frida Kahlo | Blood-Free Halloween Makeup: Ventriloquist's Dummy |
BY: Favin the Maven
For me, both beauty and fashion need to be accessible and not intimidating. I love a great deal and a good DIY beauty treatment. I pride myself on trying new trends, being open minded and getting a great treatment without breaking the bank. In the name of beauty I will try anything once.