Three Steps to Building a Better Bagel with NYC Bagel Deli's Corey Kaplan
BY: Aimee Algas Alker |
Jun 3, 2013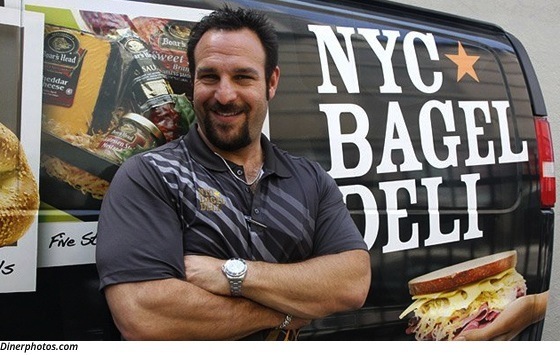 Corey Kaplan, proprietor of
NYC Bagel Deli
, has eaten a lot of bagels in his lifetime. But he remembers his first as fondly as some remember their first kiss. "I was 15," he said. "It was a double-toasted everything bagel ... with nova salmon, tomato, onions, cucumber, capers." Soon after, his parents opened a deli in Red Bank, New Jersey. Corey went on to tug at his parents' apron strings, learning the craft of bagel making at their side. Having grown up in the business, Corey claims that he "[doesn't] really know anything else." But what he does know, he
knows
, through and through. Here, Chicago's resident authority on bagels describes the dimensions of the perfect bagel sandwich. 1.
Start with a good bagel.
"[It should be] hard on the outside, soft on inside, with a nice shine to it." According to Corey, the bagel should be kettle-boiled in water at a temperature of 190–200 degrees before being put in the oven. The bagel should also have a good puff to it: "We're lucky in that Lake Michigan is very good water. The minerals make the bagels rise. In some places, the water doesn't have enough minerals, so the bagels are flat." 2.
Pile on the fish.
Corey prefers Nova Scotia salmon. Nova, says Corey, is what most people mean when they say they want lox. The nova is smoked, but no salt is added to the curing brine during the process. "To give you an idea," he says, "we sell 300 pounds of nova to 10 pounds of lox every week." Also, the salmon should always be fresh, never frozen, Corey adds. 3.
Slather on the cream cheese.
Chive cream cheese is Corey's pick. At
NYC Bagel Deli
, staffers spread 4 ounces of cream cheese on a 5-ounce bagel. Corey also approves of other bagel-sandwich variations. In fact, the deli's second bestseller is the Poppy Rube's Reuben, named for his grandfather: corned beef, swiss cheese, russian dressing, and sauerkraut on a poppy-seed bagel. There is one thing, however, that bagel aficionados always skip, he says: "Mayonnaise. Just like [Chicagoans] don't put ketchup on a hot dog, you don't put mayo on a bagel. Just don't."
BY: Aimee Algas Alker
Guide Staff Writer
Though Aimee stays up to date on the latest food trends for the Guide, most of her meals are served cold and cut into tiny, toddler-sized bites.