Tips for Traveling with Your Dog at 30,000 Feet
BY: Shelby Kimbrough |
Mar 20, 2015
Dog owners know—dogs make our lives infinitely better. I can't imagine life without Louie, my yorkie mix. So it's always a struggle when I travel: do I board him or bring him along? Having a dog complicates airplane travel, but it's doable as long as you plan ahead. Here are some tips for flying with a dog.
Things to Know Before Flying with a Dog
Six weeks out: Most travel experts agree that 54 days before travel is the cheapest time to buy your plane ticket; book a direct flight whenever possible. Check the airline's pet policy—some airlines, like Southwest, won't fly pets in cargo and only allow small dogs in the cabin. Others, like United and Delta, also allow larger dogs in cargo.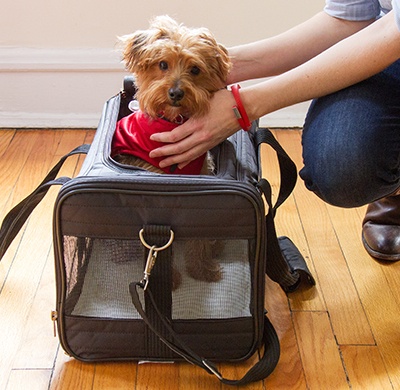 Four weeks out: Order your dog's carrier or kennel to give him plenty of time to adjust to it. You'll need a soft-sided carrier if he's riding in the cabin and a hard-sided kennel for cargo. Choose one that's ventilated and large enough (dogs must be able to stand up and turn around comfortably). Leave the carrier or kennel in a prominent spot for the next few weeks to let your dog sniff and explore it.
One week out: Call the airline to reserve a spot for your dog. Most airlines limit the number of pets allowed on each flight and some require reservations. Fees are charged each way; they range from $75 to $125 to carry a pet in the cabin to $200 or more to bring a pet in cargo.
The night before: Try to limit yourself to a small carry-on bag so you're not lugging around more than you can handle (check out our tips on how to pack light). Keep your dog's travel essentials within easy reach: a bowl for water, toys and treats, and a 3-ounce bottle of enzyme cleaner for accidents.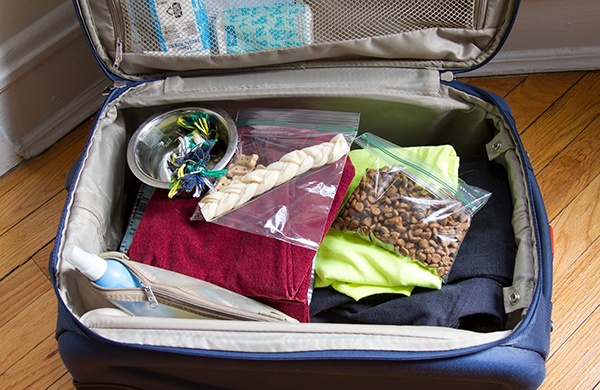 The day of: Give your dog lots of water and take him on a long walk. Consider fasting him for 4–6 hours before the flight since traveling on a full belly can be uncomfortable.
At the airport: You'll have to check in at the counter no matter where your dog rides in the plane, so arrive at least 2 hours early. If your dog is riding in the cabin, he'll have to go through security—you can either carry him through the metal detector or request a private screening with a TSA agent. Once inside, find a quiet space or walk around the terminal to keep your dog from getting anxious.
On the plane: If your dog barks during the flight, stay calm; the noise probably isn't carrying as far as you think. Comfort him with words, pets, and treats (but don't take him out of his carrier) and apologize to the passengers around you. If your dog has an accident, alert the flight crew. Offer to stick around after the plane lands to help clean it up, but keep in mind that the airline might charge you a pet-cleanup fee anyway.
At your final destination: Take your dog outside to use the bathroom right away—look up the airport's pet-relief areas beforehand—and give him lots of water. If you're driving from the airport, put your dog in his carrier in the back seat for safety.

General Dos and Don'ts for Flying with a Dog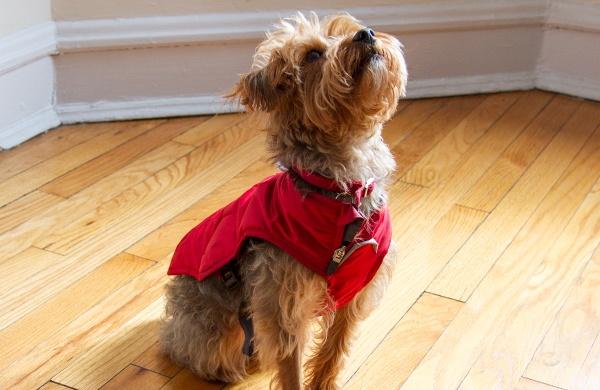 DO Get your dog microchipped; it's the best way to find him if he gets lost in an unfamiliar city.
DO Ask your veterinarian to recommend an animal hospital in your destination city.
DO Prepare your dog for major climate changes. Going somewhere cold? Buy him a coat. Going somewhere hot and muggy? Make sure his flea and tick treatments are up to date.
DO Look up your hotel's pet policy.
DON'T Give your pet tranquilizers unless they're prescribed by a vet. Some dogs have bad reactions to them, including heightened anxiety.
DON'T Change your dog's food or medicine right before you travel.

Photos by Carmen Clark, Groupon
Read more tips for airplane travel: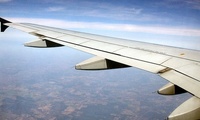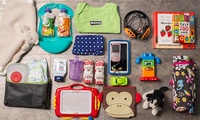 BY: Shelby Kimbrough
Before becoming a travel writer, Shelby lived and traveled in the Caribbean for 2.5 years with the Peace Corps. She once ate a raw sea urchin right from the ocean.