The $4 Toast Trend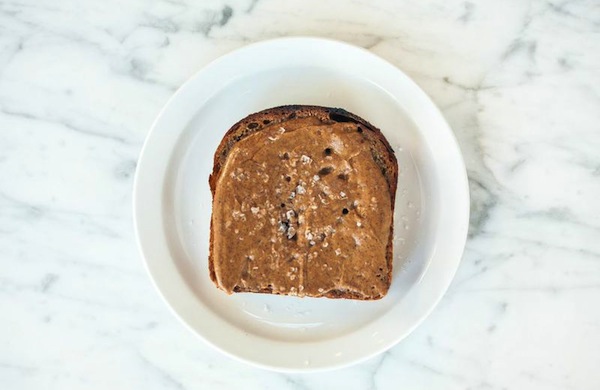 Show up to San Francisco coffee shop The Mill on a Sunday morning, and it's not unusual to find a line of people snaking out the door. What is unusual is the reason for the commotion: not a fancy French pastry or trendy coffee drink, but toast. Plain old American toast.
Hot on the heels of the cronut, artisanal toast has been having a moment on the West Coast since last year. But unlike those hybrid treats, fancy toast isn't the offspring of some delicious pastry cross-breeding program.
It's just toast—except better.
And though the frenzy may have started in San Francisco, it's quickly gaining ground in other areas of the country, from Seattle to New York City.

We spoke to Matthew Hein from Four Barrel Coffee—The Mill's sister spot—to get some further insight into why toast is suddenly the toast of the town. Spoiler alert: it might be because it's just really, really good.
GROUPON: The Mill was one of the earliest restaurants to adopt the toast trend. What made you think it would be successful?
MATTHEW HEIN: Who doesn't like toast?
G: Good point. But what sets the toast at The Mill apart from the toast I make at home?
MH: If you buy a loaf of Josey Baker Bread and some organic almond butter and sea salt from The Mill to spread on it, not much is different about your toast at home than toast at The Mill. Except all the nice people and pretty art on the walls and general good vibes.
But maybe you have those things at home, too.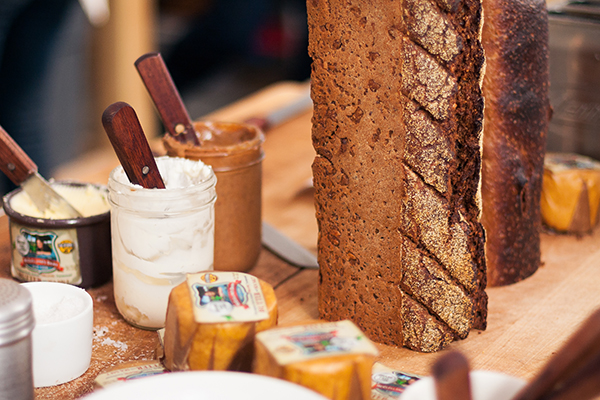 G: What's your favorite toast topping? Or some past favorites from The Mill's toast menu?
MH: I personally love a slice of rye with almond butter and sea salt. It's great with one of the hearty Four Barrel mochas made with Dandelion chocolate. Oh, it's so good.
Other folks like to switch around the sweet/hearty pairing, eating the No. 2, which is the cinnamon-raisin toast with butter, brown sugar, and sea salt … along with a simple cappuccino or drip coffee.
G: Which Elvis is more likely to appear on a slice of The Mill's toast: Elvis Presley or Elvis Costello?
MH: The Elvis I would expect to find would be Elvis, Crockett's pet alligator from Miami Vice.
---
Paying Top Dollar for Toast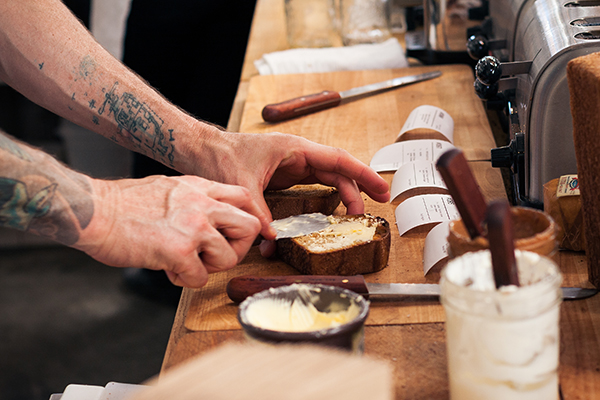 As toast's popularity surges, so does the backlash from some customers who can't stomach the gourmet price tag that accompanies it. At Seattle's Toast Ballard, for example, a slice of Tall Grass Bakery's Pullman bread topped with blue cheese and honey will set you back $3. At NYC's Cafe Gitane, an avocado-slathered piece of seven-grain topped with olive oil, lemon juice, and chili flakes costs a staggering $7.25.
In response, Hein quoted The Mill co-owner Josey Baker's thoughts in a recent interview with Edible San Francisco: "If you cut our slab of bread in half, put the fillings on the inside, and called it a PB&J sandwich for $3.75—essentially just presenting it in a different form—nobody would give it a second thought."
---
All photos courtesy of Victor Goods Photography
Shop Goods and ideel for kitchen products:
| | | |
| --- | --- | --- |
| | | |
| Cuisinart Toaster | Breadman Bread Machine | Adjustable Bread Keeper |
Learn how to better your breakfast with the The Guide:
| | | |
| --- | --- | --- |
| | | |
| The Butter-Coffee Trend Hits American Cafés | How to Close a Bread Bag Without a Clip | How to Make and Serve the Perfect Cup of Tea |