Top 5 Chicago Restaurant/Bars with Fireplaces
BY: Lauren Nolan |
Jan 16, 2015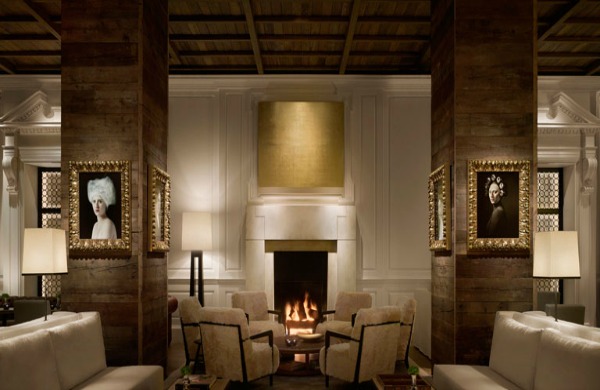 Library Bar (Gold Coast) We'll start with my personal favorite. The bar is located, along with Pump Room, inside the Public Chicago Hotel. Everything feels glamorous here, which shouldn't come as a surprise, since Pump Room used to be a go-to spot for celebrities like Frank Sinatra and Judy Garland. The Library Bar is perfect before or after your dinner, but it also a warrants a trip on it's own. Not only is there a gorgeous bar, but the whole room is decorated beautifully and completed with a large custom limestone fireplace. Grab the couch by the fire and order from their extensive wine list, amazing specialty cocktails, small-plates, desserts, and other gourmet global specialties by the one and only Jean-Georges. It also doesn't hurt that this place has my favorite Old Fashioned in the city.
RM Champagne Salon (West Loop) RM Champagne Salon's outdoor patio is one of the best spots for a summer night in Chicago. Instead of crying about the fact that we are nowhere near patio season, RM is there to cheer us up in their French inspired indoor space, with tables and bar tops nestled around their gorgeous fireplace. Located in the trendy West Loop neighborhood, this elegant wine and champagne salon is the perfect spot to warm up on those chilly winter nights.
Range (Lincoln Park) If you don't know where to go for a cozy date night, this is it. This neighborhood spot is located right in Lincoln Park amongst some of the prettiest brownstones in the city. The food is all locally sourced, and even their beer, spirits, and wine are as local as they can get them. (There are 6 Chicago beers on draft!) The atmosphere is inviting any time of day, but the fireplace at night is extra lovely. I recommend the seasonal Hot Toddy cocktail and the Buffalo Cauliflower appetizer. Yum!
Wilde (Lakeview) This upscale Irish pub is a Lakeview gem. The antique bars and comfort food are great, but in the winter, it's all about the Grand Library. The room literally has books from floor to ceiling, along with a roaring fire and leather armchairs. This is where one drink with friends turns into two, three, four…
Half Shell (Lincoln Park) From the outside, Half Shell doesn't look like much – but this cash only dive offers some of the best seafood in Chicago. Since we can't take one of the outdoor tables in the winter, they cozy up the indoor space with not one, but two fireplaces. The laid back atmosphere is the perfect place to indulge in their famous oysters and (my favorite!!) crab legs.
Want more? I asked my readers about their favorites, and they told me that I should also check out Scofflaw, DOC Wine Bar, Allium, Barrelhouse and Uncommon Ground!
BY: Lauren Nolan
Lauren Nolan is a food and fashion blogger here in the Windy City. She started Lake Shore Lady in 2012 with a desire to make both cooking and personal style more approachable for everyone. Along with style posts, Lake Shore Lady provides step-by-step recipes and tips, so you can easily recreate her dishes at home. She also recently teamed up with LearntoCook.com to bring you step-by-step videos! When she's not cooking for the blog, Lauren loves exploring the restaurants all over Chicago. See where she's headed next by following her on Instagram (@lakeshore_lady)!