Truck Talk
BY: Naomi Bishop |
Dec 6, 2013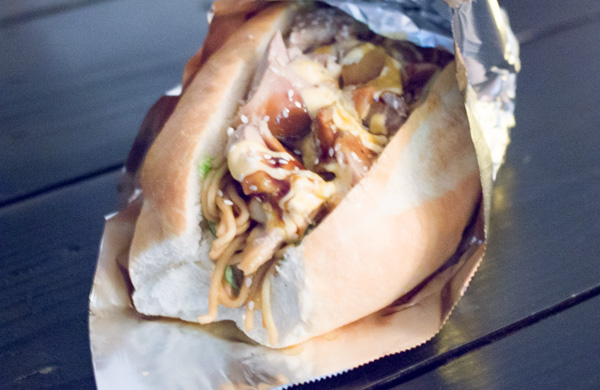 Food trucks, as a genre, have stopped being the "new thing" in Seattle. Trucks are still popping up like corn in an Indiana field, though, and many are serving up what could be the next "new thing" in food. With the advantage of mobility and slightly lower start-up costs, it's easier for trucks to serve up and spread innovative or unique foods that can't be found anywhere else in town. So what truck might be serving up the next Cronut
tm
?
Off the Rez
The frybread taco (also known as an Indian taco or Navajo taco) already takes the taco up a notch or two by substituting a puffy, golden shell for the flat flour or corn tortilla. Off the Rez takes it many steps further, bringing a high-end culinary mentality to a food that has rarely seen such treatment. Pulled pork comes appropriately smoky, with a balancing touch of cabbage for crunch. Seasonal ingredients inform both the deep-fried dough of the frybreads—Halloween was celebrated with pumpkin and cranberry versions—and the side dishes from the classically trained chef, like Quinoa succotash.
Chick'n Fix
Despite having more Filipinos than Vietnamese, Chinese, or Japanese people, Seattle continues to keep the great Filipino food hidden. There are a few food trucks working to change that, to introduce lumpia and its friends to the food-loving masses. Chick'n Fix has a small, simple menu serving a few things that can be found at other Filipino trucks (Big Boys, Lumpia World, Leilani's Lumpia Land), such as the fried pork eggroll-esque lumpia, fried chicken, and of course rice. But there's also the bola bola: a deep-fried, breaded, meatball, exuding steam, spices, and warmth from the inside out, conjuring up feelings of comfort no matter what type of food Grandma made, and available only at Chick'n Fix.
Bing of Fire
On every street corner in Beijing, a large, flat crêpe wheel churns out warm egg pancakes, stuffed with crispy fried slabs, spread with spicy-sweet sauce, and sprinkled with green onions. Cold commuters snuggle with the burrito-like treat as they wait for busses. And now, with the advent of Bing of Fire, Seattleites can do the same. Bing of Fire offers this Northern Chinese specialty with a hot dog or without, but mostly they stick to the classic street food mantra: do one thing, and do it right.
Diablo Food Truckz
With Seattle's rich field of Japanese food, from hole-in-the-wall teriyaki to fancy-pants izakayas, yakisoba—fried noodles—are hardly in short supply. But very few places, other than Diablo, are stuffing the noodles into sandwich bread, for some hot starch-on-starch action. In Japan, this is 7-11/convenience store food, made for people looking to stretch their dollars, but around here the truck is cannily positioned outside breweries, where people are looking to soak up some of the alcohol—starch's best skill.
BY: Naomi Bishop
In need of an outlet for her effervescent enthusiasm for all things edible, Naomi Bishop started sharing her thoughts on food at her blog, TheGastroGnome, in 2006. Her lack of fear—she'll eat anything and go anywhere—lead her to discover restaurants hidden in plain sight or find the most delicious needle in the haystack of a menu. Her writing appears on Serious Eats, Eat Your World, and in the Seattle Weekly. Download her app, Unique Eats of the Northwest to find the best restaurants you've never tried.