Watching MasterChef's Elise Mayfield Watch MasterChef's Elise Mayfield, Episode 2
BY: Dan Caffrey |
Jun 3, 2014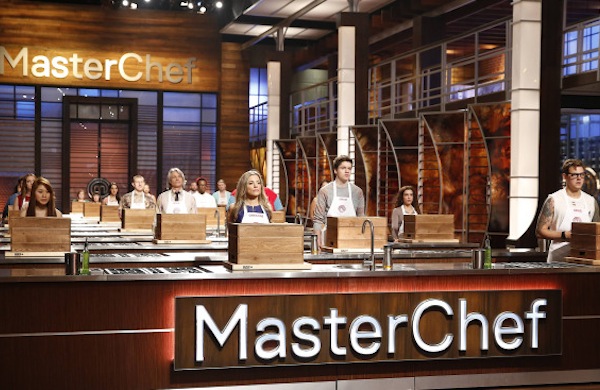 Every week, we'll be watching FOX's
MasterChef
alongside competitor Elise Mayfield as she has the mind-bending experience of seeing herself as a character on TV. Last week: redemption pie! This week: friends under pressure!
Spoilers and buttercreams below. Hashtags of the week:
#teamelise #alsoteamdanwu #badlybehavedbuttercream "You guys, I haven't seen any of this!" said Elise, shushing a long bar table of friends and supporters. Understandably, they're all atwitter after last week's dramatic premiere, when she narrowly escaped getting sent home thanks to a tasty chicken pot pie. In episode two, however, Elise takes more of a background role. This isn't a bad thing. It just means she's safe—for now. The episode starts with one of the show's signature Mystery Box Challenges, in which the contestants have to whip up a dessert—don't worry, Elise didn't make a pie—from an assortment of unknown ingredients. After Astrid Lavenia's lemon tart with lavender earns her an early elimination, Courtney Lapresi is declared the winner. She then selects Elise, along with nine others, for immunity. While this means Elise automatically moves on to episode three, it also means she doesn't get to participate in this week's Elimination Challenge. Instead, she watches from the balcony. Some of her fans at the table seem disappointed. "Don't worry, y'all," Elise assured them. "I've got plenty more comin' up later on." Still, being an observer is just as anxious as being a participant. After everyone on the floor has to put their own spin on meatloaf, the chef-judges tear apart the work of several of Elise's new friends. "Disgusting," hisses Gordon Ramsay after a mouthful of Dan Wu's Asian-inspired veal, pork, and short-rib meatloaf. But it's Whitney Bray ("She's supernice," Elise said) who gets stripped of her apron after a lackluster Caribbean-style meatloaf with a honey-mango glaze. We spoke with Elise immediately after the episode concluded about what it's like to watch her friends under pressure and the difference between Italian and American buttercream.
GROUPON: The first episode was very Elise-heavy, whereas this one had you a little bit more in the background. Did you know that going into it?
ELISE MAYFIELD: I didn't. While we're in the middle of filming, there's no way to really know what the episode's going to look like. So this wasn't a time for me to rest my laurels. When I saw that the [Elimination] Challenge was meatloaf, I was ready to cook. I was of course thankful to be on the balcony because it allows us to watch what everyone else is doing. But I also knew that I was also losing time cooking in the kitchen.
G: Was watching your friends get criticized even more nerve-racking tonight than it was in the moment?
EM: It was. I think because I knew it was going to happen, and it's hard to watch that all over again. We've all continued to talk to each other after this experience, so now we're better friends than we were at the time. So it's even more emotional.
G: Whose criticism hit you the hardest?
EM: Dan Wu is a very good friend of mine. I have several close friends from the show, but it was particularly hard to watch that. And we were good friends by that point in the show. Even though I knew it was coming tonight, I still had to prepare myself for it.
G: While he still got to stay on the show, Gordon Ramsay had the harshest words for him.
EM: It was incredibly harsh. Chef Ramsay doesn't sugarcoat things. He just tells you. I've started considering [him] as kind of a coach. Ultimately, he gives criticism to the people he believes in the most. He's not going to waste his time on someone who's not going to benefit from the criticism. In a way, he believes in you and knows that you can do better, and that's why he gives that kind of harsh criticism.
G: I have to admit, even the dishes he hates still look pretty good to me.
EM: Yeah! We're talking about the top 22 home cooks in America. I think our dishes come in at a level that maybe isn't quite restaurant quality, but above the average home cook. I think everyone's food is impressive. [Laughs] I know that sounds diplomatic, but it really is the truth!
G: Your dessert for the Mystery Box Challenge looked delicious. What was it?
EM: I made a vanilla cake with a mascarpone, whipped cream, strawberry filling, and Italian buttercream. [
Ed. note: you can find the cake recipe here.
] My buttercream needed a little work. I decided to do Italian buttercream versus American buttercream.
G: What's the difference?
EM: American buttercream uses butter and powdered sugar. Italian buttercream uses butter, meringue, and sugar that's been heated to the soft-ball stage. So it involves pouring very hot sugar into butter and hoping that the two come together and don't separate.
G: So American buttercream is safer.
EM: American buttercream is fail-safe. I'm sure you can mess it up, but Italian buttercream has a little bit more to do with candy-making and making sure the sugar is the exact right temperature and poured into the bowl at the exact right time. I took a risk and made Italian buttercream, and I think if I had made American buttercream, I would have done a little bit better. MasterChef
airs on Mondays at 8 p.m./7 p.m. CST on FOX. Check back every week for a recap of the previous episode, some more insights from Elise, maybe a recipe or two, and a plethora of hashtags. Follow her on Twitter at @MC5Elise.
Photo credit: Greg Gayne / FOX. Copyright 2014 / FOX.
Hungry for more? Check out our pre-show interview with Elise, complete with her signature apple pie recipe.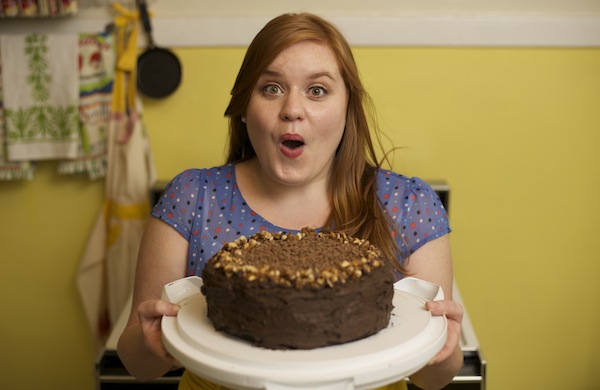 BY: Dan Caffrey
Guide Staff Writer
Outside of Work, Dan is a playwright, Senior Staff Writer for Consequence of Sound, and contributor to The A.V. Club.