What Do Gord Downie, Neko Case, and Steve Albini Have In Common? A Band Called The Sadies.
BY: Collin Brennan |
May 1, 2014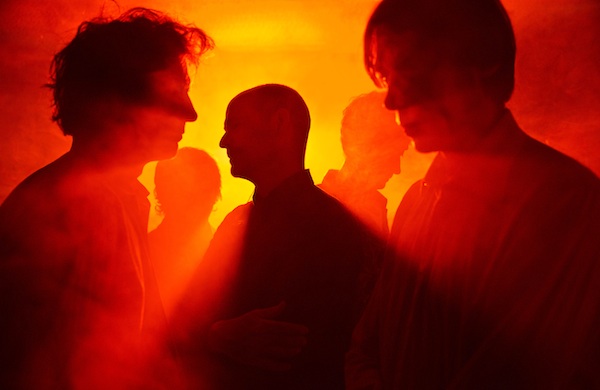 Halfway into my call with Travis Good of The Sadies, the phone started acting kind of funny. "You're breaking up, man," he said. "Right now there's so much vibrato on your voice. It's got serious tremolo. You talk like Joan Baez sings, man." I think he meant it as a compliment. You can't blame Travis for relating everything back to musicians. He and brother Dallas come from a musical family: their father and uncles are members of the Canadian country-rock band The Good Brothers, who have been going strong since 1969. The brothers themselves have collaborated with an extensive list of musicians and producers, recording with everyone from Neko Case to indie icon Steve Albini. Their latest victim, as it were, is Gord Downie of The Tragically Hip, who takes over frontman duties on new album
Gord Downie, The Sadies, and the Conquering Sun
. Technical difficulties notwithstanding, Travis had a lot to say about the album, The Sadies' upcoming tour, and how collaborations fuel the band's creative engine.
GROUPON: When did you first meet Gord Downie, and how did the idea for a collaboration come about?
TRAVIS GOOD: We met quite a long time ago, probably in 2001 or 2002. The Sadies did a few shows opening up for The [Tragically] Hip here and there. And then around 2007, we did a big tour with them across Canada. That was when we started talking to Gord about maybe doing some recording or something.
G: There have been rumors about The Sadies teaming up with Gord for years. Why did it take so long to finally put a record out?
TG: Well, we would go in and do one or two songs at a time and then go our separate ways. Gord would do Hip things, and we'd go off with The Sadies, and we'd meet up maybe eight months later and do the same routine—get together, write a song, record it, and see what happens.
G: Gord is just the latest on the ridiculous list of artists The Sadies have collaborated with. Other names include Robyn Hitchcock, Jon Langford, and John Doe of X. Do you guys actively seek out these collaborations, or do they just fall into your lap?
TG: Oh, you know, they usually fall into our lap. The first collaboration ever would have been with Neko [Case], but the second time was with Andre Williams, and that totally fell in our lap. He was making a country record for Bloodshot Records, and we were on [the label], and so it was totally just one of those things. Although we were thrilled and would have seeked it out actively.
G: Some bands that have been around as long as you guys can get trapped in the habit of making the same record over and over again. Is collaborating with other musicians a way to help you avoid that?
TG: It absolutely is. And it works in weird ways. Sometimes it works in ways that you wouldn't expect. If we make a country record with John Doe, for example, maybe The Sadies are going to start backing off country for a little while. Maybe our next record will go in a different direction because we exorcized our country demons that way.
G: Yeah, well, touching on that, the new record with Gord—I was listening to it earlier today, and it's got a sort of post-punk feel to it. You go back to your earlier records, and there's this mix of surf and country and rockabilly, and that's really nowhere to be found on the new one. I assume Gord had a lot to do with that?
TG: I don't know why it went in that direction, but I was personally kind of surprised. I thought the obvious sound of the collaboration would be Gord leaning more on his—I hate using this word—but his "rootsier" sound. I thought it would be a lot of acoustic guitars, but when it started to get loud, I thought, "Great! That's perfect." We can do a folk record later.
G: So if this tour goes well, are there any plans to do another collaboration with Gord?
TG: I imagine … well, maybe we'll have a big fight at the first show and that will be the end of it.
G: Speaking of fights at shows, you've been in the band with your brother [Dallas Good] for 20 years now. How does that dynamic work?
TG: We're basically on the same page musically, and that's pretty lucky. We're lucky enough to have watched our dad, who plays in a band [The Good Brothers] with his twin brother and younger brother. We grew up watching what it was like to see the siblings go at it on the road, and we kind of learned how to dance around that.
G: So you've already worked with some of the biggest names in rock music. But if you could choose the next person you could collaborate with, who would it be?
TG: Whoa. Anyone? Well, we've talked for years about making something with Dexter Romweber. You know him, from the Flat Duo Jets?
G: Yeah, I'm familiar. What if they didn't have to be alive? Which historical musician would you most like to jam with?
TG: I guess we could really round off our Canadian list of big ones if we did a record with [Gordon] Lightfoot. That would be a dream collaboration.
Gord Downie, The Sadies, and the Conquering Sun play Lincoln Hall on Saturday, May 10, at 9 p.m. To purchase tickets, click here. Or check out Groupon's deals for other concerts in Chicago.
Photo: Norman Wong
BY: Collin Brennan
Guide Staff Writer
Collin is a senior editor and a staff writer for Consequence of Sound. He self-publishes zines and moderates writing workshops for The Chicago Publishers Resource Center (CHI PRC).