What to Wear: Kick Up Your Dancing Shoes in Style at SummerDance
BY: MICHELLE SCHUMAN | 8.15.2013 |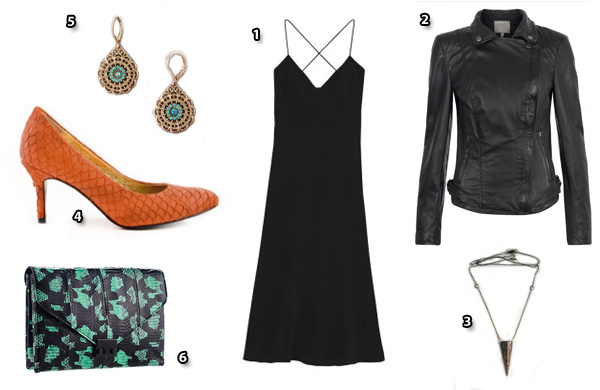 Though summer may be coming to a close, the City of Chicago keeps the season's spirit alive through its SummerDance series in Grant Park's Spirit of Music Garden. Every Thursday, Friday, and Saturday, seasoned and novice dancers alike twirl in harmony, stomping out a veritable United Nations of dance steps ranging from tango's passionate pirouettes to the lindy hop's rebellious gyrations. Local musicians such as Papo Santiago y Orquesta Infraverda, an Afro-Caribbean and Latin jazz band, coax out each step. Complete beginners need not worry—every SummerDance session begins with a free lesson from the likes of instructors from Arthur Murray Dance Centers and the Irish Music School of Chicago.
The dance floor is a perfect place to show off a full skirt and your ability to samba in heels. With the right dress, you and your partner—or your girlfriends—can work up an appetite on the dance floor and head across the street to Mercat a la Planxa without missing a beat.
The Look
A strappy dress helps keep you cool as you dance the night away, sending the A-line skirt twirling with a flourish. A pair of vibrant, low-heeled shoes adds a pop of color to an otherwise monochromatic ensemble and keeps your feet relatively comfortable during spins and dips.
1. Black strappy dress; Tibi ($440)
2. Leather motorcycle jacket; Muubaa ($544.32)
3. Copper shield necklace; Laura Lombardi ($42)
4. Fish-skin pumps; All Black ($165)
5. Filigree earrings; Francesca's ($12)
6. Snake-print lock clutch; Loeffler Randall ($395)
BY: Michelle Schuman
Guide Staff Writer
Michelle is a freelance fashion designer and dancer from Detroit. She has traveled the US extensively (and loves it!), but her biggest goal is to travel abroad.