What We Learned About Fashion from Our Parents and Abercrombie
BY: Mae Rice |
May 27, 2014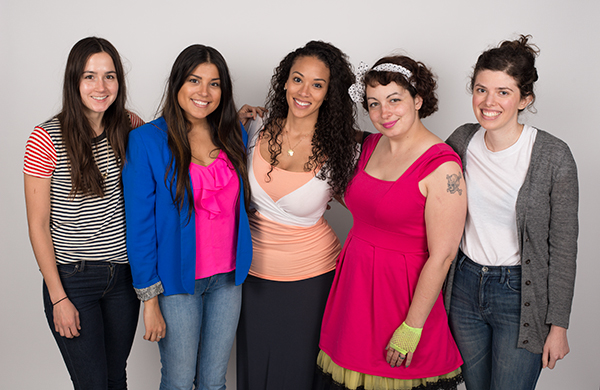 After our roundtable discussion about makeup and beauty last month, I decided to convene a new group of coworkers to talk about another aspect of self-presentation: fashion. Like last time, we gave some shout outs to our favorite brands and looks. But clothes alone don't always tell the whole story. Our discussion went beyond the superficial into some of the memories, insecurities and influences that have shaped how we dress.
We broke our discussion into two parts. This first part focuses on the past—the weird and cool things we wore growing up, and what our parents taught us about style either by example or by explicitly telling us to stop looking "weird."
Everyone in our discussion group works at Groupon, and all our work touches on style and beauty in some way. From left to right in the photo above, we are: Amanda Nyren, Jackie Rodriguez, Favin Gebremariam (Groupon's resident beauty blogger), Lisa Farver, and me, Mae Rice. (Kelly MacDowell also participated, but isn't pictured due to a shower emergency.)
Here's what we talked about.

It involved lots of Abercrombie and snakeskin.
Mae: My old clothes are so bad, I never want to get back into them. It's like, graffiti shirts with "Angel" on them. A lot of rhinestone necklines. I just didn't have preferences, and I was like, "This is in a store? My friend has one?" That was how I shopped. I had this Abercrombie shirt, my mom was always said it looked like underwear. A cami with lace everywhere.
Favin: Target had camis with lace on the top and lace on the bottom, sort of silky, and I would layer them. I would put a green one on top of a purple one and just rock out.
Jackie: Sort of like with polos, when you popped both collars.
Kelly: You guys were not double-popping. I made so much fun of you guys in college.
Favin: I went to a private high school, where you had to wear a polo. I'd buy a small for the inside, a medium for the outside, and pop both those collars. And you know I shoved myself into those size 13 Abercrombie khakis. I was definitely a size 17, or 25, but they only went up to 13. The cool girls… they were skinny. Those khakis were perfect for them. And I'm this big curvy brown girl, and I was trying so so hard to fit in with that crowd.
Lisa: I couldn't get into those pants because I couldn't get into Abercrombie. Physically. Like, no offense to people who did, it's a great place, but I walked in and it was terrifying to me. There's smells! There's so much cologne.
Favin: Yeah, and it's loud.
Amanda: They do that to keep the parents away, I think. So they're like, "I can't go in, here's my credit card. Just buy stuff."
Mae: Especially at Christmas, when there's sexy Santas—like thirty of them—in the entryway.
Lisa: For me, when I was 19, I went through an old man phase. The old man evolved into a gothic woman, but for a while, I would go to the thrift store and be like, these are great pants! They're plaid. These will go with the polyester shirt that I have. I had velcro shoes, too. It was intense.
Then it started to evolve. Snakeskin pants, zebra pants…
Kelly: Snakeskin was really hot in '99.
Favin: It was so sticky! You'd cross your legs, and it'd be like [scrunching sound].
Lisa: You know, if you put a little baby oil on them, it was more like [whooshing noise].
Kelly: Like, on the outside of the pants?
Lisa: And the inside! You can't really put anything between your legs, though. Like, you can't hold a can there.

Don't be afraid of a DIY project.
Mae: My mom was mad into fashion, way more than me. My dad shops at Costco, but for my mom, going to Nordstrom was one of her favorite things. She was a lot more formal than me about fashion, though, very, "these things are appropriate, these things are not." So I learned a lot about how a proper person perceives fashion from her, and then spent my time, especially once I left home, figuring out that I was going to love her and not live by all her style rules. That was my trajectory with my parents. And then my dad was very much like, "Wear whatever! I have really bad eyesight, so I kind of don't know what you're wearing!"
Kelly: I don't think I really learned anything about fashion from my parents, but my mom definitely taught me a lot about shopping. Like, I'm not kidding, my first word was "JCPenney." Because my mom and her best friend would take me and her daughter to the mall, every single weekend. By the time I was a teenager, that's all me and my girlfriends wanted to do with our free time, was go shopping. I mean, I played sports too, but that was like, a "fun hobby." To go to the mall! It seems so stupid now.
Favin: My mom will, to this day, be like "I have no idea where you came from." Just in terms of being a girl. When I was growing up, she always wore a big, muumuu type dress, and Birkenstocks. But here I was, born in high heels, really excited about trying new things and clothes.
My dad, who was a refugee, [...] would brag about how old his socks were. He'd be like, "These socks are older than you. You need to learn how to keep your things nice." Remember when it was cool to get jeans with holes in those? He'd be like, "You paid for those? Take them back. I will make them for you." This is a true story: He would go outside and take a rock to my jeans, making huge holes so I could be cool without spending $50.
Lisa: My grandmother was very pinup-like, and there's a picture of her hanging in my great-grandma's house, where she's winking—she's modeling for some ad—and it says, "Set hearts aflutter!" Ever since I was little, I was like, "That's it! That's what's supposed to be happening!" But I didn't have an idea of what I wanted to do, so I experimented with everything. My parents didn't stop me. I once bought clear saddle shoes. My feet sweated! They were all foggy on the inside! It was all trial and error.
Jackie: My mom's like, a total smokeshow. She's really into her looks. Sweetest woman in the world, but she's always raised me to be proper, and she has a very old-school mentality. Like, "If you think you're going to attract a man like that…" type stuff. It's the most old-school mentality, like, my looks are what I offer men. On top of it, she's a cosmetologist, so she's always like, "Where'd you get your haircut? I can cut it cheaper." She's cost effective. She's from Mexico—she came here, and she had to start from the bottom.
I remember, back when Kangols were the thing, I really wanted one, but they were $40. My mom thought that was too expensive, so she made me a Nike Kangol. Which meant that she had to sew a Nike sign, and it was all crooked, like a canoe! It didn't look like a swoosh.
How did we go from snakeskin pants to our present-day style? Check back next week for part two!
Shop designer clothes at ideeli.
Photo: Andrew Nawrocki, Groupon