What We Wear and Why We Wear It
BY: Mae Rice |
Jun 4, 2014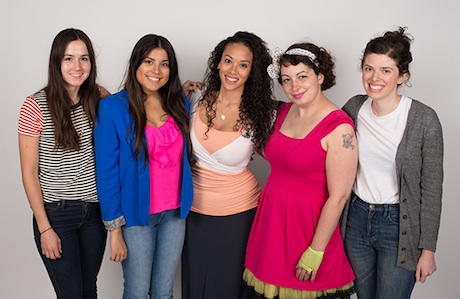 Last week, in the
first part of our fashion roundtable
, I talked with five of my coworkers about how our style has evolved since we were kids—a process that involved some sage and not-so-sage advice from our parents, and a
lot
of hours logged at Abercrombie. In the second part of our discussion, we talk about our style today: specifically, our favorite outfits (including a shirt I'm too scared to buy) and where we find style inspiration. First, a reminder of who we are: we all work at Groupon and our jobs all touch on style and beauty in some way. There are six of us in total: Amanda Nyren, Jackie Rodriguez, Favin Gebremariam (Groupon's resident
beauty blogger
), Lisa Farver, Kelly MacDowell, and me, Mae Rice. Here's what we talked about.

The clothes we feel most like ourselves in, from slouchy shirts to A-line dresses.
Mae:
I have this one v-neck T-shirt that's gray, and it's too big, and when I wear it with jeans, I just feel like myself. It feels totally neutral to me. It's not restrictive, I can run around in it, and I don't feel pressure to act a certain way when I wear it. I guess I feel most myself when [I look like] a blank slate.
Amanda:
So you don't want to attract attention to your look?
Mae:
Yeah. I was thinking of getting
this sweatshirt
that says "Hold Up Hold My Phone" on it in really big letters. I love it.
Favin:
That's from
"Worst Behavior"
!
Mae:
Yeah, that song is great. But I feel like if I got the sweatshirt, strangers would talk to me about it, and I don't want to talk about my clothes.
Kelly:
Maybe you can just wear it at home for yourself! And look at yourself in the mirror.
Favin:
For me, growing up in the desert, I wore as little clothing as possible. So maxi dresses, those were the easiest, most non-effort-required thing. You just threw on a dress and walked out of the house with some sunglasses on. That's probably still my favorite outfit, but because we live here [in Chicago], I can't always do that.
Amanda:
I feel like I'm wearing my happy outfit today: jeans, ankle boots, and a loose top. I don't like tight shirts. I like to wear loose shirts and sweaters…slouchy things. I guess so I'm never like, "Oh, I just ate…"
Mae:
I wear loose shirts because skinny jeans are in, and I feel like one thing should be loose and one thing should be tight.
Kelly:
I also wear a lot of dresses. They're one of the most comfortable things, and I don't have to make an outfit. I get mad when it's windy out because I'm like, "I can't wear a dress today, or people will look at my underwear."
Lisa:
I get excited about dresses too. When summer comes, I'm like, "Yay, now my jeans can stop rubbing together in the thigh area and creating a hole!"
Mae:
Oh my gosh, that happens to me so much. Every pair.
Lisa:
I thought it was just me! I thought I needed surgery.
Favin:
No. It's just how they make jeans now.
Jackie:
My yoga pants, too! They're frayed everywhere. I would say that my comfort clothes are similar to Favin's. I also like a maxi dress. It can look good at night, with the right jewelry, but you can wear it at work, too. I like my clothes to be versatile. At night, I want to be able to fall asleep in them!
Lisa:
I don't wear maxi dresses at all, maybe because I'm short and shaped like a lumpy kind of thing—not in a bad way, you know. But I feel like it flatters my figure more to wear something that flares out. Like, I have one polka-dot dress with a peter-pan collar, that I got for $8. That's The Lisa Dress. It's purple with white polka dots. Once I wore it with a red and black polka-dot cardigan on top of it, even though my friend told me not to. I think that anything with polka dots [makes me feel most] comfortable.

We talk style blogs, plus
Vogue
editors and Johnny Weir.
Mae:
Personally, I really like looking through
Madewell's lookbook
. The models always look sort of androgynous, and everything is sort of wrinkled, and I'm like, "My stuff is wrinkled!" The models seem to be having actual fun, too. It's a joyful thing for me. I never look at those lookbooks and feel bad about myself.
Favin:
For me, it's anything that celebrates your curves. My whole life, I've wanted to be smaller. I just wanted to be like that
Vogue
model. But now, I'm obsessed with this girl Tanesha, who runs this blog
Girl with Curves
. She wears crop tops and lace and she's incredibly tasteful. Two years ago, there was no way you'd get me to show my stomach, because part of it wasn't flat. I find myself gravitating to her stuff, because I'm like, "Wait, I can do that."
Amanda:
I like to look at blogs, too, especially street-style blogs, like
The Sartorialist
. It's mostly real people in their real setting, and they're always so unique.
Kelly:
I think I appreciate high fashion as more of an art thing. For instance, I'm
obsessed
with
Project Runway
. I just like to see the beautiful clothes even though I'll never get to wear them. I rarely read fashion magazines, but when I do I'm looking at the clothes in an artistic way, not as an interested shopper.
Lisa:
When I was younger, I used to read all that stuff. My sister is super, super stylish, and she's always got a
Cosmo
or a
Vogue
on hand. When we'd go out, she and her friends would do me up—curl my hair, make my eyeshadow go all the way up to my eyebrows. You can see how uncomfortable I was in the pictures. It came through in real life, too. We walked past one man, and he said, "You're hot! You're hot! You're hot!" and when he got to me, he said, "You're alright." What it taught me was that I'm not conventionally beautiful. That's something that's bothered me my entire life, but now it's something I try to celebrate. Someone said the other day, "Your legs are really pasty. You need to tan." And I was like, "No I don't. I like my legs this way, and some people prefer alabaster skin."
Kelly:
I think currently I most relate to the girls from
Warpaint
. One girl wears Chicago Bulls stuff all the time, and I have my Blackhawks T-shirt and I love sports. One wears a lot of crop tops and skater skirts, which is a look I love, one has pink hair, and one has a big baggy flannel on. Put all of them together [and it] would be somewhat like [how I dress].
Lisa:
Johnny Weir is my fashion icon. What I like about him is that he doesn't look like he's trying. He lets himself just kind of…pour out in fabric.
Mae:
I like Jennifer Aniston, too, because she kind of has a uniform.
Amanda:
Yeah, I dig uniform dressing. Like
Emmanuelle Alt
, the editor of French
Vogue
. She always looks so cool, but like she had time in the morning to think about things other than her outfit.
Shop designer clothes at ideeli.
Photo: Andrew Nawrocki, Groupon
BY: Mae Rice
Guide Staff Writer
Mae Rice is a staff writer who writes about eyelash extensions, French food, what "business casual" even means, and other style and food topics.