GROUPON GUIDE TO WASHINGTON-DC
What Wine to BYOB for Sushi, Indian, Mexican, and More
BY: Kevin Moore |
Oct 11, 2013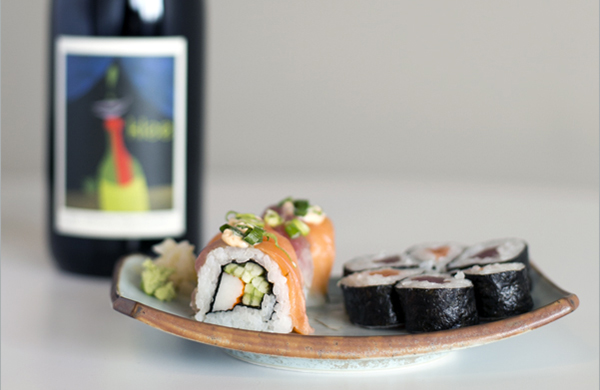 If red wine goes with red meat and white wine goes with white fish, then what color wine goes with green curry, chocolate-tinged mole sauce, or rainbow sushi rolls?
Until someone invents a palatable rainbow wine, restaurants' wine lists can help ease the stress of choosing the perfect pairing. However, this safety net doesn't exist when dining at BYOB eateries. In these situations, the question becomes: how do you know what wine to bring for a meal that hasn't even been ordered yet? Don Hupp, manager at Chicago's Que Syrah Fine Wines, knows how to pick a bottle with confidence.
Here are his wine-pairing suggestions for some common BYOB cuisines:
"Pinot noir is a standby," Don says right off the bat. He also notes that wines from the Beaujolais region in France also play well with a wide variety of sushi dishes. The important thing is to select a bottle that is low in tannin, alcohol, and oaky flavor. According to Don, this helps ensure that the wine won't overwhelm a sushi meal's delicate flavors and textures.
To help temper the spice of a Thai curry or noodle dish, Don recommends wines made from gewürztraminer "if you aren't scared of a little sweetness." If that hint of sugar seems off-putting, he suggests trying a dry rosé from southern France. A gewürztraminer's off-dry sweetness or a rosé's bright acidity can cut the burn of tiny thai chilies while refreshing the palate.
This one has a clear-cut winner in Don's mind. "I do a barbecue pairing every year, and zinfandel is king there," he says. He likes that the spice and the relatively high alcohol levels help the wine stand up to robust barbecue sauces, complementing the flavors without overwhelming them.
Don admits that there's a lot of variability here, and a perfect pairing really depends on the style of pizza and what toppings are included. However, he says that one good rule to keep in mind is that "if it grows there, it goes there." Tuscan blends and chiantis are an obvious yet reliable choice for pairing with a freshly baked Italian pie.
To drink with Indian cuisine, "I don't mind doing a higher alcohol wine with soft tannins," Don says. The bold fruit flavors of an Australian shiraz can balance the heft and the occasional heat of Indian dishes. For a completely different approach, he also suggests trying a sparkling wine, which runs no risk of overpowering the food and still manages to refresh the palate with every sip.
Don says that Spanish riojas manage to walk a fine line. The tempranillo-based blends are "light enough to carry along with different courses," but they tend to have just enough of an earthy backbone to complement richer flavors. Don also recommends seeking out a bottle of South American bonarda, a little-known varietal that typically features the sort of soft, fruit-forward flavors that characterize food-friendly wines.
"Merlot gets a bad rap," Don says, "but it's a good wine." With a hearty burger, he recommends sticking with a classic Californian merlot, noting that the robust fruit flavors help the wines stand up well to the heartiness of a burger right off the grill. As an added bonus, Don appreciates the fact that finding a solid bottle of merlot for an affordable price tends to be relatively easy.
Photo by Stephanie Bassos, Groupon

Read more wine tips, tricks, and stories:
BY: Kevin Moore
Iowa-born, Arizona-raised, and Illinois-tax-paying writer who can answer any Trivial Pursuit question about wine or snakes.