Which Weird Chicago Museum Should You Visit?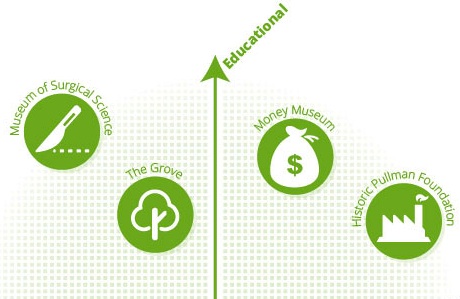 The Chicagoland area is packed with esteemed museums, from the Field to the Art Institute, MSI, and beyond. But instead of taking your out-of-town relatives to see Sue the T. rex for the umpteenth time this holiday season, consider checking out these less famous—and far less normal—destinations.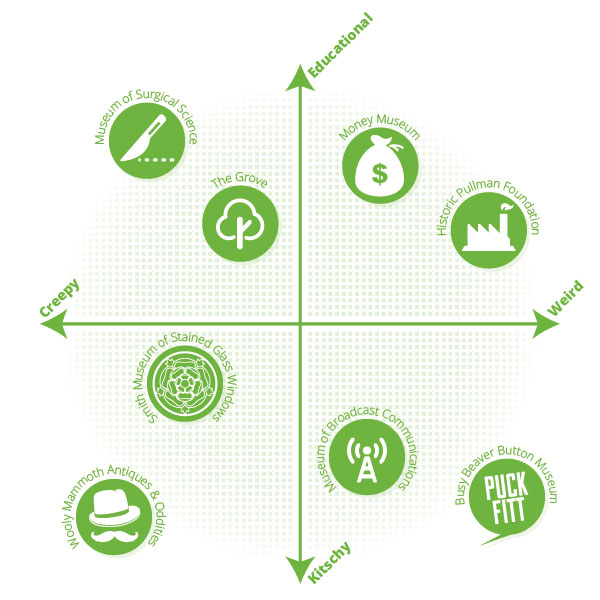 CREEPY + EDUCATIONAL
Where: 1524 N. Lake Shore Dr.
How Much: $15 adult admission
Equal parts macabre and informative, the Museum of Surgical Science's 7,000 medical artifacts illustrate how far modern medicine has come from the more grisly techniques, equipment, and ideologies of past eras. The museum's four floors couple anecdotal histories about notable physicians with examples of antiquated tools, including centuries-old amputation saws.
Where: 1421 Milwaukee Ave., Glenview
How Much: Free admission
Nature and history converge on 123 wooded acres in Chicago's north suburbs. Originally the home of 19th-century horticulturist Dr. John Kennicott, the land now hosts the original preserved Kennicott home, a replica one-room schoolhouse, a recreated Potawatomi longhouse, and scenic nature trails. An interpretive center displays some of the preserved and taxidermied specimens of naturalist Robert Kennicott (Dr. John's son), as well as live turtles, fish, snakes, owls, and other creatures. Year-round activities educate visitors of all ages about Midwestern ecosystems and the hardships of pioneer life.
WEIRD + EDUCATIONAL
Where: 230 S. LaSalle St.
How Much: Free admission
Housed inside the Federal Reserve Bank of Chicago, the Money Museum explores the world of currency through factoids and interactive exhibits. Learn to spot a counterfeit bill or marvel at the Million Dollar Cube, which is built from one million $1 bills and weighs more than a ton. Admission is free, and visitors can leave in the black by taking home hundreds of dollars in shredded money.
Where: 11141 S. Cottage Grove Ave.
How Much: $5 adult admission to the Visitor Center
In the early 1880s, George Pullman, president of Pullman's Palace Car Company, transformed a 4,000-acre tract of land into a utopian residency for his factory workers. In 1896, it was dubbed "The World's Most Perfect Town." The Pullman neighborhood on the South Side of Chicago has witnessed more than a century of drastic socio-economic change, but its structures live on as a testament to George's original vision. Learn about the strike of 1894 that set the town at odds with its founder, or admire the façade of Hotel Florence, the hospitality focal point of the neighborhood.
CREEPY + KITSCHY
Woolly Mammoth Antiques & Oddities
Where: 1513 W. Foster Ave.
How Much: Free admission
You may come face to face with a giraffe, alligator, or even a human skeleton at this kooky vintage shop. The taxidermy collectors who run Woolly Mammoth curate a "touchable museum" of stuffed creatures, on display amidst a random assortment of antiquated medical tools, gas masks, and—for visitors in need of more nightmare fuel—a wooden shelf filled with doll heads.
Smith Museum of Stained Glass Windows
Where: Navy Pier, 600 E. Grand Ave.
How Much: Free admission
Inside Navy Pier, away from the blare of dinner-cruise ships and IMAX screenings, lies the quiet refuge of the nation's first stained-glass museum. Most of the translucent pieces, which date back to 1870, were preserved from structures across Chicagoland. These range from the reverent (a Tiffany recreation of the Christian painting I Am the Light of the World), to the eccentric (a Michael Jordan portrait), to the playful (a display made entirely out of soda bottles that may or may not have been endorsed by Kobe Bryant).
WEIRD + KITSCHY
Museum of Broadcast Communications
Where: 360 N. State St.
How Much: $12 adult admission
This four-story, 62,000-square-foot shrine to broadcasted entertainment culls an unlikely assortment of media memorabilia, from the iconic doorway of Oprah's studio to the only slightly haunted ventriloquist dummies of midcentury entertainer Edgar Bergen. Although the collection highlights items of national significance—including original clips of Walter Cronkite reporting on the death of Martin Luther King, Jr.—Chicagoans will feel a bit of hometown pride at displays dedicated to Bozo the Clown and the Empire Carpet man. TV isn't the only star here; the National Radio Hall of Fame Gallery puts faces to the iconic voices of Casey Kasem, Howard Stern, and Dick Biondi.
Where: 3279 W. Armitage Ave.
How Much: Free admission
Since 1896, pushback buttons have been spreading powerful messages, such as "I Like Ike" or "Ambivalent About Eisenhower." Whether promoting presidents or progressive-rock bands, the cheeky collection at the Busy Beaver Button Museum is a true conversation-starter. Visitors inspired to create wearable manifestos of their own can even order custom buttons from Busy Beaver's website.
Illustration: © Greyory Blake, Groupon