Dish of the Week: Pig's Tails at the Purple Pig
BY: Nathalie Lagerfeld |
Apr 8, 2013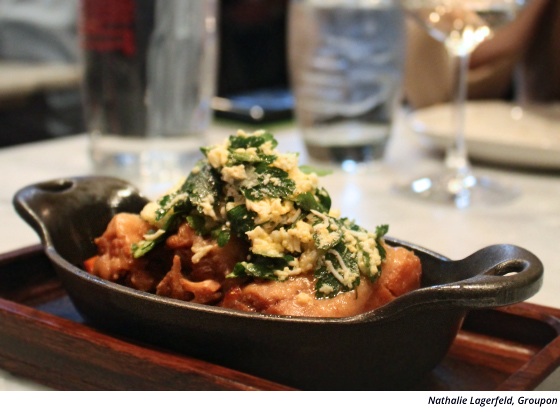 When I think pig's tails, I usually think short and curly. I'm a little ashamed to admit it. You'd think that, in my years as a meat eater, I would have seen enough pigs, alive as well as dead, to override my Porky Pig–based image of their anatomy. But this is apparently not the case, because I wasn't expecting the pan full of thick, chunky cuts of meat that our server at the Purple Pig set down in front of me.
Braised pig's tails in balsamic with grated egg and parsley.
Braised pig's tails are a signature Purple Pig dish, on the menu ever since the restaurant opened in 2010; this puts the Magnificent Mile eatery pretty far ahead of the curve. A few months ago, the
New York Times
proclaimed the pig tail one of 2013's top culinary fads, predicting that the item would start popping up on restaurant menus throughout the United States. So it was with trendspotting in mind that a friend and I ducked into the smallish dining room at 5 p.m. sharp, hoping to beat the after-work crowds. As I dug into my dish, it was easy to see why chefs would enjoy working with this offbeat cut. The meat was fall-off-the-bone tender, melded with large sections of soft, flavorful fat. The bones beneath are segmented, nubbly vertebrae, perfect for sucking out hidden morsels of meat as you might with oxtail. Though the
New York Times
name-checks restaurants that fry their tails or even serve them buffalo-style, the Purple Pig opts for a more traditional route. Chefs braise the meat in pork stock with balsamic vinegar, brown sugar, fennel, and mirepoix—a combination of celery, onions, and carrots—according to our server. It might have been the brown sugar that gave the meat its slightly hammy, cured taste. The pig's tails were tasty but not revelatory. Whatever the
New York Times
said, it's a little hard to imagine them becoming a full-blown trend in the vein of pork belly or pig's trotters—they don't seem quite novel enough. Still, it's in chefs' interests to keep introducing new and different cuts to their menus for as long as there are curious diners to eat them. Be prepared to see lots of uncurly pig's tails as well as other bits and pieces there in the future.
The Purple Pig
500 North Michigan Avenue
Chicago, Illinois 60611
BY: Nathalie Lagerfeld
Guide Staff Writer
Nathalie is a writer and editor on the Guide's food team. Originally from Virginia, she now lives in Chicago, where she regularly indulges her love of tortas, bibimbap, and Cheez-Its. Follow her on Twitter @maviswillsaveus.