GROUPON GUIDE TO WASHINGTON-DC
Face Bacon Is a Lot Prettier (and Tastier) Than It Sounds
BY: Lisa Ladehoff |
May 18, 2015
I'm just going to come right out and say it: Americans are not particularly adventurous eaters. We prefer our meat ground and pressed into a patty, stuffed into synthetic sausage casing, or cut into neat little slices. Until recently, most of us might have blanched at the idea of, um, eating face.
Which is what makes the growing popularity of pig cheeks so remarkable. Here in the States, chefs at award-winning restaurants have been steadily introducing this long-overlooked ingredient onto their menus. Within the course of only four or five years, pig cheeks and their neighboring jowls have gone from an exotic food to one that almost seems commonplace.
The question of why seems obvious—especially to anyone who has tasted the flavorful meat, often affectionately referred to as "face bacon." Cooking cheeks requires a lot of love and attention. The cheek is surprisingly lean, and the meat can grow sinewy and tough if prepared incorrectly. Best braised or cooked slow and low, the cheek's high levels of connective tissue and collagen dissolve, leaving the meat exceedingly tender and easily pulled apart—much like a shoulder or brisket. When it comes to the trendiness of cheeks, a better question might be why now?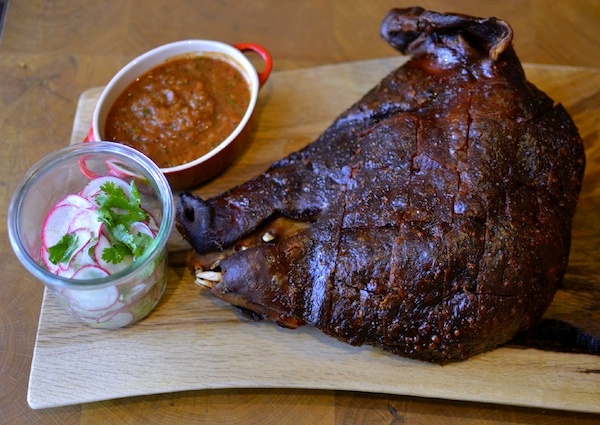 Long considered an undesirable part of the pig, the cheek and jowl were once coveted by those who had little else to eat. Slaves, in particular, were often forced to make do with offal—organ meats, ends, bones, and other parts of the animal that were traditionally discarded. Trace the roots of soul food back to its origins, and you'll find many of these dishes at the very start. In fact, pork jowl never really left the South, where it's commonly cooked with black-eyed peas or collard greens, often disguised under the generic term "ham."
But in other parts of the world, pork cheek and jowl have long been coveted. In Spain, it's careta—which, literally and terrifyingly, means "mask"—and comprises the entire face of the pig with little holes for the eyes. In Italy, the jowl is salted, spiced, and cured (like all the best Italian meats?) to make guanciale. It's similar to pancetta but more flavorful—when cooked, the fat (there's a lot) melts away and lends a deep, fatty, pork flavor. It's also often spiked with fennel, garlic, thyme, and other aromatic herbs.
Some may attribute cheeks' sudden ascent to the nose-to-tail movement. In an era where no part gets left behind, chefs have stretched their imaginations (and their pantries) to use every edible aspect of fruits, vegetables, grains, and, most of all, animals. These days, it's virtually impossible to enter a restaurant or even watch a cooking show without coming across a chef beseeching diners to consider the whole hog, the whole cow, the whole … farm, or whatever.
Chef Brian Jupiter, who heads up the kitchen at Chicago's Frontier, a restaurant known for adventurous, meat-centric dishes (including whole roasted pigs), credited the fact that people have a tendency to want things that are special—or just hard to come by.
"It's only two cheeks per pig," he told me, almost laughing.
Whatever the reason, it's undeniable that cheek and jowl are having a moment—and a very long one at that. Below, you'll find a list of places across the country known for their preparation of the porcine delicacy. And if they aren't showing up on a menu near you, well … give it a few weeks.
Restaurants Serving Pig Cheeks
Longman & Eagle | Chicago, IL
Scanning the menu at this Michelin-starred eatery, you won't find "cheek" or "jowl" but a little-bit-fancy French version called tête de cochon (pictured at top). Literally meaning "head of the pig," this terrine-style cheek dish appears on both the brunch and dinner menus in slightly different iterations.
Lambert's Cafe | Foley, AL
True to its Southern roots, the jowl here is "sliced thick and deep fried." This place is also famous for its "throwed" rolls, which either has something to do with the baking process or something to do with how they serve them. Arrive prepared to deal with either.
Fette Sau | Brooklyn, NY
Literally translating to "fat pig" (ahem), Berkshire pork cheeks and beef cheeks both receive different treatments each day—since the menu changes daily. But like all of Fette Sau's house meats, both are prepared with a house-specialty dry rub, smoked in house, and served with soft, pillowy potato rolls.
CBD Provisions | Dallas, TX
Order the Berkshire pig-head carnitas at CBD and you get much more than the cheek—it's literally an entire half of a pig's head, served with tortillas, radishes, and roasted tomatillo salsa (pictured at middle). Besides being an Instagram-worthy spectacle, the dish delivers delightfully tender meat and perfectly crispy skin that one food writer posited "even a vegetarian would consider."
The Iberian Pig | Decatur, GA
Pork cheeks come two ways at this temple of authentic Spanish cured meats. Here, slow-braised pork cheeks are either stuffed into Spanish-style tacos with fire-roasted corn, arugula, and avocado lime crema or served on rustic bread with poached egg and black-truffle purée. But this is a tapas restaurant—feel free to go wild on the small plates. Go crazy. Try both.
Top photo courtesy of Longman & Eagle; middle photo courtesy of CBD Provisions.

Challenge your tastebuds with these other articles: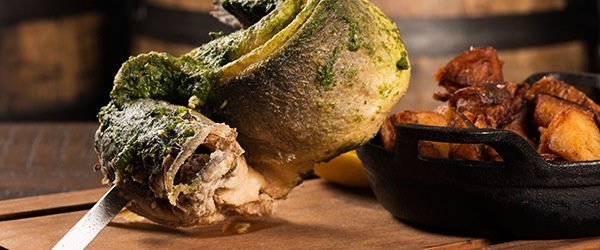 Go straight for the cheeks, plus other tips from the chefs at Chicago's River Roast.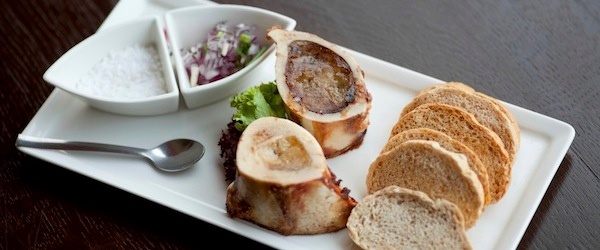 Bone marrow is poised to move from trendy dish to dinnertime staple. Here's how to eat it and where to find it.