4 Suyos's Owner on Chicago's Peruvian Food Scene
BY: Hillary Proctor |
Sep 24, 2013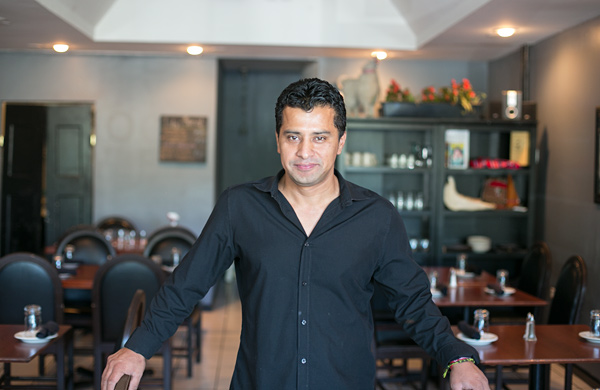 Since Peruvian celebrity chef Gastón Acurio opened his first third US restaurant, Tanta, in Chicago last month, Peruvian food has been attracting a lot more attention in the Windy City. But what about restaurants that have been serving the classics for years? Humberto Trujillo, chef-owner of 4 Suyos in Chicago's Logan Square neighborhood, talked to us about what sets the cuisine apart, how the scene has changed, and plans to put his food on wheels.
GROUPON: How long have you been in Chicago?
HUMBERTO TRUJILLO: I've been here for 13 years. I left my country when I was 17. I lived in Japan for five years and worked at one of the Peruvian restaurants there for a couple years. And then I moved to the United States, to Chicago. The last restaurant I worked at before this was Machu Picchu. The family that runs the business became my friends, and they helped me. Also, my dad had a restaurant in Peru, and I learned all the secrets from him.
G: How long has 4 Suyos been open?
HT: The restaurant's been open for a year and a half. But the business plans and such took another year, so two and a half.
G: Why Logan Square?
HT: Because I live here and I see how many restaurants are coming here, so I thought it was a good idea to open here.

G: How would you describe Peruvian cuisine in Chicago?
HT: It's a new market, and there's not many Peruvian restaurants in Chicago. When I came here, there were only two Peruvian restaurants; that was 13 years ago. I went to try them, and I wasn't really happy with it and thought, "Hey, I can do better than that." And little by little, I started saving money and opened this restaurant.
Really, Peruvian cuisine is a fusion of different countries adding ingredients. After the Second [World] War, people from different countries all brought food, and we added it—the Chinese, Japanese, French, Italian, and Africans, who brought carapulcra [a meat and potato stew].
G: Do you see Peruvian cuisine as an emerging trend in America?
HT: Yeah, comparing it to before, people are more interested in trying Peruvian food, especially because Tanta is here [in Chicago], it's already made it more famous.
G: Have you been to Tanta or to chef Gastón Acurio's other restaurants?
HT: I've been to his restaurants in Lima and in Argentina. They are very good; his food is gourmet. Back when I was in Peru 16 years ago, nobody wanted to be a chef. Once Gastón Acurio proved that it's another way that people can be successful in the food industry, now everyone wants to be a chef now.
G: Was the Peruvian-restaurant community here generally excited about Tanta opening?
HT: Oh yeah. Peruvians really wanted to go and try it because he's really good and famous.
G: What dish would you recommend for people who haven't eaten Peruvian food before?
HT: Our ceviche. Ceviche is our "flag." It's cooked with lemons, onions, garlic, salt, pepper, and cilantro, and then with toasted corn and seaweed.
G: What sets Peruvian ceviche apart?
HT: Well, when I was in Peru, I ate ceviche every day. So when I opened the restaurant, I found out that there were other countries that had ceviche, and I was like, "Why? Where'd the ceviche come from?" So I tried ceviches from different restaurants in different countries, and they all had the same basic thing: the lime or lemon. I was searching for where it really came from.
So I was searching the Internet and found that the Spanish people conquered us and brought the limes into our country. But they don't have ceviche in Spain, so I was like "Where did the ceviche come from?" So searching again, I found that the Arabic people have a dish that's kind of similar, but it's a little bit sweet.
G: Any other dishes you recommend here?
HT: Pescado de macho, a fried tilapia with seafood on top. We also work with corvina [sea bass] and mahi-mahi. We do a Peruvian version of paella with a seafood combination: shrimp, mussels, clams, octopus.
G: What about vegetarian options?
HT: Yes, we're actually one of the first Peruvian restaurants to serve seitan and tofu in Chicago. Most Peruvian restaurants just use mushrooms.
G: How do you source your ingredients?
HT: Now it's easier compared to 13 years ago because there were only two restaurants. Now there's a lot of companies that bring in Peruvian peppers.
G: What's the hardest one to get?
HT: The red pepper because once they bring it, other restaurants and Peruvian families buy it; sometimes it will just be on the market for a month. So once they come to the store, you have to buy 13, 14 boxes.
G: What's next for 4 Suyos?
HT: We're going to start a food truck next summer. It will be called Suyos Express, the first Peruvian food truck in Chicago. We'll serve tamales, papa rellenas, antichuchos [kebabs], and a French fusion dish that has chicken with parmesan cheese and walnuts.
[I wanted to start my own because] I've seen a lot of food trucks downtown. Last year, I saw a Mexican food truck selling tacos and he had a line down the block, and I thought, "That's good!"
Photo: © Stephanie Bassos, Groupon
Read more about Peruvian dining in the The Guide:
| | |
| --- | --- |
| | |
| Chef Martin Morales's Three Can't-Miss Dishes for Your Next Peruvian Meal | A Sea Bass Ceviche Recipe from Martin Morales |
BY: Hillary Proctor
Hillary blogs about restaurants in Chicago and beyond at http://www.hillaryproctor.com/. She loves salted caramel, smoked salmon, and avocado-specific kitchen utensils.