GROUPON GUIDE TO WASHINGTON-DC
A Dessert with Eight Beautiful Parts
BY: Aimee Algas Alker |
Jul 25, 2016
At the end of a good Filipino meal, expect to hear a lot of ice crunching. It's from dessert, which requires studious spoon-work in and out of a tall dessert glass.
Halo-halo literally translates to mix-mix, and the ingredients that go into this Filipino dessert do seem like a hodgepodge. They're laid out in parfait-like strata, each layer a distinct part of the delicious dessert. A generous serving of halo-halo will definitely help you forget, for a few minutes, that it's below zero outside.
We made the trek to Chicago's Isla Pilipina for a frosty glass of halo-halo, breaking down each layer before mixing them up, so we could share with you exactly what goes into each one.
Read more about how Filipino food is the next culinary trend.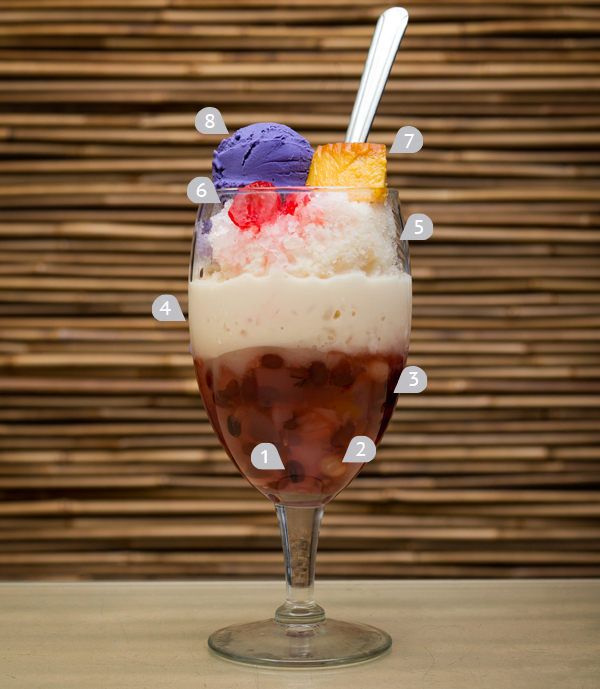 Layer One: The Fruity
1. Munggo (mung beans)
2. Langka (jackfruit)
3. Nata de coco (coconut gel)
Other options for the fruit base: macapuno (preserved shredded young coconut), sweet corn, kaong (sweet palm fruit)
Layer Two: The Frosty
4. Evaporated milk and sugar
5. Shaved ice
Layer Three: The Toppings
6. Maraschino cherries
7. Leche flan
8. Ice cream (in this case, ube, or purple yam)
Photos by Andrew Nawrocki, Groupon
Can't read enough about ice cream? Neither can we.
Take your treats beyond the ice-cream cone with these frosty, exotic concoctions.
Topping options for cold cups of chè span the spectrum from red beans to green grass jelly to purplish taro.
Nitro ice cream, the new trend of making ice cream with liquid nitrogen, means dessert is fully customizable and ready in minutes.