A Walking Food Tour of Downtown Seattle
BY: Naomi Bishop |
Oct 19, 2022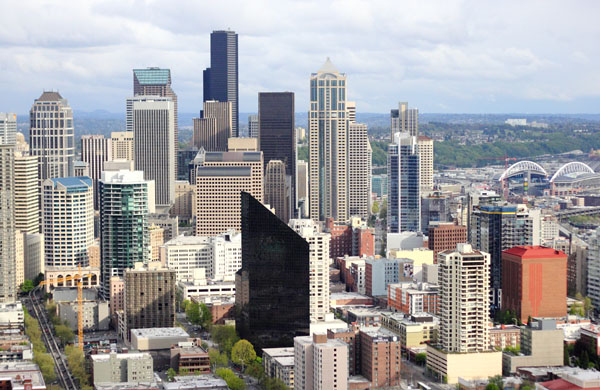 Buck the conformity of three meals a day! It may seem indulgent, but spend a few hours eating and wandering getting to know the city better, and let the walking counteract the gluttony on this walking tour of iconic Seattle fare.
Start in at the city's most famous food destination, the Pike Place Market:
Beef Curry Hum Bao at Mee Sum Bakery
Mee Sum's tiny stand shows Seattle's early Chinese food culture, including the city's own spin on the Chinese bao. The curry beef hum bao is a study in contrasting sweet and savory: yeasty baked dough envelops a light, Japanese-style beef curry.
Walk a few blocks south to the end of the Market and hang a left on Pike.
Seattle Coffee Works
Starbucks first put Seattle coffee on the map, but it's third-wave shops like Seattle Coffee Works that are keeping residents caffeinated in style and with skill. Sourcing and roasting its own beans, the SCW brews using a number of methods. Settle in while the slow-bar barista prepares coffee using the most appropriate method for each bean: French press, Chemex, pour-over, or any number of cutting-edge machines.
Head up to the corner and turn north on Second, walking up a block.
Long Provincial's Long Provincial Rolls
Rice paper rolls (also known as summer rolls or fresh rolls) are a quintessential Vietnamese dish, and, because of Seattle's large Vietnamese population, a quintessential Seattle dish as well. Long's signature version takes the ingredient quality and presentation up a notch, with tidy rolls exploding with caramelized shrimp, savory pork sausage, and a hit of roasted garlic sauce wrapped up with jicama, carrot, and lettuce.
Walk off the first few bites with a hike up to Fourth.
Oysters at Shuckers Oyster Bar
Skip the fancy waterfront views, and come to where the shellfish does the speaking. The simple bar will, as the name implies, pristinely shuck oysters, offering an impressive selection of nine or more varieties. Time it right and hit it at happy hour (3-5PM, Monday to Friday), for the best discount oysters in town.
Then mosey on to Olive and 7th for the new incarnation of one of Seattle's best bars.
Vessel's Foie Gras Buttered Popcorn
Pick from the constantly changing, always excellent menu of cocktails, and let your hand reach into the over-the-top updated bar snack. Popcorn is the perfect blank slate for the overwhelmingly rich, indulgent flavor of fatty, savory foie gras, a prime example of Seattle's chef-driven bar-food scene.
And then it's time for the requisite dessert, just a few blocks over at Fourth and Virginia.
Dahlia Lounge Doughnuts
Tom Douglas, Seattle's best-known chef, is renowned for his many restaurants and skill with salmon, but the doughnuts are what brings people back to Dahlia Lounge, even over two decades after it opened. The delightfully-light, golf-ball-sized doughnuts are tiny pillows that await only a hit of the accompanying seasonal jam or vanilla mascarpone to complete them.
Still hungry? Check out all our Seattle restaurant deals.