GROUPON GUIDE TO WASHINGTON-DC
The Colors and Cultures That Fashion Miami
BY: Michelle Schuman |
Apr 15, 2015
Perhaps more so than any of America's other major metropolitan areas, Miami is singular for feeling like it's not exactly in America. Rather, it's more like a foreign country—Spanish is more commonly spoken than English, people greet each other with kisses, and European sports cars race down neon-lit arteries.
And if it was you piloting a Maserati down US Highway 1, you'd find some of the country's most vibrant scenery. By day, swaying palms tickle wide-open skies that stretch over white-sand beaches; by dusk, the sun sets in a swirl of orange and pink behind a skyline punctuated with Art Deco buildings. In short, it's paradise.

Beyond the picturesque surface, though, there's a unique energy that hums through the entire metropolis. "It's fast cars, fast-paced life, the luxurious living that everyone sees Miami as," said local artist Alexander Mijares. "You're downtown at a Heat game, and it looks like a runway show in there… Or you're in South Beach, and there's people buying $50,000 bottles and there are Ferraris all over the place. And tons of people come here with the dreams that they want those cars. They want that whole crazy lifestyle."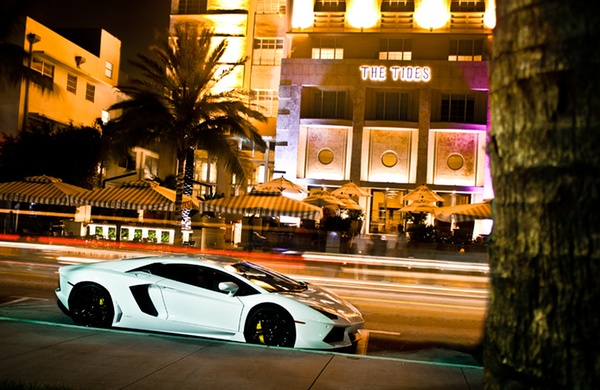 He's hardly exaggerating—the nightlife is unparalleled, probably because there's something for everyone. Whether you're into rock, reggae, or electronic music, salsa dancing or flamenco, there is a club that will drive your evening into the early morning. In Miami, even dinner is never just dinner.
"These dinners always turn into three-hour dinners," explained Mijares. From there, it's on to a local bar. Then a nightclub. Next thing you know, it's 5 a.m. "Every night's a party. It's nonstop."

Maybe, then, that's why everyone puts so much thought into what they wear out at night. "Regarding fashion, Miami is light at day and sensual at night," said local fashion designer Silvia Tcherassi. "The women in this city are very body conscious and charmers by nature." She finds that people dress very carefully for a night out, whether they're dressing up for dinner or partying down at the clubs lining South Beach. Color stories range from crisp whites to wild, colorful prints, with most garments cut from light, breathable fabrics.
But as a rule, "Miamians are not [fashion] risk-takers," said Tcherassi. "People value traditional brands a lot."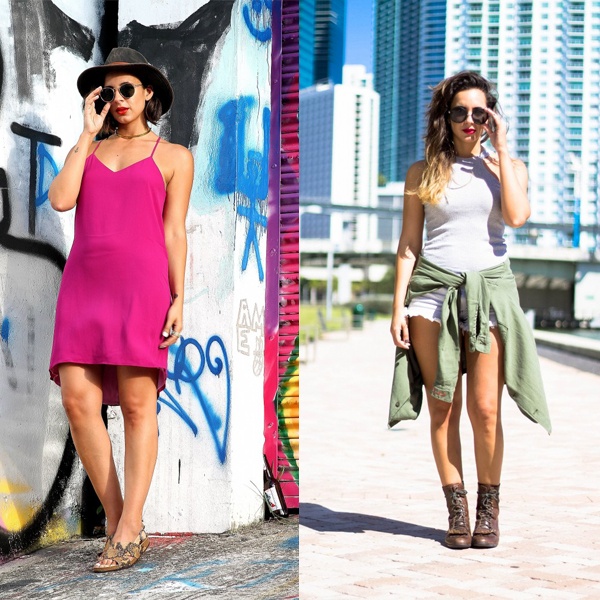 They also value comfort. For instance, "The sport trend is [still] very hot. It's usual to find women in yoga pants during the day," Tcherassi said. Not that anyone looks like they're heading to the gym—yoga pants are typically paired with pristine sneakers and coordinated accessories. Denim shorts and flowy tops are also popular low-maintenance options for day.
But the city's fashionistas have been growing bolder in recent years. "You can see the trend leaning very slowly to niche brands because people are looking for things more original and unique," she said.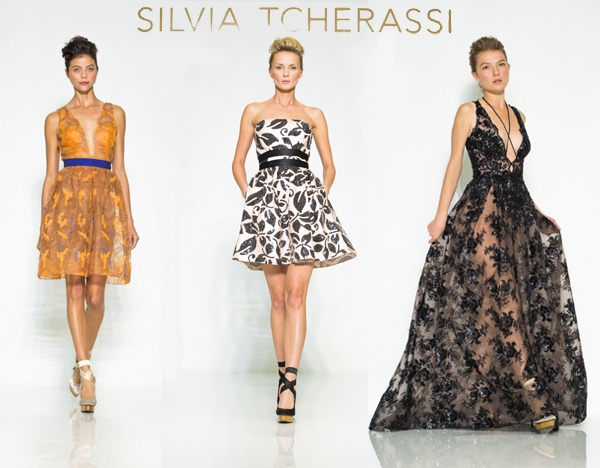 In fact, Tcherassi's own success can be attributed to the evolution of Miami style. And its diversity. She was the first Latin American designer invited to participate in the official Milan and Paris fashion weeks, which she largely credits to Miami's multicultural population.
"I am very proud of my Colombian, Caribbean, and Latin American roots. My heritage is part of my DNA as a designer and entrepreneur," continued Tcherassi. "I always feel at home here." She views Miami as the capital of the Americas, calling it "the bridge between North America and Latin America".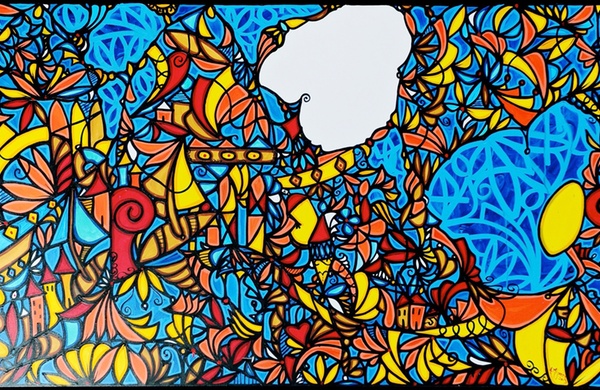 Mijares—who is of Cuban and Spanish heritage—couldn't agree more. "It's a huge melting pot. There are people here from all over. You have tons of Brazilians, Venezuelans, Cubans… a very Latin influence. You can experience almost every kind of lifestyle here."
That may explain why Miami's style tends to resemble that of Europe or the Caribbean more than, say, the American South. The city is truly international, boasting sizeable black and Jewish communities in addition to the large Latin population. As such, a vast array of styles and lifestyles are accepted here, creating a culture that's more liberal than much of Florida.

There's no middle ground, it's either full throttle or nothing. 'It', of course, being the deep Latin roots and high-octane energy that has, in a way, created its own vision of the American Dream. People can see a slice of this life every winter at Art Basel, an international, contemporary art fair where the art and fashion scenes are both booming.
It has become a fashion playground, drawing people from all over to see and be seen alongside some of the art world's biggest power players. And while Miami is an anything-goes kind of town all year, the style bar is set each winter, when people color the December festival with their most unique fashions.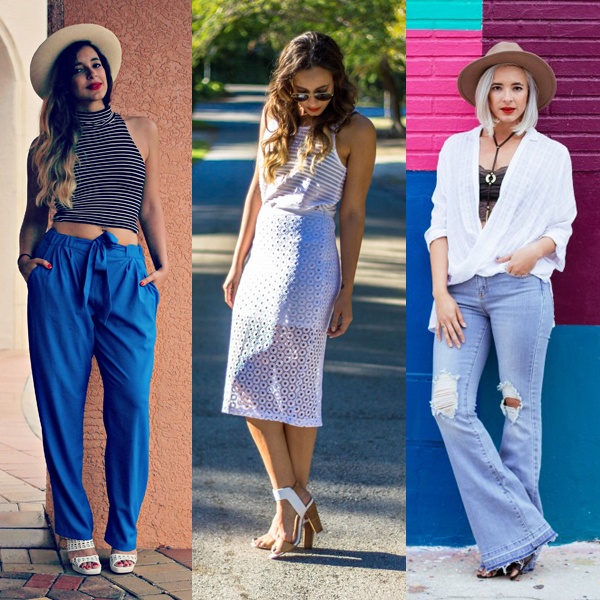 Of course, fashion isn't the only way Miamians express themselves there. Take Mijares—an Art Basel alum who recently worked on the film The Book of Life—for example. He uses vibrant hues to create a frenetic energy within his artwork, striving to capture his Latin heritage on canvas. And the city's multicultural outlook has been an inspiration to him. "I feel like my style could do well in other places, like New York and L.A., and they get it there. But in Miami, they feel it."

Mijares may have painted murals all over the city, but he's looking forward to even bigger cultural developments. According to him, city officials are planning to make it the next Manhattan. "You're going to have areas [beyond downtown] where you can actually walk … from your house and eat at amazing restaurants."
Tcherassi echoed his sentiments. "Miami right now is a preview of the future of America: more diverse, more inclusive and more interconnected with the rest of the world," she said. "The future of Miami is bright."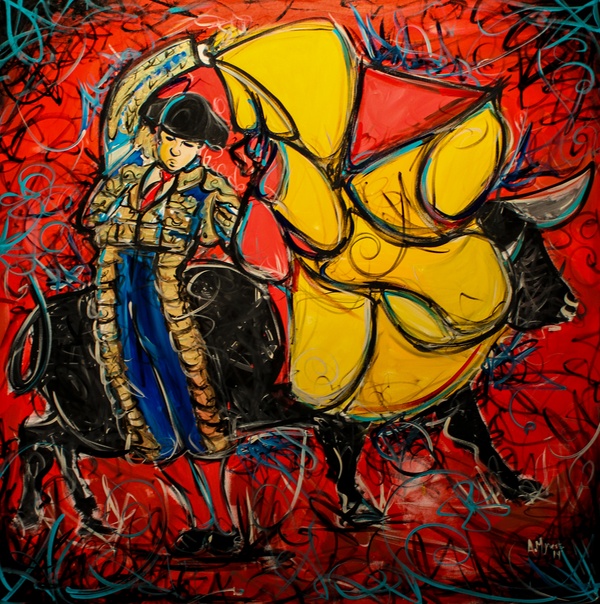 Want more Miami style? Shop these looks on ideel: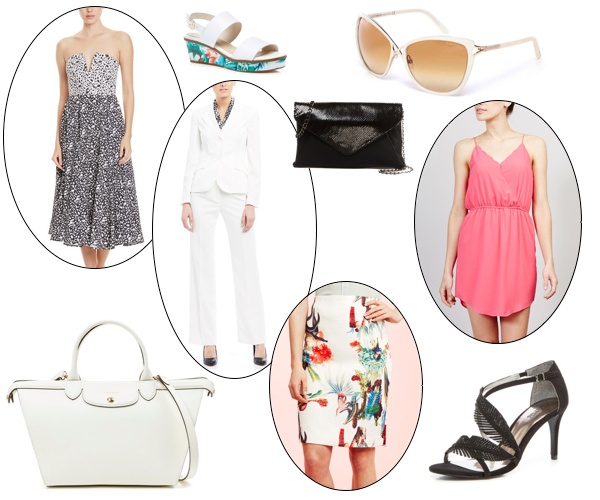 Strapless dress, Shakuhachi ($119.99); White pant suit, Le Suit ($74.99); White handbag, Longchamp ($999.99); Floral sandals, Nude ($79.99); Black high-heel sandals, Carlos by Carlos Santana ($49.99); Tropical-print skirt, Philosophy by Republic ($29.99); Sunglasses, Tom Ford ($249.99); Pink dress, Naked Zebra ($29.99); Black crossbody bag, Steve Madden ($39.99)
Photos: Street style images courtesy of OJ and Cigs; Silvia Tcherassi fashion show images courtesy of Silvia Tcherassi; Alexander Mijares artwork and images courtesy of Alexander Mijares; Miami street scene by Tom Wolf under CC by S.A. 2.0
Read more about the culture of fashion: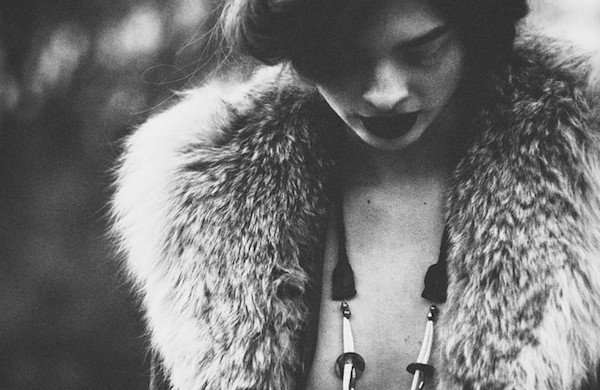 SXSW musicians and a local fashion designer sound off on their city's unique style.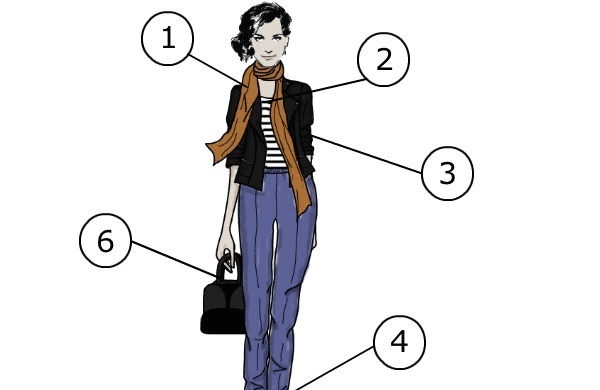 Cultural norms in this largely Muslim country call for relatively modest ensembles for women. Here's an outfit that'll help you stand out while still fitting in.