Reverse Summer Damage with These Five Beauty Tips
BY: Favin the Maven |
Aug 28, 2014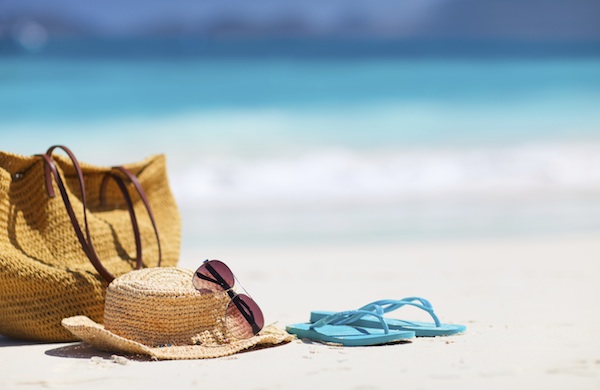 My ideal summer day would consist of lying on the beach, reading a magazine, and somehow sipping a mojito without sitting up. In other words, I love to laze around when it's hot out. I might have taken it a little far with the laziness this summer, though. For example, I wasn't as diligent about hair masks and hydrating conditioners as I was during the winter, and I can tell my hair's not healthy right now. (It has that haystack feeling.) Luckily, Labor Day weekend is coming up, and it's the perfect time for anyone to reboot their beauty efforts. Below are my DIY and Don't DIY (DDIY) solutions for five types of summer damage, plus some input from salon and spa experts.
Problem #1:
Dry hair.
The DIY fix:
Coconut oil, of course. I'm a bigger fangirl for this substance than I am for
Don Cheadle
, and that's saying something. For DIY hair hydration, I slather my curls in coconut oil at night, put them in a braid, and go to sleep. When I wash out the oil in the morning, my hair has fresh pep.
The pro fix:
A professional conditioning treatment. The best conditioners for dryness are "rich in natural or organic oils," according to stylist Heather Herring of New York's
Asanda Aveda Spa Lounge
. She especially recommends the Aveda Botanical treatment, because it includes an analysis of the hair
and
the scalp. If dryness is really the problem, the stylist uses a conditioning formula with buriti oil. It comes from the "water fruit" of the Amazon, and Heather says it works wonders!
Problem #2:
Sun damage.
The DIY fix:
Aloe cubes—that's my made-up term for "aloe gel that I froze in an ice-cube tray." Rub them on your skin when you're sunburned, and you get a double-whammy of healing and frosty sensations. Mmm.
The pro fix:
For surface sun damage, aesthetician Leah Chavie, the owner of
Leah Chavie Skincare Boutique
, recommends laser treatments for hyperpigmentation. They take care of sun spots and freckles less invasively than exfoliating treatments like peels and microdermabrasion. (Leah also said that wearing
sunscreen
is always preferable to correcting for sun exposure after the fact. Listen to your mom!)
Problem #3:
Not drinking enough water.
The DIY fix:
Get serious about your drinking habits. Try to finish eight 8-ounce glasses of water per day for a full week, and see if you feel any better. Research suggests that nothing really bad will happen if you only drink when you're thirsty, but a little extra won't hurt. Especially if you feel like a human raisin.
The pro fix:
A hydration IV. When
I got one
at
IVme Hydration Clinic
, medical director Dr. Scott Yilk explained that IVs hydrate more quickly than a glass of water, because the fluid goes straight into your bloodstream.
Problem #4:
Eating too much boardwalk food.
The DIY fix:
A homemade juice cleanse. This requires a juicer, but if one shows up on your doorstep (perhaps from
Goods
?), it's a breeze from there. Here's
a slideshow of juice recipes
from the Daily Meal; the first five roughly approximate the BluePrint Renovation Cleanse, if you drink one every two hours.
The pro fix:
A juice cleanse created by experts.
I tried the three-day Peeled cleanse
last summer and loved it—I only missed chewing a
little
bit.
Problem #5:
Too much fun! Now you're exhausted, and you never want to see a rooftop bar again.
The DIY fix:
An at-home spa day with some relaxing DIY treatments. I'm excited to try Allure's
banana-and-honey hair mask
, and finesse
this body scrub recipe I invented
. All you need to make my creation? Lime juice, coconut oil, brown sugar, and coffee grounds.
The pro fix:
A spa day at an actual spa. Last month,
I talked with the managers
at
Balance Spa & Fitness
in Chicago, and they recommended a sequence of three treatments for serious unwinding: a Vichy shower and body polish, followed by a hot-stone massage and a rejuvenating facial. Now all you have to do is schedule 'em!
Shop for spa deals in your area.
BY: Favin the Maven
For me, both beauty and fashion need to be accessible and not intimidating. I love a great deal and a good DIY beauty treatment. I pride myself on trying new trends, being open minded and getting a great treatment without breaking the bank. In the name of beauty I will try anything once.