Chic-A-Go-Go's Dance Party Isn't Just for Kids
BY: Aimee Algas Alker |
Nov 6, 2013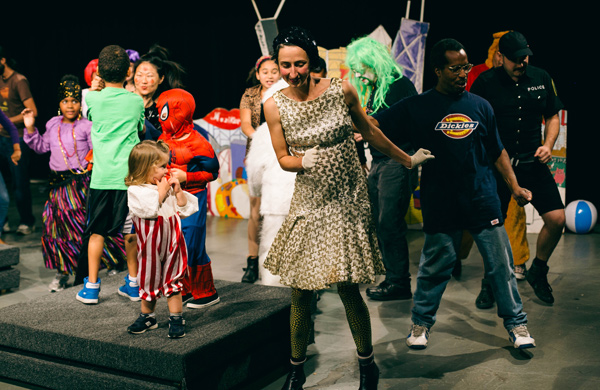 "My name is Aimee. I like to dance
.
" Just about any parent of the 5-and-under set can identify that refrain from
Yo Gabba Gabba!
And my husband and I—we like to dance. But since we had our little one, long nights out dancing have been few and far between. If we're up past 10 p.m., it's because that's the only baby-free time we get to catch up on
The Walking Dead.
Luckily, we've found a place where parents can cut a rug without having to hire a babysitter. On a balmy Sunday night in October, we headed to CAN-TV studios (322 N. Green St.) for the Halloween taping of
Chic-A-Go-Go
—a kids' dance show that first aired in 1996. We donned a couple of
Star Wars–
inspired wigs and '70s dance gear for our costumes: Luke Flywalker and Princess Playa, a disco spin on the famous duo. Our little one, dressed as Yoda, was tucked snugly into her BabyBjörn.
Chic-A-Go-Go
is hosted by my friend
Mia Park
and her wisecracking puppet sidekick, Ratso. However, despite the element of puppetry, you won't see the likes of Raffi or Barney on the stage. Instead, Mia and the show's producer, Jake Austen (who also voices Ratso), invite a staggering lineup of local musicians and renowned indie acts to perform. Since its inception,
Chic-A-Go-Go
's wide range of musical guests has included soul quintet
JC Brooks & The Uptown Sound
, trippy garage rocker
Nobunny
, and self-described "circus punk marching band"
Mucca Pazza
. Park herself is a fixture in the Chicago music scene, serving as auxiliary percussionist for
Girl Group Chicago
and playing in a string of other local bands, including the all-female Asian punk outfit Kim. She and Ratso also roam the crowds at numerous music festivals, where they interview musicians, then later have the kids to dance to recordings of their songs on the show. (At Lollapalooza, Ratso even earned some street cred when Perry Farrell asked him to leave during the puppet's conversation with Patti Smith. Smith, for the record, is a fan of
Chic-A-Go-Go
.)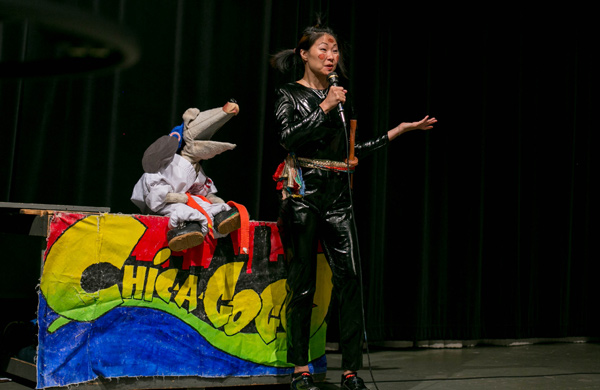 Once we got to the studio, we waited with the rest of the crowd in the basement green room. Mia soon came down to usher us upstairs. She was dressed up for Halloween too, clad in black vinyl with a wooden sword at her hip—"a space-age martial artist," she said. Ratso kept with this theme, having donned his own miniature karate uniform. Once the cameras started rolling, the Boris Karloff–style vocals of "Monster Mash" surged from the speakers. And with that, the dancing began. Mia announced that the famed novelty song opens the Halloween special every year.
Our baby dangled in her carrier as my husband and I twisted and and watusi'd; all of the music that night had a 1960s feel, even the "live" performances from the musical guests. I say "live" because all of the music is prerecorded. This is a low-fi production, and lip-synching makes for better sound quality. But that doesn't make things any less fun. Playing on a kids' show seems to be a rare treat for all of the musical guests, including the two pop-punk acts booked for the Halloween taping.
Lisa Doll & the Rock n Roll Romance
showed up with working guitars made from Simpsons' cereal boxes. The members of
Masked Intruder
wore their trademark ski masks, Chuck Taylors, and guitars to match their color-themed stage names: Red, Blue, Green, and Yellow. They even stayed to dance after their set.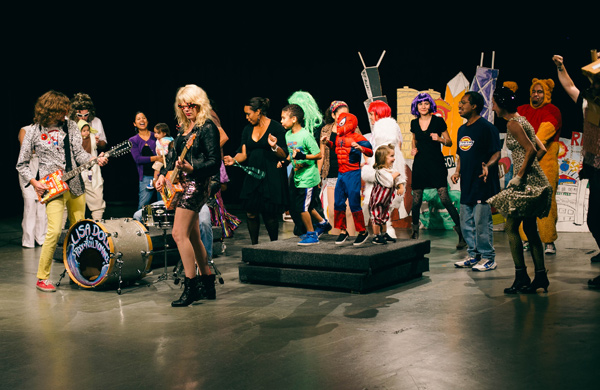 However, all this enthusiasm wasn't limited to the bands. Like us, many of the parents  came to the studio in costumes, showing just as much excitement as their children. One father did the mashed potato in a Winnie the Pooh costume. Elsewhere, two 20-somethings shook their hips while wearing pink and purple wigs. Another older man had no costume and no kids of his own but was thrilled just to dance. A few families chatted with Mia and the cameramen during breaks. Regulars, I realized. Since both of the musical acts were true rock bands as opposed to children's fare in the vein of, say, The Wiggles, the evening had a raucousness often absent from other kids' shows. Jake keeps this kind of adult appeal in mind when booking musicians, opting for performers who have grown-up followings but whose energy will also be attractive to children. Nothing is dumbed down. "Even the knock-knock jokes are presented more as hokey comedy chestnuts than kiddie fare," he said.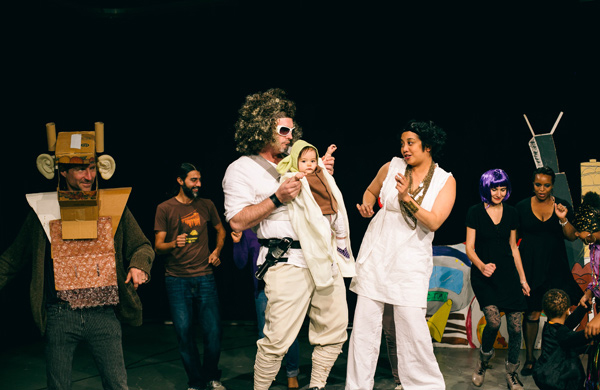 When the show was over, our wigs were sweaty, our baby was nodding off in the back seat, and my husband and I made a promise to each other: if this is the only way we can get out of the house to shake our booties, we would have to become regulars ourselves.
Tapings are open to the public. More information on the next taping can be found on the
Chic-A-Go-Go
website or Facebook page.
Photo: © Stephanie Bassos, Groupon