Hop Ruiter Brings Together the Best of the US and Belgium
BY: Shannon Jewitt |
Aug 4, 2014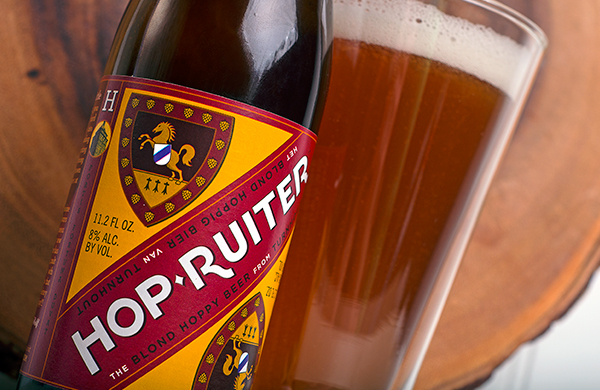 There are almost 3,000 craft breweries in the United States. In this edition of Beer Stalker, we investigate Scheldebrouwerij's Hop Ruiter and learn about its brewing process and what it has in common with playing cards.
The beer:
Scheldebrouwerij
's Hop Ruiter
Malts:
Pils
Style:
Belgian strong pale ale
Hops:
Cascade, nelson sauvin
Color:
The golden-blond hue of at-home highlights
Where did the name Hop Ruiter originate?
The name roughly translates to "hop rider." Ruiter means "rider" or "horseman" in Dutch. The brewery is located in Turnhout, Belgium, which was once an area where nobles hunted on horseback, said Gust Hermans, Scheldebrouwerij's
manusje van alles
, or jack-of-all-trades. The name is particularly fitting because the goal of Hop Ruiter is to combine the best of the United States and Belgium by using American hops with Belgian virtue.
In what other ways is this beer tied to Turnhout?
Although it's only hung its hat in Turnhout since 2008, the brewery has embraced its surroundings. This is evident in Hop Ruiter's label, which is modeled after a playing card. Turnhout is home to the national playing-card museum and generally regarded as the playing-card capital of the world.
Good things take time. Is this true of Hop Ruiter?
Absolutely. "We need six weeks minimum to make Hop Ruiter," Hermans said. One day is spent brewing the beer before it ferments for a week. The brewery spends four weeks lagering and dry-hopping the beer, and then the beer referments in the bottle for a week. However, if the brewers taste the beer and it's not to their satisfaction, more time is spent lagering.
What other Belgian strong ales should I try?
Hermans recommended several Belgians. First was the "mother of all tripels," 
Westmalle Abbey
's Westmalle Tripel.
Brouwerij Het Anker
's Gouden Carolus, which comes in several varieties including a Christmas version and an Easter edition, was another one of Hermans's picks. He also suggested
Omer
's Traditional Blond and
Brouwerij Het Nest
's tripel, SchuppenBoer.
Photo by Mark Mills, Groupon
Shop for local deals in beer, wine, or spirits.
Read more to build a six-pack of refreshing beer stories.
BY: Shannon Jewitt
Resident Beer Stalker Shannon has an insatiable thirst for craft beer. Despite being a vegetarian, she always makes an exception for fries cooked in duck fat.